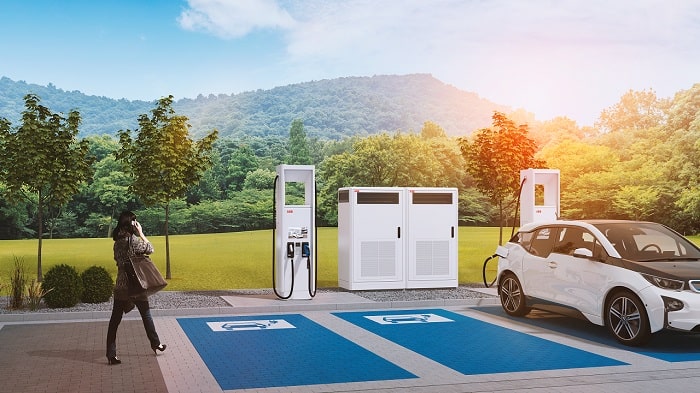 At this year's EVS32 exhibition in Lyon, ABB showcases its latest future proof e-mobility solutions, with the recently launched, compact DC wallbox and ABB's market leading Terra High Power charger.
Designed to meet the demands of an increasingly connected and sustainable society, with targets in France to become carbon neutral by 2050, ABB's DC wallbox offers an output range of up to 920V. This ensures it can support all existing 500V battery EVs, plus the next generation of high-voltage electric vehicles.
Meanwhile, the Terra HP, offers a charging power of 150-350 kW. Ideally suited for use at highway rest stops and petrol stations, Terra HP's ultra-high current has the capacity to charge both 400 V and 800 V cars at full power.
Both are part of the ABB AbilityTM portfolio of connected solutions, enabling authentication, integration with back offices and payment platforms, monitoring, remote diagnostics and repair, as well as over-the-air updates and upgrades.
Frank Muehlon, Head of ABB's Global Business for Electric Vehicle Charging, comments: "ABB is at the forefront of developing smart and sustainable technology for the future of transportation. We have pioneered the creation of flexible and high quality electric charging systems, which not only meet the needs of todays electric vehicles but ensure a quality solution is already in place for the higher voltage vehicles currently under development.
"The widespread availability of reliable and high performing charging infrastructure is key in supporting countries across the globe meet ambitious emission reduction targets and we are therefore delighted to be showcasing two fantastic examples of our market leading charging portfolio at EVS32 in Lyon."
DC wallbox – a compact solution for fast charging
ABB's DC wallbox, which is now available for the French market, provides the ideal solution for the charging of electric vehicles (EVs) at offices, dealerships and public parking places. The compact DC wallbox* benefits from a maximum current of 60A delivering 24 kW peak power directly to the vehicle's battery, allowing for a shorter charging time than the typical on-board converters, usually rated between 3 to 7 kW.
Available with single or twin outlets, the DC wallbox supports both CCS and CHAdeMO standards. Day to day operation is simple thanks to a seven-inch full-color, daylight readable touchscreen display. Key functions include: starting and stopping of charge sessions, progress indication during charging, help menus, language selection, and PIN code access.
Terra HP – the future of high power charging
The Terra HP features a 375 A output single power cabinet, which can charge a 400 V car at full 150 kW continuously. The addition of Dynamic DC power sharing technology allows a two-power cabinet charging system to charge a couple of EVs simultaneously, with up to 350 kW and 500 A, while dynamically optimizing the available grid connection and the power delivery to the two vehicles.
Additional power cabinets and charge posts can be added after installation, delivering a cost-effective and future-proof solution for expandable charge points that can grow as the EV base grows.
To further improve performance, Terra HP delivers the highest uptime due to redundancy on power and communication, and individually cooled charging cables. Having proven its paces in numerous commercial electric bus field installations, the power cabinet is also extremely reliable.
"ABB's comprehensive charging portfolio further solidifies our position as global market leader in electric vehicle charging, with more than 10,500 DC fast chargers now sold around the world. Both the DC wallbox and Terra HP, alongside other products in our range including the best-selling 50kW Terra DC fast charger, support greater adoption of e-mobility solutions by private vehicle owners and businesses alike. We are proud to be driving further progress on the road to zero emission transport in France and beyond," Muehlon adds.
ABB writing the future of mobility
ABB has already commissioned more than 350 units of its Terra 50 kW chargers across France, including supplying chargers for a market leading automotive network and supermarket group. In addition, Terra HP 350kW chargers have been installed in multiple locations across France as part of the pan European IONITY charging network.
ABB is equally involved in enabling sustainable public transport, with more than 90 eBus chargers due to be installed across France by the end of 2019, ranging from 50 kW High Voltage charging to 450 kW pantograph solutions.
ABB offers the full range of charging solutions for electric cars, electric and hybrid buses as well as electrification solutions for ships and railways. Fortune Magazine recently ranked ABB #8 on its list of companies that are "changing the world" for the advances it has made in e-mobility and electric vehicle charging. In its role as title partner of the ABB FIA Formula E championship and as Official Charging Partner for the new Jaguar I-PACE eTROPHY series, ABB extends its commitment to support and expand the future of smart and sustainable transport.
* H770mm x W584mm X D300mm
ABB is a pioneering technology leader with a comprehensive offering for digital industries. With a history of innovation spanning more than 130 years, ABB is today a leader in digital industries with four customer-focused, globally leading businesses: Electrification, Industrial Automation, Motion, and Robotics & Discrete Automation, supported by its common ABB Ability™ digital platform. ABB's market leading Power Grids business will be divested to Hitachi in 2020. ABB operates in more than 100 countries with about 147,000 employees.