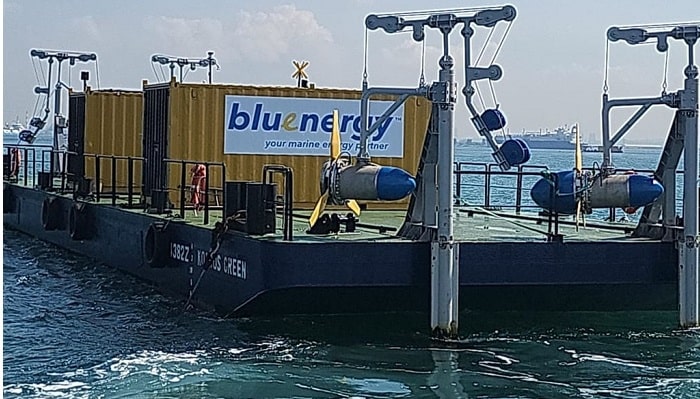 As the world experiences increasing demand for sustainable energy, Singapore-owned company Bluenergy Solutions offers a renewable energy solution from the ocean – tidal energy. By harnessing the power of tidal currents, Bluenergy Solutions offer a predictable and clean alternative to fossil fuel-based power generation.
Today, Bluenergy Solutions is pleased to announce the launch of its Proof of Value (POV) project. The POV project, which entails a 'Plug and Play' solution that covers clean energy generation, storage and distribution, is located offshore near the Raffles Lighthouse on Pulau Satumu, about 14 kilometres south of the main island of Singapore.
Projected to run for a period of six months, the key objectives of the POV project are (i) the supply of clean tidal energy to the Raffles Lighthouse (ii) the replacement of diesel consumption with clean tidal energy, generated in the waters near Raffles Lighthouse (iii) the reduction of carbon footprint through the decarbonisation of port waters and islands (iv) the proof of the technology's commercial viability.
The technology can be combined with wind and solar to offer a total green energy solution. It also offers a proprietary digital platform, specifically designed for the marine energy sector. While monitoring energy generation, storage and distribution operations, it will also enable end users to purchase energy directly from the platform.
The launch also marks Bluenergy Solutions collaboration with local strategic partners such as the Maritime and Port Authority of Singapore (MPA), which has placed a purchase order for the energy generated; and A*STAR's Institute of High Performance Computing (IHPC) which jointly designed the hydrodynamic features of the tidal turbine; and Ken Energy, which contributes and operates the tidal energy platform by providing marine services expertise.
"We thank MPA for their support from the beginning of the project and to have them as Bluenergy Solutions' first customer. We also thank other Singapore and international companies who have supported us and with whom we collaborate," said Dr Kenneth Burnett, Founder and Chief Executive, Bluenergy Solutions.
Maritime and Port Authority of Singapore (MPA), Teo Eng Dih, Chief Executive said, "This collaboration is a significant step towards electrification and decarbonisation of Maritime Singapore. By harnessing hydrokinetic energy from our waters, there is much to learn from this pilot, and we can assess its deployment potential during the scale-up phase. MPA will conduct further hydrographic surveys and continue working with our research community and renewable energy solution enterprises such as Bluenergy Solutions, to test new technologies and seize more opportunities from green growth as we work towards achieving net-zero emissions by 2050."
"Tidal energy presents vast potential for future clean electricity generation contributing to net zero carbon economy, especially to locations with little or no access to a power grid. We are pleased to collaborate with Bluenergy Solutions to co-develop the tidal turbine using IHPC's computational fluid dynamics (CFD) technology to supply clean tidal energy to Raffles Lighthouse. This collaborative public-private partnership is a testament of leveraging A*STAR's expertise in strengthening local companies' capabilities to develop sustainable and innovative technologies which pave the way for new business opportunities," said Dr Su Yi, Executive Director, IHPC.
Desmond Chong, Managing Director, Ken Energy said, "We are proud to contribute our marine expertise as an owner and operator of the platform which will demonstrate the potential of harnessing tidal energy for power generation in Singapore."
Other supply chain partners include Systematic Engineering, Nippon Paint Marine, ClassNK and international organisations who are potential end-users and partners, such as Kyuden International Corporation, Kyuden Mirai Energy and NYK Group.
Mr Masakatsu Terazaki, Managing Director, Kyuden Mirai Energy said, "We at Kyuden Mirai Energy believe that Bluenergy Solutions' 'Plug and Play' system is a promising method for decarbonization providing green energy in wide range of field: marine industry (such as shipping, fishery and aquaculture), remote islands infrastructure and agriculture. As a leading company in marine renewable energy development in Japan, conducting Japan's first power generation demonstration project using tidal power, Kyuden Mirai Energy believe that Bluenergy Solutions' system will play an important role in our future business strategy. We look forward to working with Bluenergy Solutions to bring this project to life."
Mr Tomofumi Nakashima, Executive Director, Kyuden International Corporation emphasised, "We believe the POV project will demonstrate the potential of this tidal turbine solution as a renewable energy source which will contribute to the decarbonisation of society and benefit the health and resilience of communities, wildlife and the environment. By utilizing the knowledge gained from this project together with Bluenergy Solutions, we aim to further expand our distributed energy solutions overseas, as we recently have also invested in microgrid projects in remote communities and islands around the world."
"NYK is very proud to participate in the Raffles Lighthouse project. Since 2020, we have been a development partner with Bluenergy Solutions, and today we have great expectations for the future of tidal-power generation and its impact on decarbonisation of the maritime transport sector," said Mr Toshi Nakamura, Executive Director, Green Business Group, NYK Line.