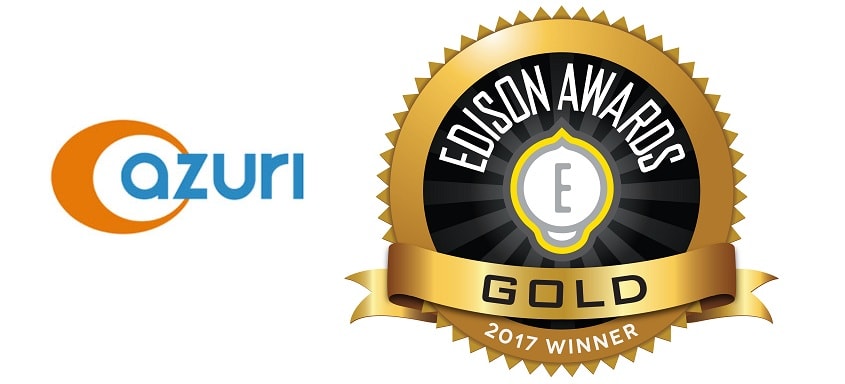 The Edison Awards has named Azuri's HomeSmart™ home solar power solution its Gold Winner in Energy & Sustainability/Solar Solutions.
Celebrating 30 years of honouring the best in innovation and excellence in the development of new products and services, the Edison Awards recognises achievement and celebrates success by organisations from across the globe.
Azuri's innovative HomeSmart™ brings artificial intelligence for the first time to small domestic solar home systems. While conventional systems work well in sunny conditions, they often shut off early on cloudy days because they run out of power. HomeSmart uses learning technology to monitor both climatic conditions and historical customer usage patterns to ensure a full night of light, even following cloudy days. This use of machine-learning marks a next step in addressing the needs of the 1.2 billion people that have no access to mains power.
For grid-connected customers, solar power is a way of saving money. For off-grid customers in developing countries, it is often the only access households have to electrical power for lighting, phone-charging, radio, TV and other essential devices. Without the grid as backup, customers rely solely on the stored power to provide services at night and if that power is insufficient, households are often forced back to solutions such as candles and kerosene lamps.
HomeSmart™ solves this problem in two ways: firstly, the system actively monitors customer usage to determine a typical expected performance. Then, by accurately monitoring the climatic conditions, the system automatically adjusts the light brightness to meet the user's expected lighting duration. This active optimisation of light brightness, battery charging and load conditions ensures the system delivers the best possible match to the customer's typical daily requirement with the available power.
Azuri's CEO Simon Bransfield-Garth said: "We are honoured that Azuri's continuing mission to develop best-in-class solutions for rural-off grid consumers has been recognised by the Edison Awards and extremely proud of the growing life-changing impact we are having".
Frank Bonafilia, Executive Director of the Edison Awards said: "Our judges recognised Azuri and its HomeSmart™ technology as a true innovator out of the many products in its category."
The ballot of nominees for the Edison Awards™ was judged by a panel of more than 3,000 leading business executives including past award winners, academics and leaders in the fields of product development, design, engineering, science and medicine.
About Azuri Technologies Ltd.
Azuri Technologies is a leading commercial provider of PayGo solar home systems to rural off-grid communities. With the widest reach of any provider in sub Saharan Africa, Azuri is leveraging solar and mobile technology to allow users in 12 different countries to access renewable, distributed power on a pay-as-you-go basis. Azuri's HQ is in Cambridge, United Kingdom, with staff based in Kenya, Uganda, Ghana, Ethiopia, Nigeria and Tanzania.
For more information, please visit: www.azuri-technologies.com
About the Edison Awards™
The Edison Awards is a programme conducted by Edison Universe, a non-profit, 501(c)(3) organisation dedicated to fostering future innovators. The Awards have been recognising and honouring the best in innovations and innovators since 1987. They honour game-changing innovations that are at the forefront of new product and service development, marketing and human-centered design, and are one of the highest accolades a company can receive in the name of successful innovation. For more information about the Edison Awards complete program and a list of past winners, visit www.edisonawards.com
For further information, please contact:
Paul Foster 
Azuri Technologies Ltd. 
paul.foster@azuri-technologies.com         
+44 (0)7491 763 666