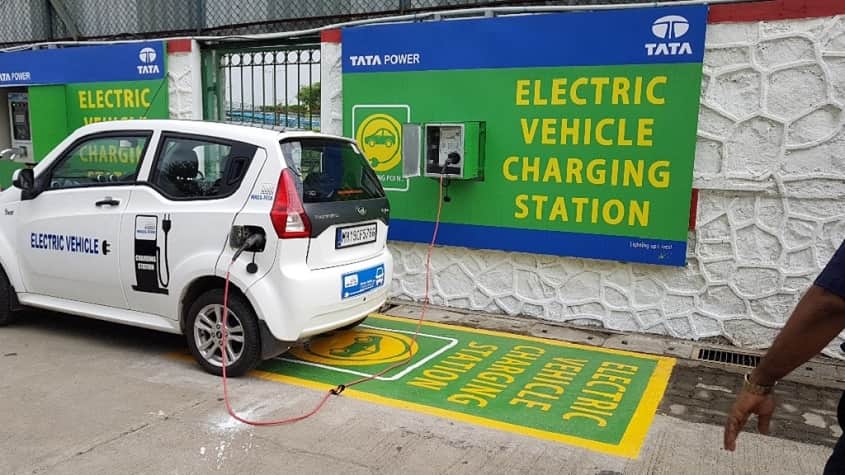 Tata Power, India's largest integrated power company, has been  pioneer in technology adoption and innovation while also setting industry benchmarks in operational & sustainability aspects.
Building on its momentum of having installed Mumbai's first Electric Vehicle charging station in Vikhroli. The Company has been covering strategically located areas where EV users wish to have outlets .The company has now set up additional electric vehicle charging stations at strategic locations thereby making Mumbai truly ready to usher in the Electric Vehicle wave. The latest Electric Vehicle charging stations by Tata Power have been set up at Palladium Mall Lower Parel, and Phoenix Marketcity, Kurla; and two more coming up at BKC and western express highway at Borivali.
With the Government of India encouraging shift to electric vehicles by 2030, Tata Power's aim is to build a seamless network of electric charging stations to make it easier for people to adopt EVs and be future ready. The setting up of smart charging infrastructure at parking area of Malls would enable users to make  best use of their time while their car charges. As India gears up for revolution in mobility ,Tata Power is all set to offer customers e-charging with convenience.
Commenting on the same, Mr. Anil Sardana, CEO & MD, Tata Power, said, "We are proud and happy to present Mumbai with additional electric vehicle charging stations that cover the expanse of the city. We are also happy that one of these EV charging stations is India's first Electrical Vehicle Charging station at popular retail mall. With these installations, Tata Power continues to pursue sustainable practices by using technology thereby providing customers access to energy-efficient options with ease. As the nation moves towards clean and affordable power for all, it is our endeavor to provide customers with the best solutions for a greener tomorrow".
The newly installed chargers at Palladium and Phoenix Marketcity will enable electric car users to charge their cars (Battery Electric Vehicles such as the Mahindra e2o, Nissan Leaf, etc) at any time safely and conveniently. The chargers can also monitor the car battery charging status and units consumed while charging a car. The Company plans to set up charging stations at various locations in Mumbai and is in discussions with various stakeholders to this end.
About Tata Power:
Tata Power is India's largest integrated power company with a growing international presence. The Company together with its subsidiaries and jointly controlled entities has an installed gross generation capacity of 10699 MW and a presence in all the segments of the power sector viz. Fuel Security and Logistics, Generation (thermal, hydro, solar and wind), Transmission, Distribution and Trading.
It has successful public-private partnerships in Generation, Transmission and Distribution in India namely "Tata Power Delhi Distribution Limited" with Delhi Government for distribution in North Delhi, 'Powerlinks Transmission Ltd.' with Power Grid Corporation of India Ltd. for evacuation of Power from Tala hydro plant in Bhutan to Delhi and 'Maithon Power Ltd.' with Damodar Valley Corporation for a 1050 MW Mega Power Project at Jharkhand. Tata Power is serving more than 2.6 million distribution consumers in India and has developed the country's first 4000 MW Ultra Mega Power Project at Mundra (Gujarat) based on super-critical technology. It is also one of the largest renewable energy players
About Mass – Tech Controls:
Mass-tech Controls is a manufacturer of DC UPS comprising of Battery Charging Equipment's, DC Distribution Boards, DC-DC Converters, Polarization Rectifiers, Cathodic Protection, LV Switchgear Panels and allied equipment's required for no break DC supply system for power station applications, refineries, petrochemicals, process industries, etc. along with of batteries of various types, viz. Ni-Cd, lead acid, SMF VRLA type, Lithium ion battery, etc. for the past 25 years. It was founded in the year 1993 by Mr. Subhash Patil currently the chairman of MASSTECH group.
In India with a clean energy portfolio of 3310 MW. Its international presence includes strategic investments in Indonesia through a 30% stake in the leading coal company PT Kaltim Prima Coal (KPC), 26% stake in mines at PT Baramulti Suksessarana Tbk ("BSSR"); in Singapore through Trust Energy Resources to securitize coal supply and the shipping of coal for its thermal power generation operations; in South Africa through a joint venture called 'Cennergi' to develop projects in sub-Sahara Africa; in Zambia through 50:50 joint venture with ZESCO for 120 MW Hydro which has become operational in 2016; in Georgia through AGL which is a joint venture with Clean Energy, Norway & IFC for development of 187 MW hydro project and in Bhutan through a hydro project in partnership with The Royal Government of Bhutan. With its track record of technology leadership, project execution excellence, world class safety processes, customer care and driving green initiatives, Tata Power is poised for a multi-fold growth and committed to 'lighting up lives' for generations to come". Visit us at: www.tatapower.com
Recently in the year 2014 MASSTECH has diversified its business in manufacturing of EV charging stations ranging for 10kW to 200kW. MASSTECH has been working with all major EV manufacturing OEMS like TATA motors, Mahindra, Volvo and KPIT. MASSTECH EV charging station division is been managed and developed by Mr. Anurag Patil (Director Operations). Visit us at www.masstechcontrols.com.
Shalini Singh Head – Corporate Communications
The Tata Power Company Limited
Email: shalinis@tatapower.com
Sneha Dev / Jaison Rebello Rediffusion / Edelman
9958000706/ 8286939726
Email: sneha.dev@edelman.com
Jaison.Rebello@edelman.com