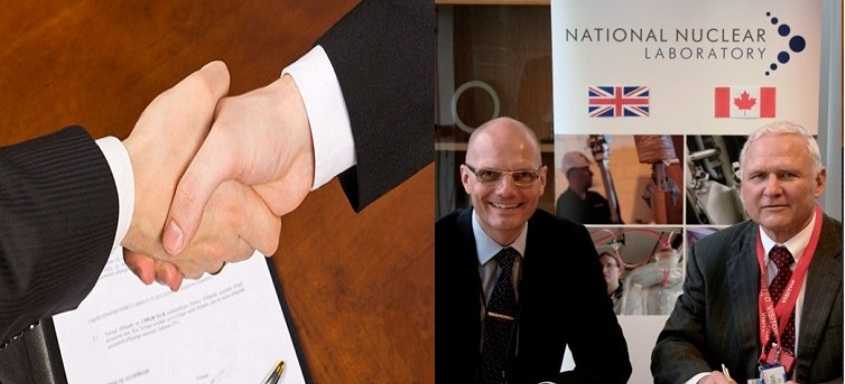 Professor Paul Howarth, Managing Director, NNL and CNL Vice-President, Research and Development, Tom Blejwas sign the Memorandum of Understanding for Nuclear Science and Technology Capabilities Exploitation in the Marketplace. 
The UK's National Nuclear Laboratory (NNL) and Canadian Nuclear Laboratories (CNL) have signed a Memorandum of Understanding (MOU) to work more closely together.
The MOU will enable collaboration on a variety of projects, including in the areas of reactor metallurgy, fuel, waste management, and medical radioisotopes; providing security and safety expertise for new and developing nuclear countries; and encouraging interest in the application of technology in industries such as aerospace, hydrogen energy, mining, pharmaceuticals and oil/gas.
Each laboratory has unique capabilities to exploit in this collaboration. Among them for NNL is its expertise in fuel, waste and reprocessing; CNL's expertise includes materials testing, chemistry and its experience in medical isotope production. 
This MOU builds on the close nuclear partnership already established between Canada and the UK since the 1940s, when the two countries set up a laboratory in Montreal to jointly begin research into creating controlled nuclear power. The result was the pilot-scale heavy water test reactor, ZEEP, in 1945. It was followed in 1947 by the full-scale heavy-water research reactor, NRX – the most powerful research reactor in the world at the time.
This MOU will allow NNL and CNL to exchange scientists, engineers and other specialists. It will also allow for the sharing of scientific information. 
"As the UK steps up its civil nuclear programme, organisations such as the National Nuclear Laboratory must reach out to our international colleagues, such as Canadian Nuclear Laboratories to renew and strengthen our collaboration in the field of nuclear science and technology. We can only benefit from Canada's world leadership in isotope production and nuclear expertise."
Professor Paul Howarth, Managing Director, NNL
"Canada and the United Kingdom have a proven record of collaboration that began with the inception of the nuclear industry in the 1940s. Now, as we strengthen our collaboration through this MOU, we can take full advantage of the UK's expertise in fields such as fuel waste and reprocessing. This paves the way for us to spark innovation in the coming years." 
Tom Blejwas, Vice-President, Research & Development, CNL
Canadian Nuclear Laboratories (CNL) is Canada's premier nuclear science and technology organisation. It is a world leader in developing peaceful and innovative applications from nuclear technology through its expertise in physics, metallurgy, chemistry, biology and engineering. CNL is committed to ensuring that Canadians and the world receive energy, health, and environmental benefits from nuclear science and technology with confidence that nuclear safety and security are assured.
National Nuclear Laboratory (NNL) plays a key role in the United Kingdom and global nuclear industry. That means reducing the cost of clean-up and decommissioning, maintaining critical skills and attracting talented new people to the industry. NNL is the only UK organisation with the skills, facilities and expertise to provide technical support to all aspects of the nuclear industry.
For further information contact:
Adrian Bull
External Relations Director, NNL
(44) 7894 836553