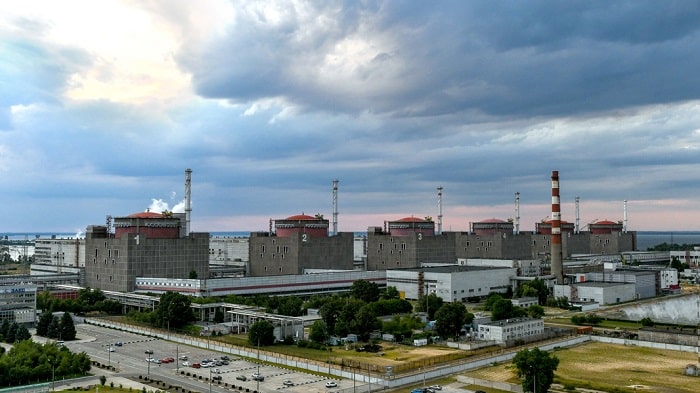 Volodymyr Zelensky, the president of Ukraine, has endorsed the UN nuclear agency's proposals for a safety zone of protection at the Zaporizhzhia nuclear power station. Since the start of the war, Russia has held the plant, and both sides have attacked it repeatedly while blaming the other for the attacks.
The largest nuclear power plant in Europe is currently being shelled, according to the UN. It said radioactive elements could be released indefinitely as a result of shelling.
The International Atomic Energy Agency (IAEA) stated in a report released on Tuesday that the deployment of Russian military equipment on the premises could jeopardise its security after last week's much anticipated visit.
While a 14-person IAEA team toured the site last week, shelling continued, and the team's leader, Rafael Grossi, at the time, spoke of the very serious potential of a nuclear calamity. Even though the majority of the crew left the plant after two days, it was announced that two of its representatives would stay there permanently.
In order to demilitarise the area around the nuclear plant, Mr. Zelensky stated that he would be in favour of a safety zone. According to Mr. Zelensky, the report made note of the presence of Russian military equipment on the plant's property, mentioned employee pressure, and contained direct references to the Russian military takeover.
The factory is located on the Dnieper River's southern bank, across from Ukrainian military installations and settlements. How dangerous is the standoff over the nuclear reactor in Ukraine?
Russia rejects the proposal for nuclear plant demilitarisation.
Russia charged Kiev recently with hitting the region three times in a day. Despite Russia's insistence that it is defending the facility, Ukraine claims that Russian forces have used the plant as a cover from which to fire on adjacent cities.
The 907 Ukrainian employees operating there under Russian military authority were subjected to very difficult conditions, according to the nuclear agency's study.
The IAEA takes pains to avoid assigning culpability to any side, though.
Despite the fact that more bombardment had not yet resulted in a nuclear emergency, the IAEA described the plant's damage and stated that further shelling posed a continuing threat to safety and may well have radioactive implications with considerable safety relevance.
It went on to suggest that interim measures were urgently required to stop a nuclear disaster brought on by military action and that all parties involved would have to consent to the establishment of a nuclear security and safety protection zone in order to stop additional harm.
Following the release of the IAEA assessment, the UN Security Council convened an emergency meeting to talk about the circumstances in Zaporizhzhia.
As a first step, Russian and Ukrainian troops must resolve not to engage in any military operation against the plant site or from the plant site, said UN Secretary General Antonio Guterres.