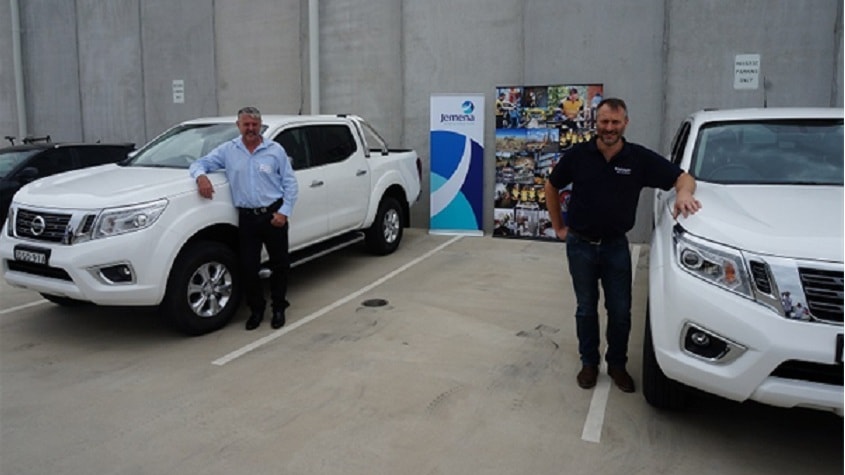 Leading energy distributor, Jemena is driving change – literally – in the New South Wales natural gas industry.
Last year, more than 40,000 homes, businesses and new housing estates connected to natural gas in New South Wales. Jemena supports these local gas connections by rewarding plumbers and gas fitters through its annual Jemena Natural Gas Incentive Program. As part of the 2017 program, Jemena has awarded two small businesses a brand new Nissan Navara vehicle.
Shaun Reardon, Executive General Manager, Customer and Markets, Jemena, said the Jemena Natural Gas Incentive Program is a community activity, supporting home owners and small businesses.
"The Jemena Natural Gas Incentive Program is our way of thanking plumbers and gas fitters for providing a valuable local service. In addition to connecting and maintaining gas appliances in homes and businesses, local gas installers engage directly with our customers.
"Our gas partners listen to customers, understand their needs and provide important advice. Customers are at the heart of what we do, and we appreciate the significant role of plumbers and gas installers across the local natural gas network.
"Gas is increasingly recognised as safe, instant, easy to control and a versatile fuel of choice, not just for our 1.3 million existing customers, but also by builders, developers and home renovators.  
"Congratulations to the winners of the 2017 Jemena Natural Gas Incentive Program. We look forward to continuing to support small business throughout 2018," Mr Reardon said.
The winning names drawn to receive the two Nissan Navara are:
Graham Parkinson, Director, Penrith Gas Shop, Penrith
Graeme Heath, Managing Director, Home Gas, North Rocks
Winner 1 – Graham Parkinson – Penrith Gas Shop
Penrith Gas Shop has been established for seven years, is a Weber BBQ and Escea gas fireplace specialist, also installing gas hot water and heating across Sydney's outer western suburbs and in the Blue Mountains. The family business employs six people.
Graham said he has never won anything in his life and the new car is a perfect way to start 2018.
"I'm ecstatic. Our current vehicle is on its last legs, so winning a brand new car is more than handy," said Graham.
"For a small business to win an asset like this is a big opportunity and I thank Jemena for providing such a great program supporting local businesses.
"Gas is getting cut-through in the Penrith area, especially as more people move out of the city, wanting to renovate homes in the outer suburbs".
Winner 2 – Graeme Heath – Home Gas
Home Gas in North Rocks is a family run business, employing 15 people.
The business specialises in Rinnai products, gas appliances, hot water and gas log fires in the Sydney basin.
Graeme's been in the industry 30 years and said he was shocked to win.
"I put in a lot of entries hoping to win, but didn't expect to do so," said Graeme.
"Vehicles are imperative for any small business and this will certainly replace one of the older cars in the fleet.
"When we work with our customers, we explain that gas is user friendly and one of the big selling points is that it provides a continuous flow of hot water, meaning you never have a cold shower. We are definitely seeing more people turn to gas".
The keys to the new vehicles will be presented to the winners at the Jemena Pemulwuy office by Gabby Sycamore, General Manager, Gas Markets, Jemena.
Now in its eighth year, the Jemena Natural Gas Incentive Program rewards gas installers for connecting homes and small businesses to natural gas across the Jemena Gas Network (JGN) which includes Sydney, Newcastle, the Central Coast, Wollongong, and parts of country New South Wales.
The JGN is approximately 25,000 kilometres in length and distributes natural gas to 1.3 million properties.
The two Nissan Navara dual cab, automatic, 4x4s, valued at approximately $45,000 each, take Jemena's total program commitment, supporting small business, to more than $1 million.
Details of the 2018 Jemena Natural Gas Incentive Program will be released shortly on www.gonaturalgas.com.au
About Jemena
Jemena is an $10.5 billion company that owns and manages some of Australia's most significant gas and electricity assets. These include:
Jemena's Victorian electricity network which delivers electricity to over 330,000 homes and businesses in northern and western Melbourne.
the Jemena Gas Network servicing 1.3 million customers around NSW
the Eastern Gas Pipeline which delivers gas from Victoria's Gippsland basin to the ACT, Sydney and regional NSW
the Darling Downs Pipeline Network in south-east Queensland supplying Darling Downs Power Station and APLNG's export pipeline
the Queensland Gas Pipeline which supplies Gladstone and Rockhampton
the Darling Downs Pipeline System which transports gas to the Wallumbilla gas trading hub, the 630MW Darling Downs Power Station, and to the feeder pipeline to the APLNG LNG liquefaction plant at Gladstone
Jemena also part-owns the ActewAGL electricity and gas distribution networks in the ACT and United Energy, which supplies electricity to more than 600,000 customers across south-eastern Melbourne and the Mornington Peninsula.
Peter Keli, Marketing and Channel Development Manager, Jemena
Graham Parkinson, Director, Penrith Gas Shop
Gabby Sycamore, General Manager, Gas Markets, Jemena
Graeme Heath, Managing Director, Home Gas
Craig Farrugia, General Manager, Projects and Construction, Jemena