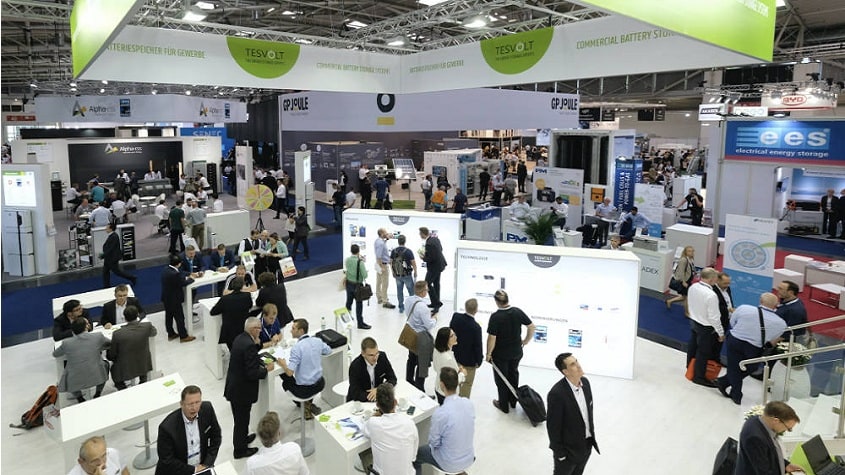 Ees Europe, the continent's largest and most-visited exhibition for batteries and energy storage systems, which took place from June 20–22, was a great success.
The exhibition, which this year joined The smarter E Europe family of exhibitions, focused on the growing importance of energy storage systems at all levels of renewable energy supply and e-mobility. Other hot topics included expanding and increasing the efficiency of battery production, securing grid stability through the integration of flexible energy storage systems, and coupling the electricity, heating and mobility sectors.
In 2018, 434 companies from all over the world presented their products, services and solutions for energy storage at The smarter E Europe. Together with its sister exhibitions Intersolar Europe, Power2Drive Europe and EM-Power, ees Europe showed itself to be an indispensable part of the leading industry platform for the new energy world.
The storage market is booming. According to an analysis published by Bloomberg New Energy Finance, new installations every year worldwide are going to double six times by 2030, ultimately creating a total storage volume of 125 gigawatts or 305 gigawatt hours. In Germany, alongside commercial and industrial storage systems, domestic storage systems are in particularly high demand. The German Solar Association (BSW-Solar) reports that more than 30,000 new solar storage systems were installed in Germany last year alone, which means that the market volume has tripled over the past three years.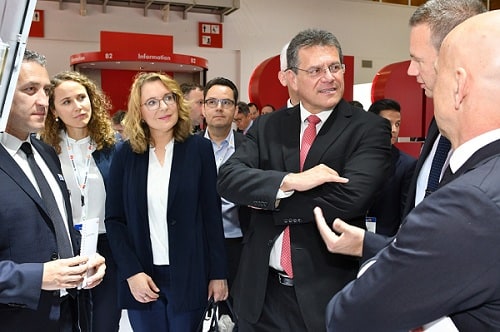 "There is a trend towards larger storage systems. Demand for larger systems is growing in the domestic storage segment in particular, because it's becoming more common for end users to have bigger consumers in their households. In the future, consumers will opt for electric vehicles and electric heating systems such as geothermal heat pumps and air source heat pumps. This will boost the demand for electricity both during the day and at night," explains TESVOLT's managing director, Daniel Hannemann. This storage boom is leading to a surge in production.
But "there is still room to expand active cell production in Germany," says Sascha Gaiser, Head of Machine Development / Laser Competence Center at Manz AG. Organizations such as TerraE Holding, a consortium of several German companies and research institutions, hope to drive this expansion. And the European Commission too has active support for battery production on its agenda. Maroš Šefčovič, Vice-President of the European Commission, invited high-ranking industry representatives to an Industry Round Table meeting at ees Europe in Munich this year. He paid tribute to the role of the solar and energy storage industry in the energy transition, presented the EU Battery Alliance and joined an exhibition tour to learn first-hand about the exhibitors' innovations.
The Battery Production Forum at ees Europe introduced the crowds of visitors to the latest technological developments in battery production, as well as providing a host of ideas for new business activities and strategies. The Forum was complemented by a large shared booth inviting visitors to explore state-of-the-art products and solutions created by leading suppliers to battery manufacturers. In 2019, ees Europe and Intersolar Europe will focus even more closely on production, with a dedicated exhibition hall for production technologies and relevant upstream topics.
ees AWARD and ees Europe Conference
The ees AWARD ceremony was one of the highlights of ees Europe. This year's winners — SMA Solar Technology AG, Socomec and Dynapower — were honored in Munich on June 20, and their innovative and groundbreaking products and solutions were showcased.
At the ees Europe Conference at Internationales Congress Center München (ICM), over 60 expert speakers offered special insights into the industry's technologies and trends. Safety, new materials and production processes were the key technological issues explored, while the session "How to Make Money with Energy Storage" illustrated the marketability of new technologies as well as successful business models. And a dedicated conference session made it clear that power-to-X is no longer science fiction, but reality.
The Conference also gave attendees the opportunity to learn about redox flow batteries and other technologies which are particularly suitable for stationary applications — the high demand for lithium-ion batteries from the automotive industry may make alternative battery technologies increasingly attractive. Finally, numerous experts discussed new applications for storage technologies as well as the resulting challenges. The Conferences and side events enjoyed a huge increase in interest and attendance, with a total of 1,800 participants.
Experience synergies with experts: ees & Power2Drive Forum
The innovations showcased here are enjoying record demand storage solutions for energy suppliers and for operators of solar installations, charging infrastructure solutions and storage solutions for local authorities, strategies and concepts for switching vehicle fleets over to electric vehicles. The ees & Power2Drive Forum was opened by renowned speakers on the first day of the exhibition, presenting an overview of the market. One of the highlights for visitors was the opening session "How to Bring Power to Our Roads and Urban Areas in a Sustainable Manner," where a panel discussed whether Germany should ban or restrict the use of diesel vehicles.
"We're seeing e-mobility become more and more important. ees Europe remains the world's leading exhibition for energy storage systems. That's why we like coming here. If you want to be part of this dynamic trend, you have to take part. Period," explains Philipp Schröder, managing director of sonnen GmbH.
On the second day of the ees & Power2Drive Forum, most of the presentations focused on e-mobility and charging infrastructure. For example, Enercon explored ways of integrating high-speed charging stations into the energy grid and explained how this will affect the power grid. The last day was rounded off with presentations by market leaders in PV storage systems, such as Solarwatt. Dr. Olaf Wollersheim, Solarwatt's managing director, gave insights into the current status of storage technologies and the factors that influence storage possibilities and the efficiency of storage systems.
New format The smarter E Europe proved a success
This year, for the first time, ees Europe was part of The smarter E Europe, which links together the four exhibitions and accompanying conferences and forums to promote synergies between renewable energy generation, distribution, storage and the intelligent use of energy. The new format was a huge success with the 1,177 exhibitors and approximately 47,000 visitors. "The response we've encountered is excellent, the concept is clearly extremely popular, and everything we've seen and heard confirms that we're on the right path," says Markus Elsässer, CEO of Solar Promotion GmbH. Daniel Strowitzki, Managing Director of Freiburg Wirtschaft Touristik und Messe GmbH & Co. KG, adds: "As the organizers, we are extremely pleased and we're looking forward to The smarter E Europe 2019."
ees Europe and the parallel events will take place from May 15–17, 2019 under the umbrella of The smarter E at Messe München.
For more information, please visit:
www.ees-europe.com/en
www.TheSmarterE.de/en
ees Europe
ees Europe is the continent's largest and most visited exhibition for batteries and energy storage systems. Since 2014, ees Europe has been held annually at the Messe München exhibition center in Munich. It serves as the industry platform for manufacturers, distributors, users and suppliers of stationary and mobile storage solutions for electrical energy as well as battery production technologies.
The accompanying ees Europe Conference highlights and consolidates current industry issues. With additional ees events in San Francisco, Mumbai and Bangalore as well as Sao Paolo, ees is represented on four continents.
In 2019, Power2Drive Europe, the exhibition for charging infrastructure and e-mobility, is taking place in parallel to ees Europe for the second time. With its focus on traction batteries and topics relating to charging infrastructure, Power2Drive complements ees Europe perfectly. Intersolar Europe, the world's leading exhibition for the solar industry and its partners, and EM-Power, the new exhibition for the intelligent use of energy in industry and buildings, will also take place at the same time. All four exhibitions are being held under the umbrella of The smarter E Europe – the innovation hub for empowering new energy solutions.
For more information on ees Europe, please visit: www.ees-europe.com/en
ees Europe is organized by Solar Promotion GmbH, Pforzheim and Freiburg Wirtschaft Touristik und Messe GmbH & Co. KG (FWTM).