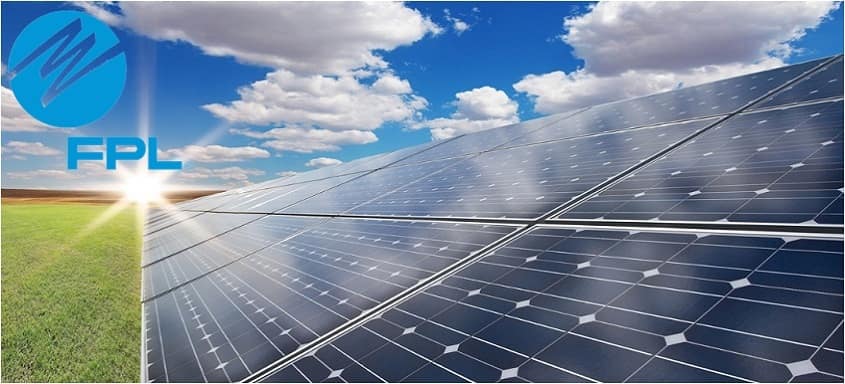 Florida Power & Light Co. announced that it has selected Blattner Energy and Black & Veatch – two of the nation's premiere providers of renewable energy engineering, procurement and construction (EPC) services – to build its new universal solar projects.
Blattner Energy will be the EPC contractor for four 74.5-MW solar power plants targeted for Dec. 31, 2017, completion: FPL Coral Farms Solar Energy Center, Putnam County; FPL Horizon Solar Energy Center, Alachua and Putnam Counties; FPL Indian River Solar Energy Center, Indian River County; and FPL Wildflower Solar Energy Center, DeSoto County.
Black & Veatch will be the EPC contractor for four 74.5-MW solar power plants targeted for March 1, 2018, completion: FPL Barefoot Bay Solar Energy Center, Brevard County; FPL Blue Cypress Solar Energy Center, Indian River County; FPL Hammock Solar Energy Center, Hendry County; and FPL Loggerhead Solar Energy Center, St. Lucie County. Construction on these sites will be performed by Overland Contracting Inc., a Black & Veatch company.
Notably, the average estimated capital cost across the eight new plants is less than $1,500/kWac – among the lowest-cost solar ever built in America. Over their operational lifetime, the plants are projected to produce millions of dollars in net savings for FPL customers, due primarily to the projected reduction in the use of fossil fuels more than offsetting the cost to build the plants.
"Solar is an integral part of our affordable clean energy strategy, but we also have a duty to invest responsibly on behalf of our customers. It's incredibly important to us that these major projects be done right," said Eric Silagy, FPL president and CEO. "It's no easy feat to build eight solar plants. We've selected project partners who share our commitment to quality, affordability and efficiency."
Both EPC contractors are committed to hiring Florida residents when possible and have a strong record of delivering projects on time. Black & Veatch previously served as the EPC contractor for the three 74.5-MW FPL solar plants that were recently completed in 2016.
"Black & Veatch is thrilled to build on the success of the 2016 FPL solar projects in support of FPL's vision to provide its customers with affordable, clean and sustainable energy for generations to come," said Troy Ochoa, Project Manager, Black & Veatch. "These new solar facilities build on our vast experience in the expanding renewable energy markets across the U.S. and globally."
"Blattner Energy is honored to work with FPL, a clean energy company, and feels as though it's a great fit for both companies," said Stephen Jones, director at Blattner Energy. "With over 32,500 MW of renewable energy installed throughout the United States and Canada, including over 1,400 MW of solar in 2016, we're excited to contribute to the great opportunity Florida has for solar energy."
Construction is expected to commence this spring. At the height of construction, each of the sites is expected to employ about 200 people, for a total of approximately 1,600 jobs.
FPL's universal solar energy centers provide zero-emissions power to the grid and are designed to avoid wetlands and minimize any impact on natural surroundings. The panels sit low to the ground, at about 6 to 8 feet high, on racks that fit directly into the soil and do not require any concrete. Once construction is complete, the plants operate without water, fuel or on-site personnel, placing little to no demand on public services.
When completed, the new plants combined are expected to generate enough energy to power approximately 120,000 homes and prevent an average of more than 525,000 tons of carbon emissions annually. This level of greenhouse gas reduction is equivalent to the emissions from more than 100,000 vehicles or the carbon sequestered by more than 450,000 acres of forest, according to the U.S. Environmental Protection Agency.
FPL has been working closely with community leaders, local residents and environmental experts to identify and prepare each of the sites to host the new solar installations, and the company has received widespread support for the investment, which will total approximately $900 million in new solar for Florida.
For several years, FPL has been finding new ways to reduce costs in order to bring more universal solar to its customers cost-effectively. Lower costs that come with nearby transmission and substation infrastructure continue to be a driving force behind the selection of FPL's universal solar sites, as well as the company's ability to buy solar panels in large quantities – more than 2.5 million solar panels in all across the eight new solar energy centers.
FPL consistently ranks as one of the cleanest, most reliable energy providers in the nation, and the price that FPL's typical, 1,000-kWh residential customer pays for electricity continues to be less than it was more than 10 years ago and well below the latest national average. Furthering this trend, the new solar energy centers are projected to be cost-effective over their operational lifetime, producing millions of dollars in long-term net savings for FPL customers.
The company's innovative approach to investing in affordable clean energy infrastructure since 2001, which includes adding advanced technologies and phasing out older coal-fired and oil-burning power plants, has saved FPL customers more than $8.6 billion in fossil fuel costs and prevented 108 million tons of carbon emissions.
Major FPL solar installations currently in operation,FPL currently operates more than 335 megawatts of solar generating capacity, enough to power 60,000 homes. Major installations include:
FPL DeSoto Next Generation Solar Energy Center, DeSoto County
FPL Space Coast Next Generation Solar Energy Center, Brevard County
FPL Martin Clean Energy Center (hybrid solar/natural gas), Martin County
FPL Solar Circuit at Daytona International Speedway, Volusia County
Solar research installation at Florida International University, Miami-Dade County
FPL SolarNow array at the Broward Young At Art Museum & Library, Broward County
FPL SolarNow array at the Palm Beach Zoo & Conservation Society, Palm Beach County
FPL SolarNow array at the Palmetto Estuary Nature Preserve, Manatee County
FPL Babcock Ranch Solar Energy Center, Charlotte County
FPL Citrus Solar Energy Center, DeSoto County
FPL Manatee Solar Energy Center, Manatee County
In addition, FPL has installed small-scale solar arrays for more than 100 Florida schools and other educational facilities. For more information, visit www.FPL.com/solar.
Florida Power & Light Company
Florida Power & Light Company is the third-largest electric utility in the United States, serving approximately 4.9 million customer accounts or an estimated 10 million people across nearly half of the state of Florida. FPL's typical 1,000-kWh residential customer bill is approximately 25 percent lower than the latest national average and, in 2016, was the lowest in Florida among reporting utilities for the seventh year in a row. FPL's service reliability is better than 99.98 percent, and its highly fuel-efficient power plant fleet is one of the cleanest among all utilities nationwide. The company received the top ranking in the southern U.S. among large electric providers, according to the J.D. Power 2016 Electric Utility Residential Customer Satisfaction StudySM, and was recognized in 2016 as one of the most trusted U.S. electric utilities by Market Strategies International. A leading Florida employer with approximately 8,900 employees, FPL is a subsidiary of Juno Beach, Florida-based NextEra Energy, Inc. (NYSE: NEE), a clean energy company widely recognized for its efforts in sustainability, ethics and diversity, and has been ranked No. 1 in the electric and gas utilities industry in Fortune's 2017 list of "World's Most Admired Companies." NextEra Energy is also the parent company of NextEra Energy Resources, LLC, which, together with its affiliated entities, is the world's largest generator of renewable energy from the wind and sun. For more information about NextEra Energy companies, visit these websites: www.NextEraEnergy.com, www.FPL.com, www.NextEraEnergyResources.com.
Blattner Energy, Inc.
For more than a century, the Blattner Family of Companies has delivered collaborative construction solutions to industry leaders across the United States and Canada. Today, Blattner Energy is a diversified power generation contractor providing construction solutions for the power delivery industry and leading expertise in renewable energy construction. Blattner provides complete engineering, procurement and construction (EPC) services for wind, solar, energy storage, and high voltage transmission and substation projects. Learn more at www.BlattnerEnergy.com.
About Black & Veatch
Black & Veatch is an employee-owned, global leader in building critical human infrastructure in Energy, Water, Telecommunications and Government Services. Since 1915, we have helped our clients improve the lives of people in over 100 countries through consulting, engineering, construction, operations and program management. Our revenues in 2015 were US$3.0 billion. Follow us at www.bv.com and in social media.
For further information:
Florida Power & Light Company,
Media Line: 561-694-4442