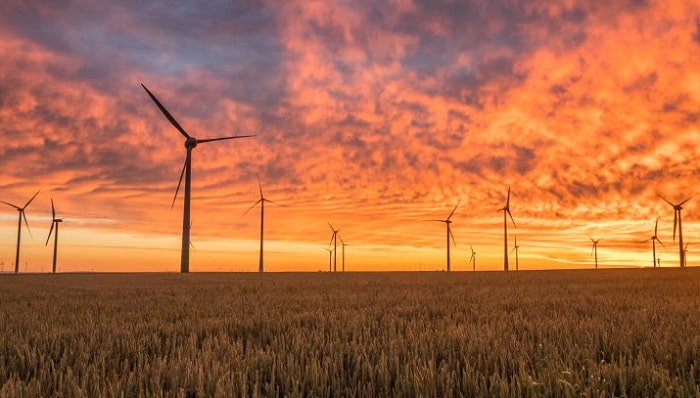 PowerChina agreed to construct an 800 MW wind power plant in Ukraine's troubled Donetsk region with local partners. It would be the biggest onshore unit of its kind in Europe.
WindFarm signed a contract with PowerChina for the joint wind park project with a capacity of 800 MW in Ukraine, which would make it the largest such facility on land in Europe at the moment. The unit will sell electricity without government subsidies, the companies said.
"It means that the wind power sector of Ukraine is entering a new phase of its development, based on competitive market conditions. Secondly, this project envisages local wind equipment production," said Chairman of the Board of the Ukrainian Wind Energy Association (UWEA) Andriy Konechenkov.
Manush-Nikolske project is valued at USD 1 billion
The wind park is planned to be built in Donetsk in southeast Ukraine, in the districts of Manush and Nikolske, or Nikolsky. Participants at the signing ceremony estimated it would be worth at least USD 1 billion (EUR 860 million). Nearby parts of Donetsk are controlled by pro-Russian rebels.
WindFarm's Director Yuriy Zhabskyy said the power plant would be installed "in the shortest possible time" but failed to determine a deadline.
PowerChina, which built the Three Gorges Dam, the world's largest power plant, is a subsidiary of state-owned Power Construction Corp. of China. WindFarm, based in Ukraine, has a portfolio of wind power plants of 1.3 GW, of which more than 400 MW have been put into operation.
China's secures second wind megaproject in Ukraine
Of note, China Power Technology Equipment, controlled by State Grid Corp., agreed a year ago with Norwegian firm NBT to install a 750 MW wind park in in the Zaporozhye region of Ukraine by the end of 2021. The project worth EUR 1 billion was included in the Belt and Road initiative.
Fântânele-Cogealac in Romania, with a capacity of 600 MW, is currently the largest onshore wind farm in Europe. There are two bigger operational facilities in Norway – Fosen, and Sweden (Markbygden), but they are spread across several locations.
The 659 MW Walney Extension in the United Kingdom is the world's most powerful offshore wind farm. The Netherlands plans to construct the Hollandse Kust Zuid 1-4 offshore project by 2023. At 1.5 GW, it would achieve a world record.