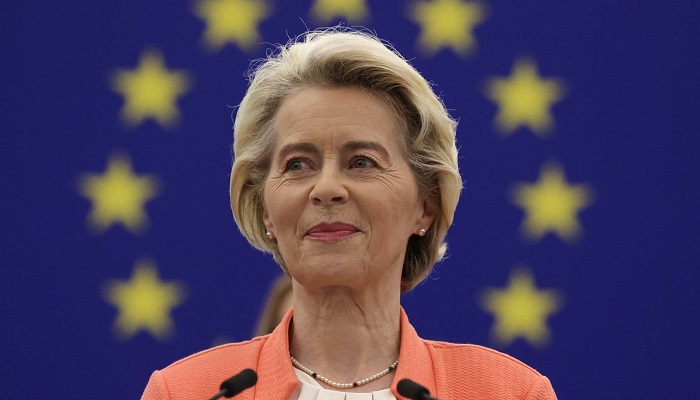 The European Union is set to introduce a comprehensive package of measures aimed at supporting its wind power sector. This move comes in response to the challenges faced by renewable energy companies, including inflation, according to European Commission President Ursula von der Leyen, who made this announcement during her address to the European Parliament on Wednesday.
In her speech, von der Leyen outlined several key initiatives. Firstly, there will be an expedited permitting process to streamline wind power projects. Additionally, improvements will be made to auction systems across the European Union. The focus will also be placed on enhancing skills, ensuring better access to finance, and maintaining stable supply chains in the wind power industry.
Following this announcement, shares in leading wind turbine manufacturers, such as Siemens Energy (ENR1n.DE), Vestas (VWS.CO), and Nordex (NDXG.DE), saw increases ranging from 1.6% to 4.4%. These companies have faced challenges due to issues within the wind industry's market design.
The European Union has set ambitious goals for expanding its renewable energy capacity, with a legally binding target to produce 42.5% of its energy from renewable sources by 2030. However, the offshore wind power sector in Europe has expressed concerns about its ability to meet these goals and has called for increased policy support, especially for the manufacturing of new wind farms within Europe.
Von der Leyen emphasized the importance of developing the cleantech industry within Europe, stating, "The future of our cleantech industry has to be made in Europe."
In 2022, final investment decisions for European offshore wind farms reached a 10-year low due to challenges such as record-high inflation, rising interest rates, higher seabed leasing fees, and volatile energy markets.
The energy industry lobby group Eurelectric welcomed the EU's announcement but stressed the urgent need to upgrade Europe's power grids to accommodate the influx of renewable energy. The European Commission has estimated that investments of 584 billion euros ($627 billion) in power grids will be necessary from 2020 to 2030 to meet green energy objectives.
Europe's efforts to combat climate change are under increasing political scrutiny ahead of upcoming EU elections, including pressure from von der Leyen's own political group, which has raised concerns about new EU nature laws impacting farmers. Nevertheless, von der Leyen reaffirmed her commitment to the European green agenda and pledged to engage in discussions with various industries, including agriculture, to address their concerns in the context of the green transition.