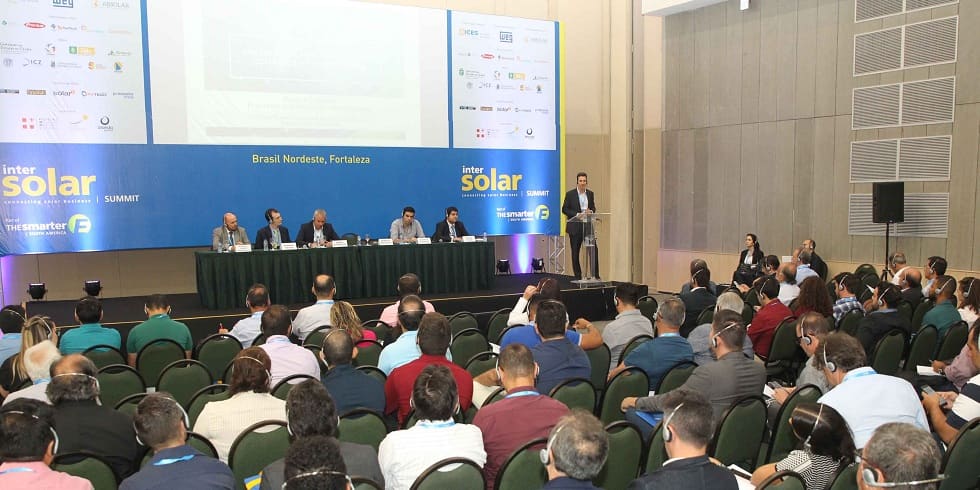 The Intersolar Summit Brasil Nordeste takes place in Fortaleza, Brazil, from April 15 to 16, 2020 for the second time. It addresses leading local and international experts on solar power and renewable energy in the region.
In 2019, the high-level conference welcomed 300+ delegates and more than 35 top-level speakers to discuss policies, legal challenges and regulatory frameworks as well as grid-integration solutions and financing.
The Summit's mission is to provide in-depth education, enable high-quality networking opportunities, expand the use of PV technologies at regional and national level and strengthen the local PV industry.
The Intersolar Summit Brasil Nordeste takes place parallel to the 11th Congresso RTI Provedores de Internet and the 13th Congresso RTI Data Centers.
More info here https://www.intersolar.net.br/en/home/summit-brasil-nordeste?utm_medium=webbanner&utm_source=powerinfotoday&utm_campaign=SummitBrasil_2020_MP
Organizers
The Intersolar Summit Brasil Nordeste is organized by Intersolar South America – Latin America's largest exhibition and conference for the solar industry: Solar Promotion International GmbH, Pforzheim, Freiburg Management and Marketing International GmbH (FMMI) and Aranda Eventos&CongressosLtda, São Paulo as co-organizer.
Event Name: Intersolar Summit Brasil Nordeste
Event Venue: Fortaleza, Brazil
Event Date: November 16 -18 , 2020
Event website link: https://www.intersolar.net.br/en/home/summit-brasil-nordeste?utm_medium=webbanner&utm_source=powerinfotoday&utm_campaign=SummitBrasil_2020_MP
Complete Event Organizer Name: Solar Promotion International GmbH
Communication number (with country & area code): +49 7231 58598-218