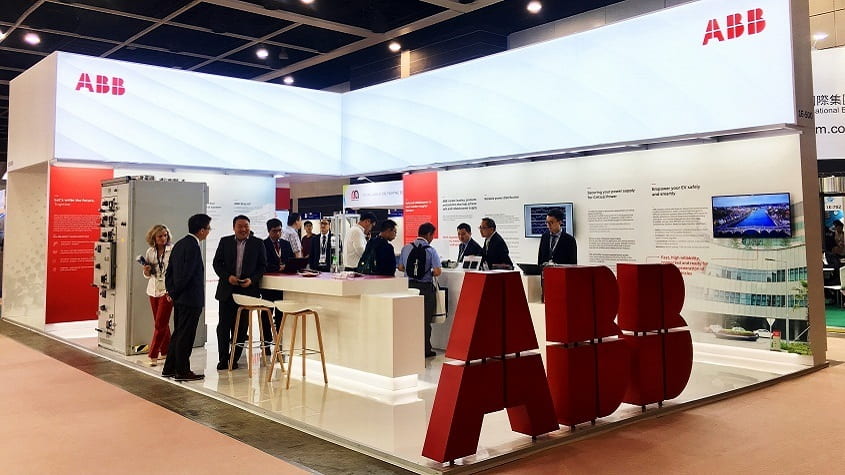 ABB showcases leading-edge technologies at Build4Asia 2018, Hong Kong from May 9-11. Exhibits include ABB Ability™enabled solutions, which provide asset management by collecting, monitoring and analyzing data.
The ABB stand will demonstrate how an ABB secure power supply can ensure reliability and improve system performance, especially for applications in airports and hospitals.
ABB AbilityTM is ABB's unified, cross-industry digital offering, with more than 210 solutions. It extends from device to edge to the cloud with devices, systems, solutions, services and a platform, which enables customers increase productivity and lower costs. ABB AbilityTM has helped customers across many industries to make the digital transition.
"We have a long and successful track record in Hong Kong and we have been close to local customers and markets with our leading technologies and comprehensive product portfolios," said ChiKong Leung, sales director for Electrification Products division in Hong Kong and Macau. "Our ABB AbilityTM solutions for power distribution deliver unique value to our customers through connectivity and digitalization, improving power availability and efficiency."
ABB Ability™ Electrical Distribution Control System (EDCS) is an innovative cloud-computing platform designed to monitor, optimize and control the electrical system. The Emax 2 air-insulated circuit breakers have built-in sensing and connectivity, so that data can be collected, stored and analyzed on state-of-the-art cloud-basedcomputer architecture. EDCS enables effective planning through the remote management of power and can deliver up to 30 percent savings on energy bills.
ABB highlights its hospital solutions at Build4Asia. ABB's offerings for hospitalsinclude smart distribution, electrical safety, energy management, building automation and EV charging.Time is vital for surgeons and patients. While ABB's OTM, TruOne, ATS and PQF components secure power reliability, ABB AbilityTM solutions are able to reduce downtime or unplanned outagesthrough cloud–based data collection and analysis.
ABB also demonstrates its Furse "Total Solution" to earth lightning strikes, delivering long lasting, reliable protection of a structure, its electronic systems and the personnel within it. It is essential for buildings, especially airportsto control hazardous, potentially life threatening, lightning strikes and transient over voltages. Furse solutions have been deployed successfully in many landmark airports, including Heathrow Airport in the UK.
At the exhibitor's forum, Andy Cao, Technical Promotion Sales Manager of ABB in China, will share his views on ABB AbilityTM Cloud-based Energy Management. He will describe the current trends in both the market and tech-nology development towards greater digitization and cloud-based connection. He will demonstrate how ABBAbilityTMhas become ABB's cross-industry digital capability, spreading from device, to edge, to cloud with devices, systems, solutions, services, and a platform that enables our customers to increase productivity and reduce costs.
ABB (ABBN: SIX Swiss Ex) is a pioneering technology leader in electrification products, robotics and motion, industrial automation and power grids, serving customers in utilities, industry and transport & infrastructure globally. Continuing a history of innovation spanning more than 130 years, ABB today is writing the future of industrial digitalization with two clear value propositions: bringing electricity from any power plant to any plug and automating industries from natural resources to finished products.
As title partner of Formula E, the fully electric international FIA motorsport class, ABB is pushing the boundaries of e-mobility to contribute to a sustainable future. ABB operates in more than 100 countries with about 135,000 employees. ABB has a full range of business activities in China, including R&D, manufacturing, sales and services, with 17,000 employees located in 139 cities, 40 local companies, and online and offline channels across over 300 cities.
For more information on ABB, please visit: http://new.abb.com/cn