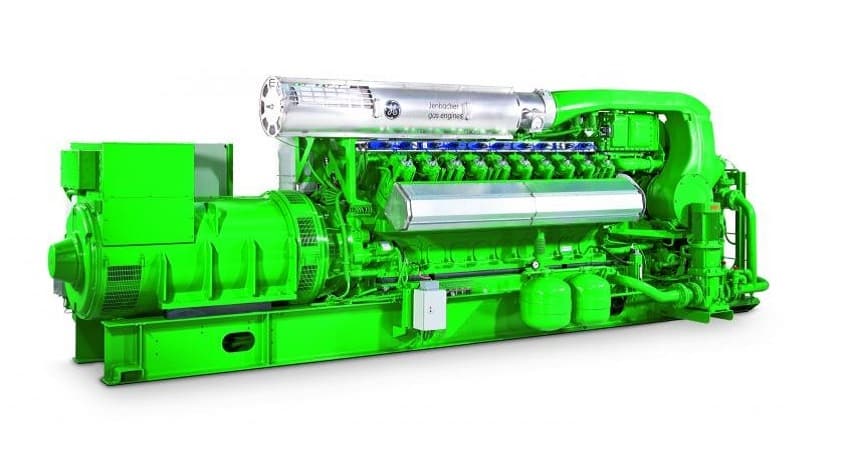 General Electric announced that Dana Engineering, GE's Channel Partner for Jenbacher gas engines, will provide six Jenbacher Type 4 gas engines to Concord Green Energy Sdn Bhd (CGE) for its biogas projects to generate electricity from palm oil mill effluent (POME) discharged by Federal Land Development Authority (FELDA) palm oil mills. This waste-to-energy project will generate 5.6 MW of power across four FELDA mills.
POME is a byproduct of the crude palm oil production process and is high in organic content, making it a great source for biogas production. Through anaerobic fermentation, biogas—a mixture of methane and carbon dioxide—is produced from POME, which is then captured and fed into the Jenbacher engines to generate power.
"We believe the six Jenbacher gas engines are an excellent solution to provide our customer with reliable and efficient energy supply," said Concord Green Energy Sdn Bhd CEO, Datuk Khairuddin bin Tan Sri Mohd Hussin. "Instead of discarding the waste from FELDA's palm oil mills, we now can convert it to be something useful for us, that is to generate electricity." He added that excess electricity generated from the units will be sold and injected to the national grid.
"GE has more than 4,000 gas engines already operating in biogas applications worldwide and is deploying 300 MW in the ASEAN region," said Sales Leader of GE Distributed Power, Rudolf Aritonang. "In biogas, our Type 4 fleet has an average of more than 98% reliability, ensuring that our end users are able to produce power and feed back to the grid from this renewable source."
The contract was signed between GE's Channel Partner, Dana Engineering's Senior Director, Kazi Hassan Shariff and Concord Green Energy Sdn Bhd CEO, Datuk Khairuddin bin Tan Sri Mohd Hussin, witnessed by Concord's Tan Sri Datuk Seri Mohd Hussin bin Abd Hamid, and GE Distributed Power's Rudolf Aritonang. Dana Engineering is also providing the full power plant engineering solution including the installation of the Jenbacher units, engineering support, spare parts supply, and the overall maintenance of the units.
Federal Land Development Authority (FELDA) was established in 1956 to carry out land development projects and agricultural activities, industrial and commercial social economy. In 2015, CGE was engaged by FELDA Global Ventures Holdings (FGV) to build, operate, and maintain FGV's biogas plants complete with power generation facilities at FGV's selected palm oil mills for a period of 16 years. Last year, CGE signed an agreement with FGV to immediately start construction work on four "greenfield" mills under Phase 1 of the Mill Specific Build, Operate, and Own agreement where GE's Jenbacher gas engines will be located.
About GE Power
GE Power is a world energy leader that provides technology, solutions and services across the entire energy value chain from the point of generation to consumption. We are transforming the electricity industry by uniting all the resources and scale of the world's first Digital Industrial company. Our customers operate in more than 150 countries, and together we power more than a third of the world to illuminate cities, build economies and connect the world. For more information, visit the company's website at www.gepower.com
About GE
GE (NYSE: GE) is the world's Digital Industrial Company, transforming industry with software-defined machines and solutions that are connected, responsive and predictive. GE is organized around a global exchange of knowledge, the "GE Store," through which each business shares and accesses the same technology, markets, structure and intellect. Each invention further fuels innovation and application across our industrial sectors. With people, services, technology and scale, GE delivers better outcomes for customers by speaking the language of industry. To learn more, please visit www.ge.com