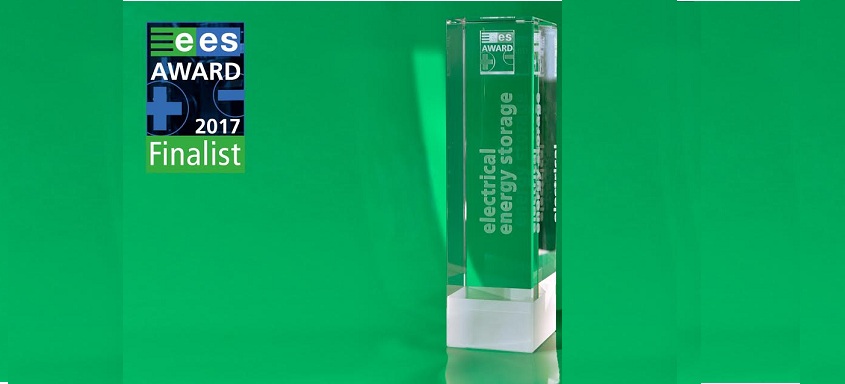 Grid integration of renewable energies, increased efficiency and durability of lithium-ion batteries, and the step towards megawatt output: The ees AWARD 2017 reflects the current developments in the industry. Finalists for the prestigious award have been selected from a wide range of international submissions.
The winners will be announced at ees Europe, the continent's largest and most visited exhibition for batteries and energy storage systems, at the Innovation and Application Forum on May 31, 2017. The exhibition takes place parallel to Intersolar Europe, the world's largest exhibition for the solar industry and its partners, from May 31 to June 2 in Munich.
Over the last few years, the energy storage industry has boomed. Systems are becoming increasingly affordable – for example, lithium-ion storage systems were 15% cheaper in the second half of 2016 than the start of 2015 – making it increasingly attractive to invest in this technology. The development is being driven by numerous innovations which make batteries more powerful and more reliable. The ees AWARD has been honoring pioneering developments in the industry for four years. 
Submission trends
The industry is clearly dominated by the topics of efficiency and durability, which is reflected in the submissions for the 2017 ees AWARD. The vast majority of projects submitted were in the area of lithium-ion technology, with a marked increase in high-voltage storage systems. Progress has been made in terms of energy density, capacity and lifespan. Easy-to-install modular storage systems are another hot topic. Self-configuring battery systems make design and installation easier and minimize potential sources of defect. And to boost functionality, there is a trend towards standardizing interfaces and data logs. Quality and safety also play an important role amongst this year's submissions. The aim is to develop systems which can be used safely for longer, while minimizing operating expenses. Large-scale storage systems in the megawatt range are gaining a foothold in the market, thanks to the decreasing cost of lithium-ion batteries. These systems support the grid by providing balancing power and stabilizing frequency and voltage, and are used as an emergency power supply or mini-grids in combination with PV and wind energy installations. Lead battery systems are also being optimized, and are frequently used in off-grid applications. Here too, there is a trend towards modularity and reducing installation and operating costs. Standardized PV battery systems which are compatible with mini-grids can be scaled to any size, and thus make it possible to supply self-controlled and self-learning power in remote areas. 
An overview of the ees AWARD finalists
BYD Co. Ltd (China): The turnkey large-scale storage system 1.2MVA/1.2MWh Containerized ESS is a megawatt-scale container system and enables a variety of grid management services. It is an important element for integrating renewable energies into the grid.
BYD Co. Ltd (China): The B-Box HV is an innovative stackable system consisting of lithium-ion batteries with a modular design and optimized interfaces, making them flexible and safe to scale. The B-Box HV can be used both in single home and commercial storage systems. 
Energy Depot Deutschland GmbH (Germany): The CENTURIO Energy Storage System combines a three-phase hybrid inverter and lithium-ion battery storage modules with a capacity of 4.1 kWh each. The storage system is an efficient energy solution which can be used as an emergency power backup. It boasts a storage capacity of up to 32.8 kWh, a phase balance load and a very high control speed.
IRIS Energy GmbH (Germany): The IRIS Energy – modular energy storage system is a three-phase lithium-ion storage system suitable for commercial applications and comes with a 15-year warranty. The system enables the increase of self consumption as well as a reduction of the peak load, the compensation of reactive output, emergency power supply and options for the decentralized control of primary and secondary energy.
KOSTAL Industrie Elektrik GmbH (Germany): The PLENTICORE plus is a three-phase inverter, which is also suitable for smart homes. The three variable inputs make it possible to connect up to three PV arrays, or two PV arrays and a high voltage battery. It is also equipped with self-learning algorithms and shading management. 
LG Chem (Korea): The self-configuring Stand-alone Battery Module (SBM) is a lithium battery module using highly efficient cells with high energy density. The charging strategy guarantees an optimized charge transfer between battery modules. The module is designed as a functional component for a wide range of applications or for use in system integrators.
NIDEC ASI (Italy): NIDEC's Battery Energy Storage System is a lithium-ion storage system designed for large-scale installations of up to 200 MWh for grid support and the provision of balancing power. Various grid operators around the world already use the system to stabilize frequency and voltage, as well as for on- and off-grid operations. 
Skeleton Technologies GmbH (Germany): The SkelCap ultracapacitor series uses a graphene-based nanomaterial which achieves a power density of up to 110 kW/kg for storing energy in seconds – this constitutes a 20% increase in electrical capacity compared with competitors' products.
SolarEdge Technologies (Israel): The StorEdge Inverter with Backup & Device Control is a complete PV storage solution for optimizing individual components. This enables a wide range of applications, from boosting self-consumption to energy management and emergency power supply, as well as peak shifting and the integration of thermal loads. 
SOLARWATT GmbH (Germany): SOLARWATT Matrix is a modular lithium-ion storage system which can be scaled up to megawatt level and is easy to install. Thanks to the direct DC coupling to the PV installation, the system achieves a high level of efficiency. 
Visitors to ees Europe will be able to see the outstanding quality of the finalist first hand on May 31, 2017, when the companies will be presenting their projects. The winners will be announced at 5:00pm as part of a special award ceremony at the Innovation and Application Forum at Intersolar Europe (hall A4, booth A4.530) , which is taking place at the same time in Munich. 
ees Europe 2017 will take place alongside Intersolar Europe from May 31 – June 2 at Messe München; the ees Europe Conference will be held on May 30 and 31 at ICM – Internationales Congress Center München.Further information on ees Europe 2017 can be found at www.ees-europe.com
About ees
The global ees exhibition series is the industry platform for manufacturers, distributors, users and suppliers of stationary and mobile electricity storage systems. The ees exhibitions are held under the guiding principle Charging the future and co-organized with Intersolar, the leading exhibition series for the solar industry. The ees exhibitions and accompanying ees conferences are dedicated to renewable energy storage solutions, from residential and commercial applications to large-scale storage systems for stabilizing the grid. Other focal points are products and solutions for smart renewable energy, energy management, e-mobility and uninterruptible power supply (UPS).
With ees Europe in Munich, ees North America in San Francisco, ees India in Mumbai, and ees South America in São Paulo, ees is now represented on four continents. ees Europe is the continent's largest exhibition with the greatest number of visitors for the battery and energy storage industry.
For more information, please visit: www.electrical-energy-storage.event
Organizer: ees Europe is organized by Solar Promotion GmbH, Pforzheim and Freiburg Wirtschaft Touristik und Messe GmbH & Co. KG (FWTM). The exhibitions in North America, India and South America are organized by the international subsidiary companies Solar Promotion International GmbH, Pforzheim and Freiburg Management and Marketing International GmbH (FMMI), together with local partners.
Contact:
Solar Promotion GmbH
P.O. Box 100 170
75101 Pforzheim, Germany
Horst Dufner
Tel.: +49 7231 58598-0
Fax: +49 7231 58598-28
dufner@solarpromotion.com
Press contact:
fischerAppelt, relations
Otl-Aicher-Straße 64
80797 Munich, Germany
Robert Schwarzenböck
Tel.: +49 89 747466-23
Fax.: +49 89 747466-66
rs@fischerAppelt.de