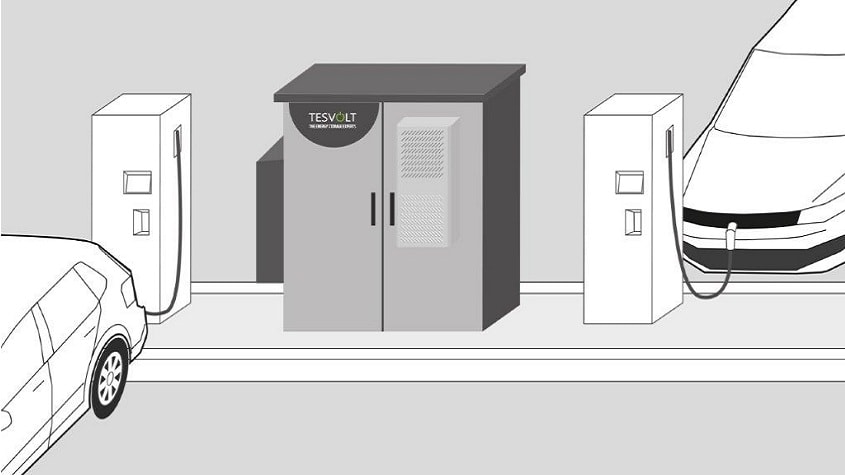 The upward trend for photovoltaic installations is driving growth in the electricity storage market too. The industry is picking up steam thanks to lower costs and an increasingly diverse range of possible applications. According to IHS Markit, in 2017 alone 1.9 gigawatts of storage capacity were installed worldwide.
This represents a 53 percent increase in market volume over the previous year. The analysts found out that one of the current global trends is the growth in projects combining solar power and storage. This year, 40 percent of these projects will be carried out in large-scale solar power plants. Business is also booming for smaller storage systems in homes and in commerce. According to the IHS study, these should make up around half of the global storage system market by 2023.
At ees Europe, Europe's largest and most-visited exhibition for batteries and energy storage systems, taking place under the umbrella of The smarter E Europe, over 400 energy storage providers from around the world will showcase their pioneering innovations, from the latest battery models to new developments in components to promising trends in large-scale storage systems. Other developments driving the energy industry will be in the spotlight at ees Europe and three other international energy exhibitions – Intersolar Europe, Power2Drive Europe and EM-Power – covering a total exhibition space of 86,000 sqm as part of the innovation hub The smarter E, from June 20–22 in Munich.
Electricity storage systems are becoming increasingly popular in private homes and power plants. They enable efficient use of energy from renewable sources by interconnecting energy components and sectors increasingly cost-effectively and by providing a smart, demand-based power supply that contributes to the stability of the grid. This is reliant on an increase in the capacities of battery production itself. One approach is to add new production sites – instead of accepting a situation where battery cells are largely produced on other continents, the European Commission and other bodies are pushing for more facilities to be set up in Europe.
Lithium-ion technology is facing competition
Will lithium-ion battery cells one day become a scarce and expensive resource as a result of the e-mobility boom? New domestic storage technologies could offer an alternative. Vanadium Redox flow batteries, for example, have long been a cost-effective option in private homes as well as in wind and solar parks. ees Europe will see the company VoltStorage introduce the system VoltStorage SMART, which has a storage capacity of 6.8 kWh and a maximum output of 2.0 kW and is thus well suited to use in the home. The system can complete more than 10,000 charge cycles without any effect on its capacity.
The electrolyte used is a non-flammable vanadium solution which is 100% recyclable – a boon for the environment and for safety. Another option being intensively developed is the use of electricity to generate hydrogen for energy storage. Initial pilot projects on storing wind energy have been successfully completed. Now, the aim is to adapt these systems for use with domestic photovoltaic installations. The particular appeal of the systems is that power generation creates heat in the fuel cell which can be used to assist domestic hot water production. For example, the Picea system offered by HPS Home Power Solutions GmbH combines energy storage, heating and ventilation in one and can cover the entire electricity demand of a single-family home from a solar installation.
Lithium-ion storage systems are currently a hot topic, as prices have fallen thanks to standardization and to the systems' modular design. BYD – a leading Chinese provider for lithium-iron-phosphate batteries – will be in Munich to present its B-Box HV storage system, now with 48 V. The low-voltage version B-Box LV starts at 3.5 kWh and can be expanded to a maximum of 42 kWh. It is based on a patented stackable system which means that modules can be easily connected without the need for expensive cabling. The German systems provider SOLARWATT will be demonstrating how multiple MyReserve storage systems with five battery modules each can be combined via multicluster technology to form a large-scale storage system, which is unique in that the individual storage systems organize themselves autonomously without a master/slave connection.
The storage systems of tomorrow are multifunctional
The batteries of tomorrow must be able to supply energy for a variety of interfaces and to guarantee that HVAC technology, including heating, can function around the clock. One particular challenge is, for example, to enable operation of a heat pump and simultaneous charging of an electric vehicle via a home charging station. The company E3/DC will show how this can be done. Its DC-based technology TriLINK 2.0 ensures high-performance, efficient battery operation. This allows consumers with a high power demand to fulfill a significant proportion of this demand through self-consumption and to remain self-sufficient even in the event of a power outage, thanks to an emergency power reserve.
Intelligent solutions for combining storage systems and e-mobility
E-mobility is currently trending. Audi, BMW, Mercedes and VW are all aiming to be in a position to compete with current market leader Tesla by 2025 by offering electric versions of 15 to 25 percent of their vehicle models. At ees Europe, exhibitors will be presenting smart solutions that bring together storage systems and e-mobility. A significant acceptance factor is a fast and straightforward charging procedure. ADS-TEC has developed a vehicle fast-charging system (High Power Charger, HPC) for the distribution grid, where the power level is reduced. This makes it possible to offer charging power of up to 320 kW per vehicle even in decentralized structures. Vehicles from a range of manufacturers with 400 V batteries, as well as high-voltage battery systems up to 920 V, can be supplied even via limited standard grid connections thanks to storage system integration. At ees Europe, TESVOLT will be introducing the TS HV 70 Outdoor storage system, which is particularly well suited for charging stations installed in the outdoors. The compact, stable and weatherproof battery, measuring one meter by two, is small enough to be used even in city-center locations where space is tight. The cabinet features fully automated heating and cooling. Its high charge and discharge speed makes it possible to avoid peak loads.
Efficient, energy-saving production methods
The growing demand for batteries in e-mobility and throughout the energy system is speeding up developments in battery production. Particular challenges in this area include securely welding the extremely thin sheets of copper and aluminum inside the cells, as well as ensuring low-resistance module contacting. Schunk Sonosystems will be showing how a thermal metal welding method used in the automotive industry can be successfully applied to battery production. The company uses the DS20B machine to weld more than 140 wafer-thin metal sheets together at 6 kW and 20 kHz in a single stroke – and in less than half a second. And the robust tool only uses a fraction of the energy required for other thermal welding methods.
Large-scale storage trend: Combining photovoltaics with storage systems
PV power plants are increasingly being coupled with large-scale storage systems. Sterling and Wilson has turned this into a business activity of its own and has entered the field of hybrid power plants and energy storage solutions. At ees Europe, the Indian power plant builder will be presenting its flagship project. The company aims to drive major advances in hybrid power plants which combine multiple energy sources, as well as in energy storage solutions – in centralized fossil fuel and renewable energy power plants, in data centers and C&I sectors and in remote locations such as on islands. According to Sterling and Wilson's own forecasts, the market value of hybrid power plants and energy storage systems will rise to 40 million US dollars by 2025.
ees Europe and the parallel events will take place from June 20–22, 2018 under the umbrella of The smarter E at Messe München.
For more information, please visit:
www.ees-europe.com/en
www.TheSmarterE.de/en
ees Europe
ees Europe is the continent's largest and most visited exhibition for batteries and energy storage systems. Since 2014, ees Europe has been held annually at the Messe München exhibition center in Munich. It serves as the industry platform for manufacturers, distributors, users and suppliers of stationary storage solutions and technologies for electrical energy as well as battery production technologies.
The accompanying ees Europe Conference highlights and consolidates current industry issues.
With additional ees events in San Francisco, Mumbai and São Paulo, ees is represented on four continents.
In 2018, ees Europe is taking place in parallel to Power2Drive Europe, the exhibition for charging infrastructure and e-mobility, for the first time. With its focus on traction batteries and topics relating to charging infrastructure, Power2Drive complements ees Europe perfectly. Intersolar Europe, the world's leading exhibition for the solar industry and its partners, and EM-Power, the new exhibition for the intelligent use of energy in industry and buildings, will also take place at the same time. All four exhibitions are being held under the umbrella of The smarter E Europe – the innovative platform for new energy solutions.
For more information on ees Europe, please visit: www.ees-europe.com/en
ees Europe is organized by Solar Promotion GmbH, Pforzheim and Freiburg Wirtschaft Touristik und Messe GmbH & Co. KG (FWTM).