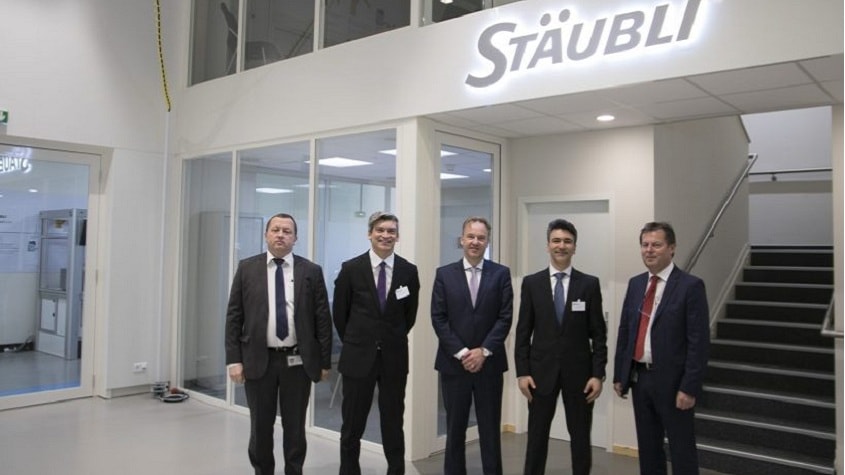 Stäubli Robotics, one of the leading international players in robotics automation, and Schneider Electric, the leader in digital transformation of energy management and automation, have further developed their partnership by signing a long-term agreement to integrate customized Stäubli TS series four axis SCARA robots into Schneider Electric's EcoStruxure Machine architecture and platform.
EcoStruxure is Schneider Electric's IoT-enabled, open and interoperable system architecture and platform. It delivers Innovation At Every Level across connected products, edge control, and apps, analytics, and services, with domain expertise in machinery to enable smart machines by combining products and software packages into automation solutions for OEM machine builders.
Stäubli Robotics develops specialized, professional robotics solutions for every industry, including electronics, medical, automotive, food, plastics processes, mechanics, and painting. It offers a unique and comprehensive line of four axis TP fast pickers and TS SCARA robots, as well as six axis TX and TX2 collaborative robots. Stäubli robots are the best solution for any industry requiring performance such as speed, precision, and reliability.
Schneider Electric is integrating a customized version of the Stäubli TS series four axis SCARA robots into its solution portfolio. Labeled Lexium STS series, these robots will now be fully integrated into the architecture of Schneider Electric´s leading PacDrive motion control solution.
This solution is on display at the Schneider Electric booth in Hall 11, Booth C58 at Hannover Messe 2018.
There are two main benefits this integration brings to industrial customers – firstly programming robot movements becomes much simpler by using a common programming language standardized on IEC 61131-3 – time taken for familiarization with special robotics programming languages becomes a thing of the past. Secondly, and related, are the benefits of omitting proprietary robot control from the hardware installation of an automation system – this reduces the number of interfaces, the wiring effort and the installation space required.
"This cooperation is generating far-reaching benefits for both partners," said Gerald Vogt, Group Division Manager, Stäubli Robotics. "We are excited to be working with Schneider Electric and to be able to benefit from its strong market positioning in industries such as machine building and to work together to bring our offers to machine builders that need complete automation solutions."
"Our EcoStruxure architecture and platform is built on a foundation of openness which is reinforced by this partnership," said Ali Haj Fraj, SVP Machine Solutions, Industry Business Schneider Electric. "Integrating Stäubli robotics will accelerate the execution of EcoStruxure Machine, our machine-centric automation architecture that enables machine builders to design smart machines through advanced digital technologies and open standards and so reduce their time-to-market and engineering costs, while improving machine performance."
About Stäubli
Stäubli is a mechatronics solutions provider with three dedicated activities: Connectors, Robotics and Textile. With a global workforce of over 4,500, the company generates annual turnover surpassing 1.1 billion Swiss francs. Originally founded in 1892 as a small workshop in Horgen/Zurich, today Stäubli is an international group headquartered in Pfäffikon, Switzerland. Worldwide, Stäubli operates 12 industrial production sites and 29 subsidiaries, expanded with a network of agents in 50 countries, delivering innovative solutions to all industrial sectors. www.staubli.com
About Schneider Electric
Schneider Electric is leading the Digital Transformation of Energy Management and Automation in Homes, Buildings, Data Centers, Infrastructure and Industries.
With global presence in over 100 countries, Schneider is the undisputable leader in Power Management – Medium Voltage, Low Voltage and Secure Power, and in Automation Systems. We provide integrated efficiency solutions, combining energy, automation and software.
In our global Ecosystem, we collaborate with the largest Partner, Integrator and Developer Community on our Open Platform to deliver real-time control and operational efficiency. We believe that great people and partners make Schneider a great company and that our commitment to Innovation, Diversity and Sustainability ensures that Life Is On everywhere, for everyone and at every moment. www.schneider-electric.com