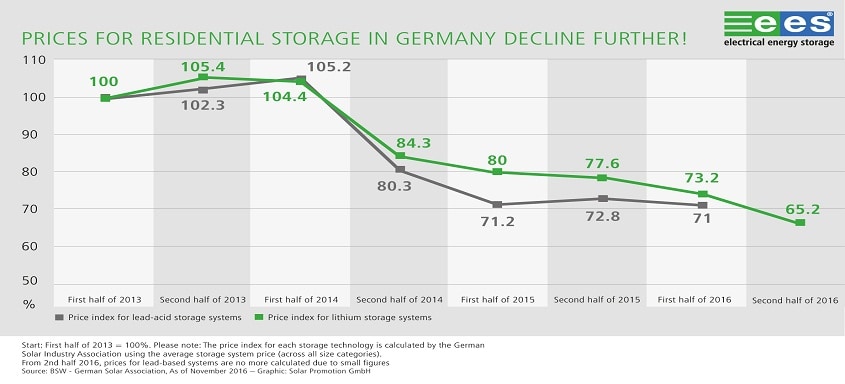 From large-scale storage systems to domestic storage systems and e-mobility – ees Europe, Europe's largest and most visited exhibition for batteries and energy storage systems will be dedicating itself to versatile applications for energy storage systems from May 31 – June 2, 2017.
Falling prices are leading to rapid and uncurbed market growth. In 2017, ees Europe offers manufacturers, suppliers and consumers the ideal platform to find out all about innovations and trends in the industry.
The energy storage sector is booming. According to a forecast by the German Solar Association(BSW-Solar), 60,000 solar storage systems are expected to be installed before mid-2017 in Germany alone. One of the factors driving this is price development. Over the last three years, the costs of solar storage systems – in particular lithium-based systems – have plummeted by around 40%. The German Solar Association expects 170,000 new systems to be installed by 2020.
Low prices drive the energy transition
The falling prices are directly related to the rising number of installations being deployed: the more storage systems are sold and installed, the more manufacturers produce. Innovative designs, new technologies and automated production processes all contribute to lowering manufacturing costs, while raw materials are becoming cheaper to purchase. This enables storage system suppliers to offer customers more attractive prices. 
But it is not only storage systems that are becoming cheaper for consumers: photovoltaic installations have also seen a drop in prices, making them particularly attractive for homeowners. The right storage technology can help private homes and companies alike to make an important – and affordable – contribution to the energy transition.
E-mobility: Market expansion due to mobile storage systems
On top of this, there are some new players in the market. Alongside traditional battery and storage system manufacturers, more and more large automotive companies are setting up production facilities for batteries. The topics of e-mobility and mobile storage systems are among the most important trends of the year. The new mobile applications are also serving to expand the market, which until recently was dominated by stationary storage systems. 
A varied program
As these systems become increasingly profitable, the trend towards photovoltaic and energy storage systems is set to continue in the years to come. For this reason, ees Europe has dedicated its accompanying program to the future of mobile and stationary storage systems. The special exhibit E-Mobility & Renewable Energy focuses on the energy mix of the future, new business models and storage solutions for electric vehicles. And in addition, the ees Europe Conference, which takes place at the same time as Intersolar, is shining a spotlight on e-mobility. 
Together with the ees Forum, the conference creates a space for experts to share their experience in all the topics that concern the industry, with discussions and presentations on topics such as the market development of energy storage systems, new technologies for rechargeable batteries, battery production and alternative storage technologies that do not use batteries, as well as uninterruptible power supply systems. The highlight of the three days dedicated to energy storage systems and batteries is the ees AWARD, which pays tribute to pioneering products and solutions for stationary and mobile electrical energy storage systems. The AWARD winners will be announced in a ceremony on May 31, 2017 at 5:00pm at the Innovation and Application Forum (hall A4, booth A4.530).
ees Europe 2017 will take place alongside Intersolar Europe from May 31 – June 2 at Messe München; the ees Europe Conference will be held on May 30 and 31 at ICM – Internationales Congress Center München.
Further information on ees Europe 2017 can be found at www.ees-europe.com.
Partners of ees Europe
ees Europe is partnered with BSW-Solar (German Solar Association), EUROBAT (Association of European Automotive and Industrial Battery Manufacturers), Naatbatt (National Alliance for Advanced Technology Batteries), and ZVEI (German Electrical and Electronic Manufacturers' Association).
About ees
With ees Europe in Munich, ees North America in San Francisco, ees South America in Sao Paolo and ees India in Mumbai, ees is represented on four continents. It serves as the industry platform for manufacturers, distributors, users and suppliers of stationary and mobile storage solutions for electrical energy. The ees exhibitions and accompanying ees conferences are co-organized with Intersolar, the leading exhibition for the solar industry, and center on renewable energy storage solutions, from residential and commercial applications to large-scale storage systems for stabilizing the grid. Other focal points are products and solutions for smart renewable energy, energy management, e-mobility and uninterruptible power supply. 
ees Europe is the continent's largest exhibition with the greatest number of visitors for the battery and energy storage systems. More than 400 energy storage exhibitors (including the energy storage exhibitors at Intersolar Europe) and over 40,000 visitors from 160 countries are expected at ees Europe 2017. 
For more information on ees Europe, please visit: www.ees-europe.com
ees Europe is organized by Solar Promotion GmbH, Pforzheim and Freiburg Wirtschaft Touristik und Messe GmbH & Co. KG (FWTM).
Contact:
Solar Promotion GmbH
P.O. Box 100 170
75101 Pforzheim, Germany
Horst Dufner
Tel.: +49 7231 58598-0
Fax: +49 7231 58598-28
dufner@solarpromotion.de
Press contact:
fischerAppelt, relations
Otl-Aicher-Str. 64
80807 Munich, Germany
Robert Schwarzenböck
Tel.: +49 89 747466-23
Fax: +49 89 747466-66
rs@fischerAppelt.de