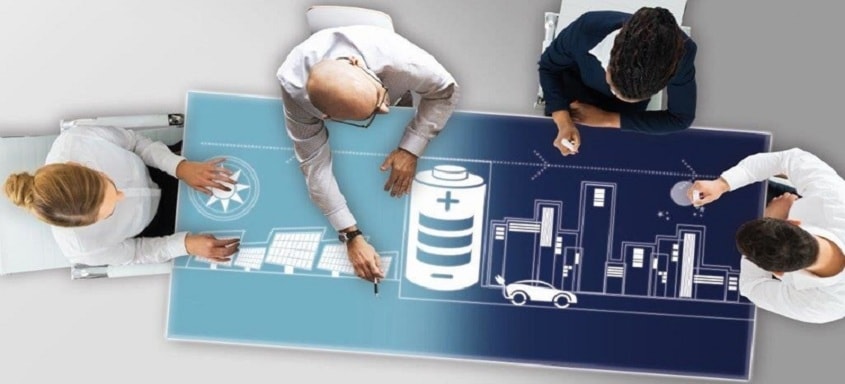 ees North America, the leading exhibition and conference for the electrical    energy storage industry, announced its third annual event will feature Power2Drive, a new special exhibition devoted to the rapidly growing electric vehicle industry and charging technology.
In addition to presentations on the show floor, Power2Drive North America will also feature a one-day conference track dedicated to the key technologies and policies creating opportunities for energy storage companies in the transportation sector.
The ees North America call for speakers is currently open, with a submission deadline of February 23, 2018.  
Each year, ees North America attracts energy storage suppliers, manufacturers and distributors to the heart of the leading U.S. energy storage market: San Francisco. Co-located with Intersolar North America, the premier solar event in North America, ees North America provides a perfect match for attendees looking to explore topics within solar-plus-storage and more. It also provides a valuable platform for those looking to learn more about the rapidly growing energy storage industry, which is expected to be worth more than $4.4 billion in the United States along by 2022, according to GTM Research, as well as the promising electric vehicle (EV) market.
Market leaders and emerging start-ups alike will connect on the show floor and during valuable networking events, and visitors will learn from industry experts throughout insightful conference sessions. The conference program is developed in collaboration with ees North America's roster of partners, including NAATBatt International (NAATBatt), the California Solar Energy Industries Association (CALSEIA), and others.
This year's conference program will focus on integrated solar-plus-storage applications as this coupling is an increasingly predominant force in accelerating the renewable energy transition. Power2Drive sessions will focus on the global EV market, batteries, charging technology and related business models, and costs.
The conference will be held at Moscone West and feature the following sessions:
Ten ees North America conference sessions and workshops over a two-day program
Four Power2Drive conference sessions over a one-day program
An ees North America exhibition stage program featuring workshops and presentations from exhibitors, with one day dedicated to ees North America and one day dedicated to Power2Drive North America
"ees North America has a strong track record of attracting the industry's most exciting companies to San Francisco, and providing opportunities for executives to make meaningful business connections and learn about market trends," said Florian Wessendorf and Daniel Strowitzki, managing directors of ees North America, in a joint statement. "Because we are the first major energy storage event in North America each year, our attendees see the newest technologies and hear about the latest trends first. That commitment to staying ahead of market trends is behind our newest special exhibition segment, Power2Drive, which will examine the cross-section of solar technology, energy storage, and smart transportation and will grow into a future industry hotspot."
Information on exhibiting at ees North America and Power2Drive is available online. CALSEIA and NAATBatt members are eligible for discounted exhibition rates of 24 percent, and Power2Drive exhibitors are also offered a special introductory pricing for booth space this year. Registration for the 2018 events will open in mid March, and attendees can sign up to receive Intersolar and ees North America registration updates here.
About ees North America
Covering the entire value chain of innovative battery and energy storage technologies, ees North America is the leading exhibition and conference for the electrical energy storage industry. ees North America connects manufacturers, distributers, users and suppliers of stationary and mobile storage products in the epicenter of the U.S. storage market, California.
Co-located with Intersolar North America, North America's premier solar event, ees North America provides the best opportunity to explore energy storage systems in combination with solar technologies and beyond. This year, ees North America will feature the new special exhibition Power2Drive, focused on charging infrastructure, EV batteries and electric vehicles.Together, the events are co-located with SEMICON West at the Moscone Center in San Francisco.
In 2017, 130 energy storage exhibitors and 15,000 attendees participated in ees North America and Intersolar North America
Launched in 2015 as a special exhibition, ees North America became a standalone exhibition and conference in 2016, and is now part of the ees global exhibition series. Together with ees Europe in Munich, ees South America in São Paulo, and ees India in Mumbai, ees events are represented on four continents.
For more information on ees North America please visit www.ees-northamerica.com
Organizers: Intersolar and ees North America are organized by Solar Promotion International GmbH, Pforzheim and Freiburg Management and Marketing International GmbH (FMMI).  
Exhibiting Contact
Jim Callihan
Tel: +1 603-547-7057
callihan@intersolar.us
Press Contact
ANTENNA GROUP
52 Vanderbilt Avenue
New York, NY 10017