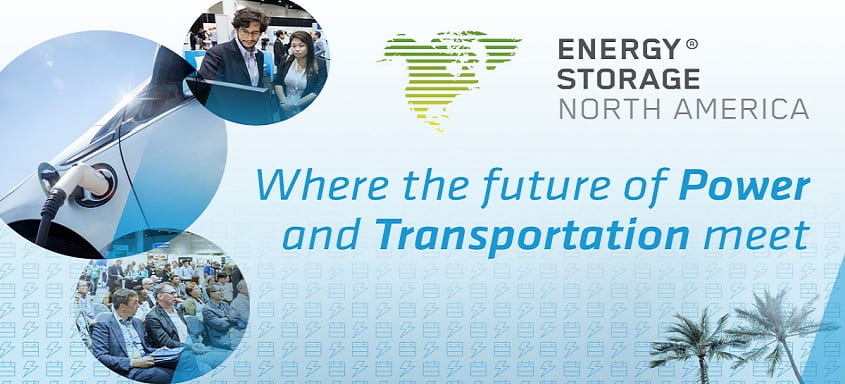 Energy Storage North America (ESNA), the most influential gathering of policy, technology and market leaders in energy storage, concluded its sixth annual event this month in Pasadena, Calif. 
Amplified by the presence of two co-located events, a record number of international attendees, and inspiring keynote speeches from industry visionaries and public policy champions, ESNA 2018 was the most successful to date.
"The global grid transformation is rapidly accelerating, thanks in large part to the game-changing impact of energy storage," said Janice Lin, ESNA Conference Chair. "This year we welcomed colleagues and added conference content from the transportation sector, which is experiencing an electrification transition of its own. Together we shared insights and opportunities across the value chain, creating a vibrant marketplace for attendees." 
ESNA 2018 hosted approximately 2,000 attendees, representing 800+ organizations and more than 30 countries. Co-located with the CALSTART Annual Symposium and the SGO Microgrid Global Innovation Forum, ESNA facilitated collaboration between developers, utility executives, energy users, fleet managers, auto manufacturers and suppliers, policy makers, technology providers, and stakeholders to advance the energy storage ecosystem across the power and transportation sectors.
The event also featured a bustling, sold-out expo floor. "It is clear that the industry is coming of age with proven and diverse technology solutions. ESNA is the best exhibition opportunity for established energy storage companies, new ventures and start-ups alike – we have all the players and buyers on the floor," said Tom Mitchell, President of Messe Düsseldorf North America, co-organizer of ESNA.
The conference agenda featured 28 panel sessions and eight keynote presentations dedicated to opening the North American and global energy markets, maximizing resiliency and security and minimizing project risks, and enabling e-mobility. The conference also offered six workshops, eight sold-out site tours, a start-up innovation showcase and a zero-emission vehicle display comprising a dozen electric vehicles and one hydrogen-powered truck.
Additional special events at ESNA further highlighted the growth of the global energy storage ecosystem. The annual ESNA Innovation Awards recognized outstanding storage projects in the front-of-meter, behind-the-meter and mobility sectors, as well as policy and utility champions whose work reflects transformational leadership in the advancement of energy storage. ESNA hosted its third annual Women in Energy Storage networking event to foster connections among women in the industry, and its second Global Grid Transformation track for international delegates.
ESNA is grateful to its 2018 Platinum Sponsors: ConEdison Battery Storage, Enel X, Energy Vault SA, Fluence, GE, IBEW-NECA, Los Angeles Department of Water and Power and LG Chem, as well as Gold Sponsors: Black & Veatch, East Penn, Narada, Pacific Gas & Electric, PXiSE Energy Solutions and Southern California Edison, for contributing to the success of this year's program. 
The next Energy Storage North America Conference and Expo will take place November 5-7, 2019, in San Diego, California.
About Energy Storage North America
Energy Storage North America (ESNA) is the largest conference, exhibition and networking event covering all applications of grid storage in North America. ESNA is produced by Strategen and Messe Dusseldorf North America, and is part of the larger World of Energy Storage events in Europe, India, China and Japan. ESNA connects utilities, developers, energy users, policy makers and other key stakeholders from around the world to advance understanding and deployment of energy storage, and ultimately build a cleaner, more affordable and more resilient grid. To learn more, visit www.esnaexpo.com.