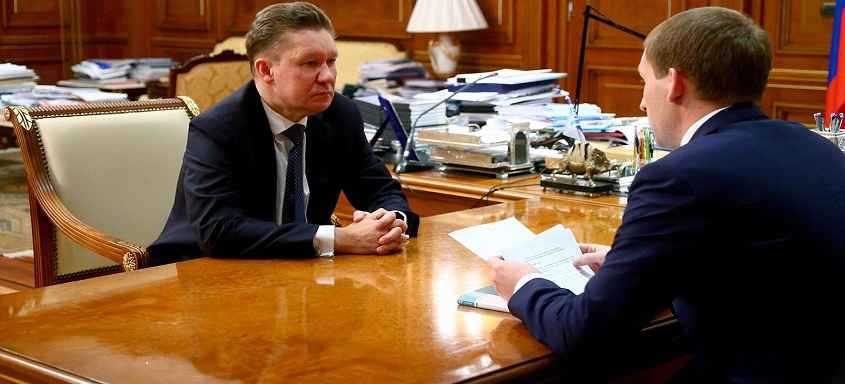 The Gazprom headquarters hosted today a working meeting between Alexey Miller, Chairman of the Company's Management Committee, and Alexander Kozlov, Governor of the Amur Region.
The parties discussed the progress of the Cooperation Agreement, paying close attention to Gazprom's large-scale investment projects – Power of Siberia and Amur Gas Processing Plant (GPP) – being implemented in the Amur Region.
It was noted that the projects were running on schedule. Specifically, preparations are underway for the construction of the cross-border section of the Power of Siberia gas pipeline in Russia. The Amur GPP site preparation is advancing and work continues on the construction of access roads, a river wharf, railroad facilities, temporary buildings and installations, including a shift camp for builders.
In addition, Alexey Miller and Alexander Kozlov addressed issues related to setting up the Svobodnenskaya priority development area (PDA) in the Amur Region. Gazprom Pererabotka Blagoveshchensk building the Amur GPP is planned to become a resident company in this PDA.
The parties also considered the prospects for supplying the Region with pipeline natural gas to be fed from Power of Siberia. At present, the adjustment of the General Scheme for Gas Supply to and Gasification of the Amur Region is nearing completion and the regional gasification program to 2026 is being negotiated.
Information Directorate, Gazprom
Media
+7 495 719-10-77
+7 495 719-47-36
+7 495 719-24-32
+7 495 719-28-01
pr@gazprom.ru