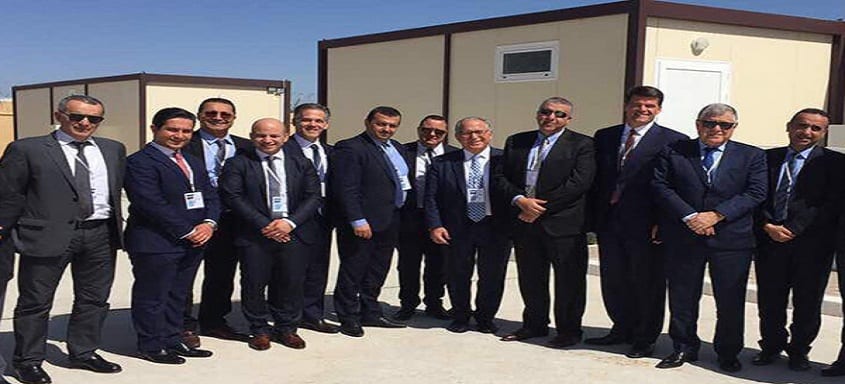 GE will collaborate with Sonelgaz SPE, a subsidiary of Sonelgaz, in a landmark deal that highlights its Fleet360* total plant solutions capabilities.
The largest services deal in GE Power's history, the agreement will lead the digital industrial transformation of Sonelgaz's plants throughout Algeria and strengthen local capabilities.
The landmark deal includes long-term operations and maintenance (O&M) services for 10 Sonelgaz plants throughout the country that generate 11 GW of power,  technology upgrades that will enhance energy efficiency to deliver more than 420 MW of additional power, and the introduction of GE's digital solutions. Together, these capabilities will strengthen the operational efficiency and productivity of the plants. They will also help save up to $2 billion in gas that can be made available for sale in international markets.
"The Algerian government and Sonelgaz have a clear vision for the future of the country's power sector," Steve Bolze, president and CEO of GE Power said. "The emphasis on building industrial capacity and the focus on the digital transformation of power plant assets are long-term investments in the future of the country. GE is honored to strengthen our collaboration with Sonelgaz and help create a vibrant local ecosystem for the power sector that will help meet the needs of people and various industries across Algeria."
The agreement was signed by president and CEO of Sonelgaz SPE, Sabri Lezhari; and president and CEO of GE Northwest Africa, Touffik Fredj, in the presence of the Prime Minister of Algeria, HE Abdelmalek Sellal; the Minister of Energy, HE Noureddine Boutarfa; the CEO of Sonelgaz, M. Mustapha Guitouni; president and CEO of GE Power, Steve Bolze; president and CEO of GE Middle East, North Africa and Turkey, Nabil Habayeb; president and CEO of GE's Power Services business in the Middle East and Africa (MEA), Joseph Anis; General Manager Sales of GE's Power Services business in MEA, Adel Omrani and other high-level GE and government representatives.
The signing ceremony took place at the GE Algeria Turbines (GEAT) plant in Ain Yagout, a joint venture created in 2014 by GE and Sonelgaz, which will manufacture gas turbines and steam turbines for Sonelgaz's power generation needs.
The Ain Yagout site in Batna, covering an area of 20 hectares, was chosen by both partners to house this industrial complex, which will annually be able to manufacture equipment with the capacity to generate up to 1.5 GW of power. Activities began at GEAT a few months ago after Sonelgaz placed the first order of four gas turbines and two steam turbines. The equipment will be delivered between 2019 and 2020 and will be connected to the national grid by 2021.
Speaking at the occasion, the Minister of Energy, HE Noureddine Boutarfa said, "The government's top priority is to strengthen power generation in the country through a highly efficient, sustainable, and productive infrastructure. The new GEAT facility, which manufactures high-end equipment for the power sector, and the development of the Maintenance Des Equipements Industriels (MEI) shop to manufacture spare parts are a strong value-add to the economy as they will boost our exports, enhance the efficiency of our power plants and create new jobs for Algerian youth. Further, the digital transformation of the power plants will enable us to optimize the use of our natural resources, and in turn, create added value for the economy. GE's expertise in digital industrial technologies will contribute to enhancing the efficiency of the power sector, as well as the skills of Algerian professionals through knowledge sharing and hands-on training."
The agreement also includes the second largest Industrial Internet software deal to date for GE Power. Sonelgaz has selected GE's Asset Performance Management and Operations Optimization software applications to monitor and analyze data drawn from thousands of sensors throughout its power plants. The software leverages advanced data analytics to predict and eliminate unplanned downtime, and improve power plant productivity. GE's software is built on Predix, a data platform purpose-designed for the scale and complexity of industrial data.
"Algeria is focused on building a diversified economy and strengthening the operational efficiency of its power sector and natural gas generation and distribution assets," said Mustapha Guitouni, president and CEO of Sonelgaz. "The opening of GEAT and the digital industrial transformation of our plants are significant steps forward in achieving our economic vision of industrial diversification, boosting productivity, and maximizing asset utilization. GE's advanced suite of digital technologies will help transform our power plants, build local talent, and strengthen the culture of localization."
Furthermore, GE will work with Algerian Engineering Services Company's (ALGESCO) engineers to repair its 9FA gas turbine technology locally and help create a local center of excellence for turbine repairs. First established in 1993, ALGESCO is a joint venture of GE with Sonatrach and Sonelgaz. GE will also train Sonelgaz field engineers and operators on industry best practices to strengthen their expertise and competitiveness, which will potentially enable Sonelgaz to collaborate with GE on future O&M projects in Africa.
The new agreement will also drive the development of a local supply chain with MEI, an affiliate of Sonelgaz, to manufacture spare parts for GE's turbines in Algeria. GE will qualify MEI to manufacture spare parts as early as 2017, and it will become a part of its international supply chain.
This agreement builds on GE's long term presence in Algeria. In 2013, GE signed three major contracts to supply heavy-duty gas turbine and aeroderivative gas turbine technology for nine power plants throughout the country.
With over 40 years of presence in the country, GE's advanced technologies are an ideal match to support Algeria's growth aspirations. Today, GE Power's technologies generate nearly 70% of the electricity distributed across the country, GE Aviation's jet engines power approximately 70% of domestic aircrafts and up to 3,000 advanced solutions from GE Healthcare are deployed in healthcare facilities across the country. GE has four offices and two facilities in Algeria and over 700 employees. Focused on strengthening the skills of its employees and nurturing business leadership skills, GE also provides several training programs in line with the government's vision to promote human capital development.
About GE
GE is the world's Digital Industrial Company, transforming industry with software-defined machines and solutions that are connected, responsive and predictive. GE is organized around a global exchange of knowledge, the "GE Store," through which each business shares and accesses the same technology, markets, structure and intellect. Each invention further fuels innovation and application across our industrial sectors. With people, services, technology and scale, GE delivers better outcomes for customers by speaking the language of industry. www.ge.com
About GE Power
GE Power is a world leader in power generation with deep domain expertise to help customers deliver electricity from a wide spectrum of fuel sources. We are transforming the electricity industry with the digital power plant, the world's largest and most efficient gas turbine, full balance of plant, upgrade and service solutions as well as our data-leveraging software. Our innovative technologies and digital offerings help make power more affordable, reliable, accessible and sustainable. www.gepower.com.