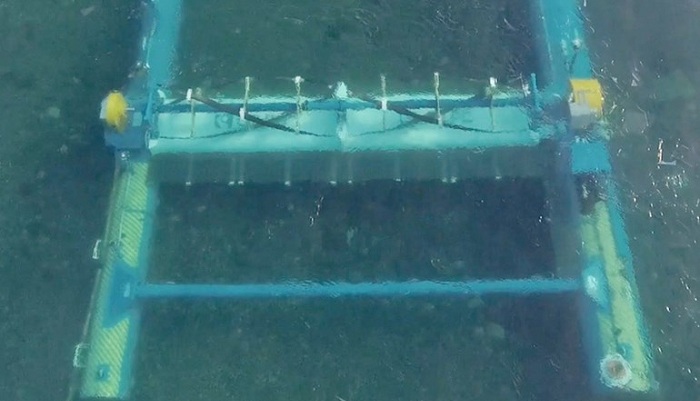 ORPC Inc. and its subsidiary ORPC Ireland are partnering with a European consortium to create a new generation of marine renewable energy turbines that increase reliability and performance while reducing manufacturing costs.
The ORPC team along with ÉireComposites of Galway and National University of Ireland Galway are collaborating with Mitsubishi Chemical Advanced Materials, Germany, and Consiglio Nazionale delle Ricerche of Italy on the Commercialization of a Recyclable and Innovative Manufacturing Solution for an Optimized Novel (CRIMSON) Project.
The CRIMSON project will bring to market ORPC's marine energy river and tidal turbine with foils made entirely of recycled carbon fiber, while also reducing capital expenditure and operating expenditure by 33% and 66%, respectively. By reducing lifecycle costs and carbon impacts from manufacturing, the approach provides a long-term solution for climate change mitigation, ORPC said.
Funding is provided by the European Commission via its Fast Track to Innovation program. The total project is valued at €3.9 million (US$x). The Commission's funding will drive market adoption of renewable marine energy in the bid to replace carbon-emitting fossil fuels. This technology has the potential to generate gigawatts of clean energy from river and tidal currents. It is estimated that there is some 615 TWh per year of harvestable energy from tidal streams, ocean currents and riverine currents.
"ORPC's growing operations in Ireland and Europe are an important part of the global demand for our clean, renewable marine energy solutions and the project will provide further technological advancements crucial to scaling the commercialization of our marine energy systems in the region and around the world" said Stuart Davies, chief executive officer of ORPC.
ORPC and ÉireComposites began work together in 2019 building the turbines for ORPC's first commercial RivGen Power System installed to power the remote community of Igiugig, Alaska. Using sustainable, predictable local energy from the Kvichak River, this RivGen device is the longest-operating current energy converter in the Americas, ORPC said.
"At the conclusion of this project, we will have delivered a product that will have a positive impact on both the renewable energy sector and wider society. There is no doubt that society is progressing towards greener communities and I believe CRIMSON will play a positive role in this transition in terms of driving down costs for both the industry and consumers but also increase the productivity of the renewable energy sector," said Tomas Flanagan, ÉireComposites' chief executive officer.
ORPC is based in Portland, Maine, U.S.. In addition to Dublin-based ORPC Ireland, ORPC operates subsidiaries in Montreal (ORPC Canada) and Punta Arenas (ORPC Chile).
This project is a continuation of research conducted by the Sustainable Energy Authority of Ireland (SEAI) and is supported by Údarás na Gaeltachta and Enterprise Ireland, who continue to assist the work undertaken by ÉireComposites.