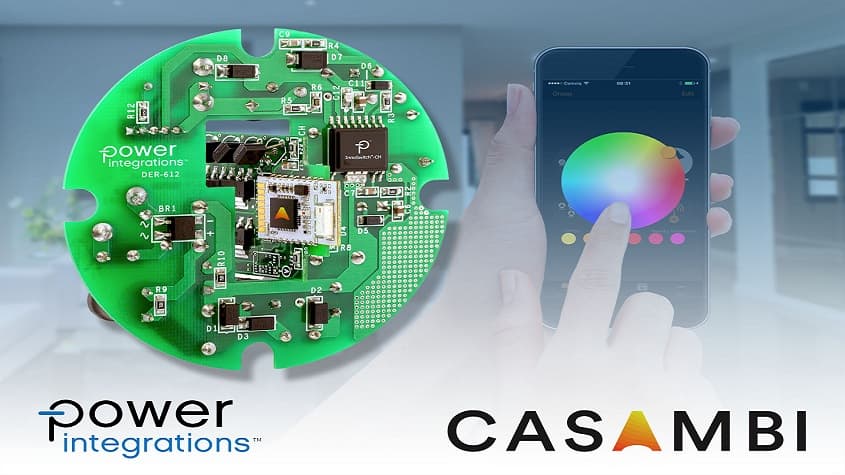 Power Integrations , the leader in high-efficiency, high-reliability LED-driver ICs, and Casambi Technologies OY announced a new reference design, DER-612, describing a cV , CC 12-watt isolated flyback power supply with power factor correction for smart lighting applications.
The design includes a 3.3 V power supply to drive a Casambi CBM-001 Bluetooth® wireless module, which provides convenient dimming and color management control of the four-string LED load from 0 mA to 400 mA. The power supply operates over a universal input voltage range of 90 VAC to 265 VAC and achieves greater than 0.8 power factor across all line conditions.
The design is based on Power Integrations' InnoSwitch™-CH power supply controller, which combines primary, secondary and feedback circuits in a single surface-mounted offline flyback switcher IC. The IC incorporates the primary FET, the primary-side controller and a secondary-side synchronous rectification controller. The device also includes Power Integrations' magneto-coupling communications technology, FluxLink™, which safely bridges the isolation barrier and eliminates the need for an optocoupler. Secondary-side control enables highly accurate constant-voltage regulation and an ultra-fast step load response while simple PWM control eliminates the need for a secondary DC/DC regulator. The high efficiency and very low standby power of the IC eliminates the need for additional heatsinks and enables customers to create solutions that meet demanding DOE-6 regulations. A built-in secondary-side auxiliary power output supports RF and MCU control circuitry.
CBM-001 is a Class 2 embedded Bluetooth 4.0 module designed for LED lighting control applications, light fixtures and LED bulbs. It is pre-programmed with Casambi's proprietary firmware, making it completely compatible with other Casambi enabled devices. CBM-001 is controlled wirelessly with Casambi smartphone and tablet applications using the Bluetooth 4.0 protocol. Devices automatically form a self-healing and self-organizing wireless mesh network so that a large number of fixtures can be controlled from any point. No external gateway module is needed.
Comments Hubie Notohamiprodjo, director of product marketing for LED lighting at Power Integrations: "Smart lighting systems monitor and control sophisticated home and workplace lighting installations. The standby power needed for the control subsystem often negates any savings that high efficiency LEDs offer. Casambi's low quiescent current draw combined with the very low standby consumption of InnoSwich-CH optimizes standby performance while maintaining instant light availability."
Adds Timo Pakkala, CEO and co-founder at Casambi: "The Power Integrations InnoSwitch-CH power supply controller has excellent efficiency, particularly at light load. This allows our module to operate continuously and effectively, resulting in a great user experience with high performance and scalability."
DER-612 enables simple parallel connection of LED strings for RGBW lighting. It can be downloaded at http://www.power.com/der-612.
About Power Integrations
Power Integrations, Inc. is a leading innovator in semiconductor technologies for high-voltage power conversion. The company's products are key building blocks in the clean-power ecosystem, enabling the generation of renewable energy as well as the efficient transmission and consumption of power in applications ranging from milliwatts to megawatts.
About Casambi Technologies
Founded in 2011, Casambi's wireless lighting control software platform empowers users of smart devices to interact effortlessly with modern lighting around them. Based on Bluetooth Low Energy, the award-winning Casambi solution delivers a dynamic user experience, exceptional reliability and unrivalled performance. From basic, individual lighting-fixture controls to industrial-scale solutions with cloud-based remote control, monitoring and data logging, Casambi's technology can be easily integrated at low cost into lighting fixtures, drivers and modules. Additionally, installations can gain advanced lighting control functionality with minimal hardware and deployment outlay. Casambi develops its products in Finland and has a growing sales and support service across Europe, North America and Asia. For more information, visit www.casambi.com.
Power Integrations, FluxLink, InnoSwitch and the Power Integrations logo are trademarks or registered trademarks of Power Integrations, Inc. All other trademarks are the property of their respective owners.