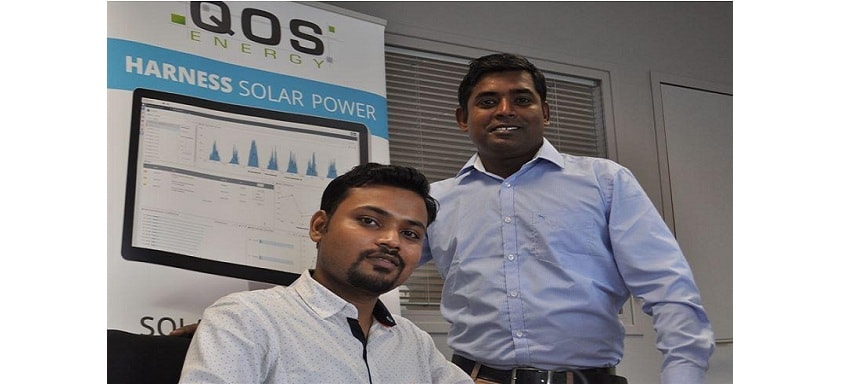 QOS Energy, a leading renewable O&M analytics software provider,has announced the opening of a new office in India to meet the growing demand of itscustomer base and exploit the opportunities offered by the booming Indian market.
"QOS Energy provides turnkey O&M analytics services to unleash the value of data from thousands of renewable energy plants across the world. With its target to ramp up solar power generation to 100 GW by 2022, India is poised to become one of the largest PV market in the world. Our customers' business needs reflect this trend. Our local team of experts has gone through extensive training at the head office in France and will now be able to service our customers on their most complex projects", said Eric Daniel, Sales Director of QOS Energy. 
By providing a cutting-edge and cost-effective renewable energy analytics solutions, QOS Energy helps utilities, IPPs, O&M service providers and asset managers to maximize return on investment using powerful data-driven decision making tools (KPIs, Dashboards, and Alerts).One of the key features of the O&M platform provided by QOS Energy is its capability to integrate data from any renewable energy type of plant, ordata acquisition system, and to provide a homogeneous vision of heterogeneous renewable portfolios. Completed by a bi-direction API that allows for the seamless synchronization of data with any third-party information system, the solution provides a unique and powerful datahub, centralizing technical, maintenance and financial data on one single interface.
Over the last 3 years, QOS Energy has experienced a 75% average growth year on year. This innovative company supports clients across more than 20 countries in Europe, Asia, North & South America and India, helping them manage over 4.000 MW of wind and Solar PV assets worldwide. The continuous success its powerful O&M Management platform is underpinned by the company'shands-on after-sales and advisory services.
About QOS Energy
As a software vendor specialised in energy information systems, QOS Energy has developed Qantum®, a web based energy O&M platform dedicated to the management of renewable energy assets and smart grids. Qantum® enables clients to increase power production, optimise operation and maintenance processes and maximise returns for more than 4 000 facilities worldwide, including 4 GW of renewable power. QOS Energy is active in Europe, North America and Asia. www.qosenergy.com. QOS Energy is supportedby two private equity funds: ETF partners (http://etfpartners.capital/)  and GO Capital (http://www.gocapital.fr/). 
PRESS CONTACT
Gilles Estivalet 
+33 2 51 89 46 00 
hello@qosenergy.com
INDIAN OFFICE CONTACT (Mumbai)
Milind Dhumal 
+91 (22) 67479765 
mdhumal@qosenergy.com 
62, HomjiStret, Fort, Mumbai – 400001