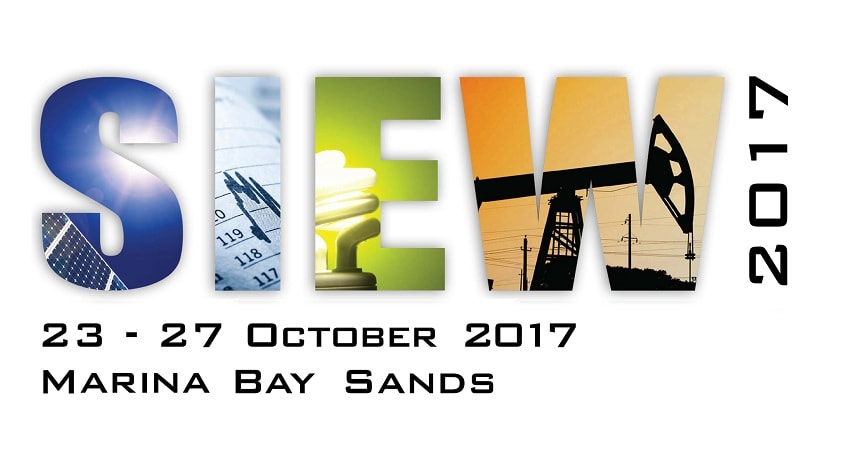 Registration for the Singapore International Energy Week (SIEW) 2017 opens . Participants can look forward to hearing views from energy thought-leaders on the theme, "Rethinking Energy; Navigating Change", as well as participating in discussions on the opportunities and challenges in the evolving energy sector.
Starting a week of high-level discussions, Mr Teo Chee Hean, Singapore's Deputy Prime Minister and Coordinating Minister for National Security, will give the Singapore Energy Lecture and Mr S.Iswaran, Singapore's Minister for Trade and Industry (Industry) will deliver opening remarks. The Singapore Energy Summit will continue to facilitate energy discussions, focusing on (i) Rethinking Energy; (ii) Slow Road to Recovery? The Outlook for Oil & Gas; and (iii) Integrating Renewables. 
The 10th edition of SIEW will host the inaugural Singapore-IEA Forum which will focus on energy infrastructure investments in Asia. Dr Fatih Birol, Executive Director of International Energy Agency (IEA) will also launch the IEA Southeast Asia Energy Outlook 2017 at the Forum.
Global thought-leaders at SIEW 2017 include: 
Dr Fatih Birol, Executive Director, International Energy Agency
Yuji Kakimi, President, JERA
Thomas Zimmermann, CEO, Energy Management Division, Siemens
Masakazu Toyoda, Chairman & CEO, Institute of Energy Economics, Japan
Ditlev Engel, CEO, DNV GL – Energy
Jon Moore, CEO, Bloomberg New Energy Finance
Gireesh B. Pradhan, Chairperson, Central Electricity Regulatory Commission, India
Takehiko Matsuo, Secretary General, Electricity and Gas Market Surveillance Commission,Japan
Nguyen Anh Tuan, Director General, Electricity Regulatory Authority of Vietnam
Dr Dirk Biermann, Chief Markets & System Operations Officer, 50Hertz 
SIEW 2017 will also feature nine think-tank roundtables co-hosted by the Energy Market Authority and leading international organisations. For the first time, the International Institute for Strategic Studies and the ASEAN Centre for Energy will be holding roundtables at SIEW. Returning hosts include the Institute of Energy Economics Japan, International Renewable Energy Agency, Chinese Academy of Social Sciences and the Institute for the Analysis of Global Security, International
Energy Agency, S. Rajaratnam School of International Studies, Energy Research Institute @ Nanyang Technological University, and Energy Studies Institute.
Bringing together the world's leading conferences and exhibitions in one week, one location,SIEW's partner events include: Asia Clean Energy Summit (ACES), Asian Downstream Summit (ADS) and Gas Asia Summit (GAS). New highlights include the RE:NEW Awards organised by ACES to recognise efforts in implementing renewable and clean solutions, and an Innovation Wall at the ADS to profile exciting initiatives from startup companies Register by 31 August 2017 to enjoy early bird discounts of up to S$500. SIEW 2017 will be held from 23 to 27 October 2017 at Sands Expo and Convention Centre, Marina Bay Sands, Singapore. Visit www.siew.sg to register your attendance or for more updates. 
About Singapore International Energy Week (SIEW)
In its 10th edition, Singapore International Energy Week is the premier platform in Asia for energy insights, partnerships and dialogue, which brings together the world's leading conferences, exhibitions, and roundtables in one week, one location. SIEW enriches the global energy conversation by convening political, business, academic and energy industry thought-leaders to define and advance the world's leading energy challenges, solutions and actions across the energy spectrum of oil & gas, clean and renewable energy, and energy infrastructure financing. 
To commemorate the 10th edition, SIEW 2017 will launch a refreshed logo with a contemporary look, featuring a bright and bold colour palette, and modern typography. The new design reflects SIEW's objective as a forward-looking platform for the discussion of global energy issues and their impact on Asia.Please visit www.siew.sg for further information.
About the Energy Market Authority
The Energy Market Authority (EMA) is a statutory board under the Ministry of Trade and Industry. Our main goals are to ensure a reliable and secure energy supply, promote effective competition in the energy market and develop a dynamic energy sector in Singapore. Through our work, we seek to forge a progressive energy landscape for sustained growth. Please visit www.ema.gov.sg for more information.
Chiu Mei Ji 
Energy Market Authority E
Tel: +65 6376 7876 
Email: chiu_mei_ji@ema.gov.sg
Eileen Ho
delman for Singapore International Energy Week
Tel: +65 6347 2320
Email: eileen.ho@edelman.com