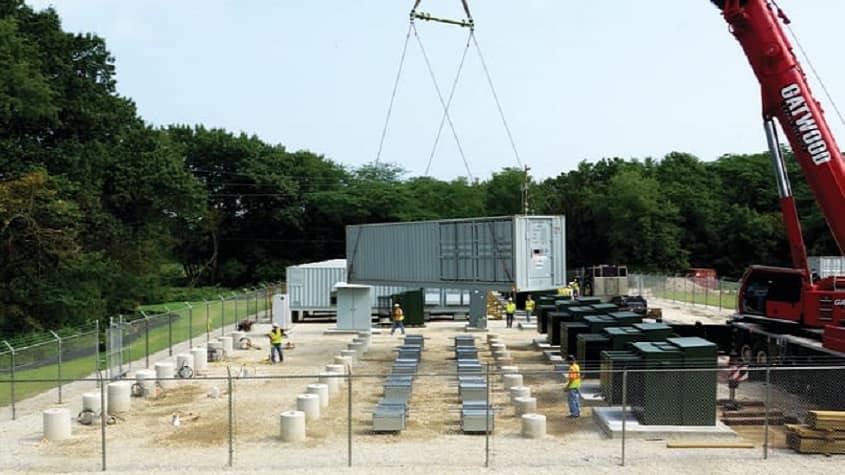 RES has announced the acquisition of its 20MW energy storage project in Broxburn, West Lothian, by The Renewables Infrastructure Group (TRIG), a London-listed investment company advised by InfraRed Capital Partners.The transaction marks the first energy storage project acquired by TRIG and RES' fourth project in the UK.
The energy storage project at Broxburn was developed and will be constructed and operated by RES, one of the world's leading independent renewable energy and energy storage developers.RES has a global energy storage portfolio totalling more than 240 MW (275 MWh) providing multiple grid services and was identified by Navigant Research as one of leading utility-scale energy storage integrators.
TRIG is a leading renewable energy infrastructure investment company, which has invested in portfolio of 56 onshore wind and solar projects across the UK and Northern Europe.The completion of Broxburn will see TRIG's portfolio increase to 774 MW and expand into energy storage.
Construction started at Broxburn in July 2017 with full commissioning due in early 2018. The project will have an operational life of 15 years and will deliver services to the National Grid through a bespoke bilateral agreement to provide dynamic, two-way sub-second grid balancing services supporting National Grid's move to a more flexible, low carbon energy network.
Helen Mahy CBE, Chairman of TRIG, said: "The use of battery storage is becoming increasingly important in enabling grid networks to match fluctuations in the supply and demand of electricity and to stabilise power frequency. This becomes especially vital as the installed base of renewables generation increases. We are excited to be playing a part in this by investing in Broxburn, one of the first large-scale commercial power storage projects to be developed in the UK."
Rachel Ruffle, RES Managing Director, said: "We delighted to be supporting TRIG as it expands its investment portfolio into energy storage with RES' facility at Broxburn. Energy storage will play a vital role in the future of the UK grid network through delivering flexible services to support the UK's economic growth and enable more low cost, renewable energy to be used.We look forward to delivering and operating the project at Broxburn for TRIG."
RES – Rachel Anderson
+44 (0) 7795 680 803
rachel.anderson@res-group.com
InfraRed Capital Partners Limited
Richard Crawford, Matt Dimond
+44 (0) 20 7484 1800
RES offers integrated solutions to centralised and distributed energy markets applying renewable energy, energy storage, and transmission technologies. RES has developed and/or built over 12 GW of renewable energy and energy storage capacity worldwide, constructed more than 1,000 miles of transmission lines, and manages a portfolio of assets exceeding 2 GW.RES is TRIG's operations manager. www.res-group.com
The Renewables Infrastructure Group (TRIG) is a leading London-listed renewable energy infrastructure investment company.TRIG has invested in a portfolio of 56 renewables projects (including onshore wind, solar PV and energy storage projects) in the UK, France and the Republic of Ireland, with aggregate net output capacity of 774MW following completion of construction of the 20MW Broxburn project. www.trig-ltd.com