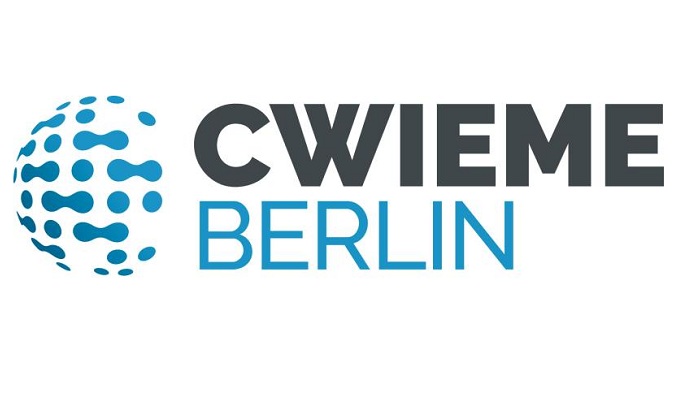 CWIEME Berlin, the world's largest event dedicated to coil winding, transformers, electric motors, generators and e-mobility, announces that the vast majority of exhibitors have rebooked for 2021 and introduces its new digital content offer.
Over 80% of CWIEME Berlin's 2020 exhibitors have confirmed their participation in the event in May 2021. "As we are approaching the 25th jubilee of CWIEME Berlin, I am thrilled to see the high level of commitment from our exhibitors as demonstrated in the high rebooking rates," stated Nick Davison, Portfolio Director CWIEME Global.
Exhibitors who rebooked already for next year's event include Aumann Espelkamp, Bdtronic, ELANTAS Europe, Elmotec Statomat, Essex Germany, GROB-WERKE, LWW Group, Marsilli Spa, Nittoku Europe, Omicron Electronics, thyssenkrupp, Weidmann Electrical Technology, and many more.
"We rebooked straight away as we believe that crises can be handled and overturned through smart investments," said Dario Ferrigato, FAET's Marketing Manager. "Increase our brand visibility, hunt new opportunities, and persist with a strategy for internationalisation are behind our reasoning to exhibit at the world-class event of the industry."
"Exhibiting at CWIEME Berlin is a must that we undoubtedly missed this year," said Matteo Rossi, Marsilli's Global Marketing Director. "It's the perfect place to showcase our cutting-edge technology to a huge number of existing customers and prospects. It's a milestone and it delivers a great value."
"From the perspective of an exhibitor and as the official "Simulation-driven Innovation Partner" of the event, I can add that CWIEME provides a great platform to meet with international and regional customers and prospects. We value the contacts we make during the show and through the conference programs and, just as important, also prior to the event, i.e. through jointly hosted webinars," said Richard S. Yen, Senior Vice President Global Industry Verticals and Sales Enablement Team at Altair. "Even if CWIEME 2020 did not take place as a physical event, the platform enabled us to reach out to the audience and to keep them engaged. CWIEME Berlin has always exceeded our expectations and we are looking forward to being back in 2021!"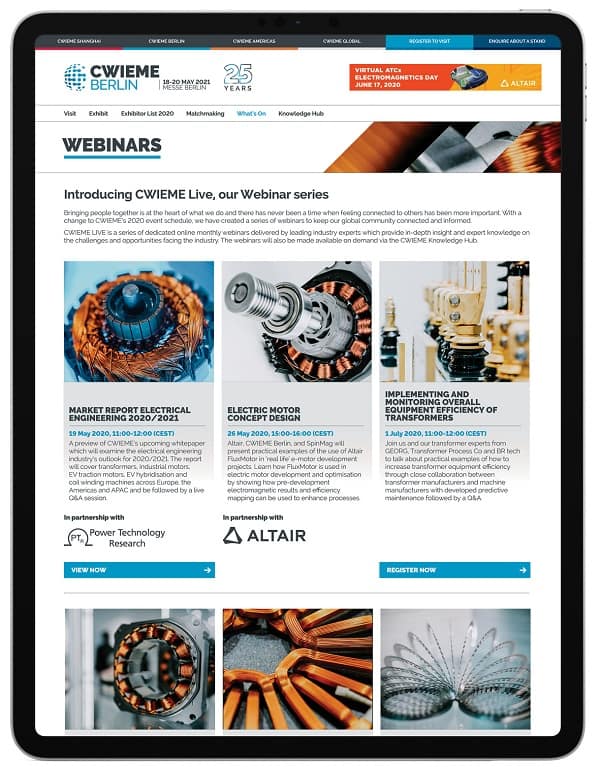 New 360-degree digital content offer
Underlining that CWIEME is a year-round experience, CWIEME Berlin now offers a whole new range of digital content to keep the community connected and fully informed. The new content offers include multiple options for suppliers of the electrical manufacturing industry to digitally present their products and services to a larger audience, including:
A fortnightly newsletter
Monthly webinars with industry experts
Intelligence pieces featuring interviews and research papers
White papers & industry reports
The health and safety of customers, visitors and colleagues is the Hyve Group's number one priority.
About CWIEME
The world's leading platform dedicated to coil winding, transformers, electric motors, generators and e-mobility – online, and offline in three international events.
For 25 years, the CWIEME exhibition and conference in Berlin has been attracting international thought-leaders focused on technologies for electric motors, transformers and e-mobility. It is the largest event to showcase the latest high-end products and solutions in these industry sectors.
With a manufacturing volume of around 100 billion dollars across EMEA, Asia and Americas, CWIEME Berlin is located in the heart of European manufacturing. It showcases the world's largest range of components, materials, and technologies for automotive and e-mobility applications. CWIEME is a division of Hyve Group PLC.