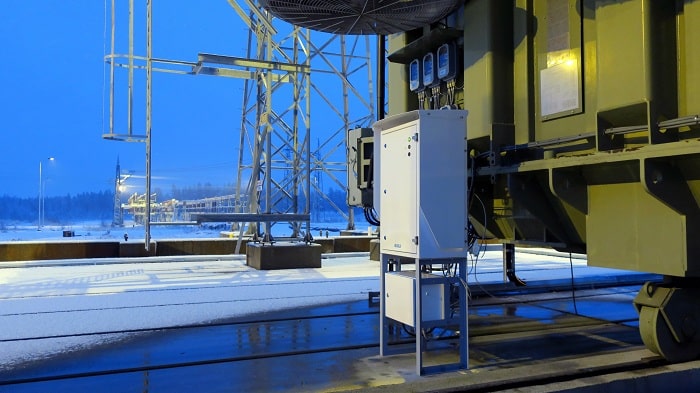 Vaisala, a global leader in weather, environmental, and industrial measurements, brings to the market a uniquely accurate and reliable method for detecting air ingress in sealed power transformers. With the increased number of sealed transformers, ambient air leaks have become a significant issue as oxygen accelerates the aging of paper used in the insulation.
Measuring total gas pressure (TGP) is a step forward from the traditional measurement methods that are currently available in the market to detect air leaks. An oxygen sensor cannot detect an air leak, if there is a reaction in a transformer that consumes oxygen. Even if all oxygen has been consumed, TGP value will still give a reliable indication of a leak because the nitrogen value will both dominate and increase over time because it is neither formed nor consumed in the transformer. Additionally, TGP measurement can indicate if the nitrogen cylinder of a nitrogen blanketed transformer is empty – another task that oxygen measurement cannot detect.
"We are always looking for new solutions to help our customers to optimize their measurement needs and therefore wanted to develop an innovative, accurate and robust solution for detecting air leaks in transformers. We are very happy now to introduce this innovative new method, based on measuring total gas pressure," says Teemu Hanninen, Product Manager from Vaisala's Industrial Measurements.
Delivered through a software update
The new measurement solution will be made available to the current customers via a software release for Vaisala's Optimus™ DGA Monitor OPT100, which is the world's first maintenance free dissolved gas analyzer for power transformers. For new OPT100s, the new software will be incorporated as a default factory setup.
"We are delighted to offer this software upgrade to our existing OPT100 customers and support them with an even more comprehensive solution unlike seen in the market before. Striving to develop both new solutions and improve the existing ones is deep in Vaisala's DNA," continues Teemu Hanninen.
Join our webinar on September 23, to hear more insights by Senior Industry Expert Senja Leivo on how ambient air ingress can be detected in this completely new and unique way to help extend the life of your transformer.
About Vaisala
Vaisala is a global leader in weather, environmental and industrial measurements. Building on over 80 years of experience, Vaisala provides observations for a better world, with space-proof technology exploring also Mars, and beyond. We are a reliable partner for customers around the world, offering a comprehensive range of innovative observation and measurement products and services. Headquartered in Finland, Vaisala employs approximately 1,800 professionals worldwide and is listed on the Nasdaq Helsinki stock exchange.