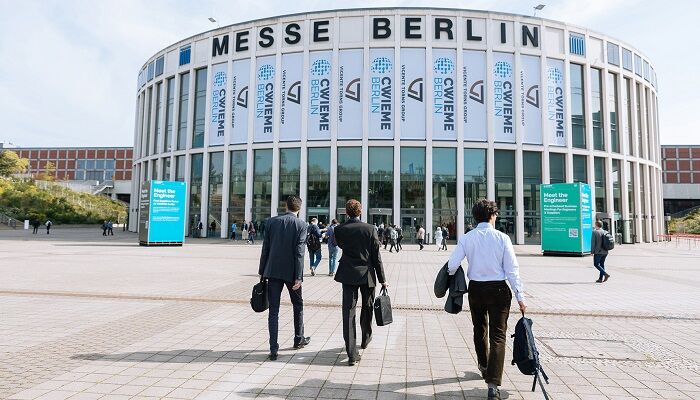 London, UK, April 13, 2022 – CWIEME Berlin, part of the global CWIEME events, the world's largest event series dedicated to coil winding, transformers, electric motors, generators and e-mobility, announced highlights and the full event programme of the CWIEME Berlin Show, taking place May 23-25, Messe Berlin.
New for 2023, the specialised meetings programme Connect @ CWIEME helps visitors to experience CWIEME Berlin in the most efficient way. The possibility to connect and collaborate via one-to-one meetings through Connect @ CWIEME has been received well by the CWIEME Berlin community.
As registrations for Connect @ CWIEME are free for buyers until April 21st only, visitors who want to participate in the programme are advised to register and complete profiles as soon as possible. After that date the registration to the Connect @ CWIEME programme will be closed.
In addition to the meeting hub, the show also features a stellar conference agenda at two live stages, CWIEME Central and E-Mobility, with high-level keynote presentations delivered by industry leaders, including Fraunhofer IISB, Shell Diala, TOYOTA, and Valeo. With new speakers joining the line-up each week, the full schedule will feature numerous professionals, experts, and international industry front-runners.
"We are thrilled by the high registration numbers for our Berlin show and by the fantastic response to our new meetings programme. Connect @ CWIEME profiles opened on Tuesday 11th, and in the first 24 hours we already had over 550 of our buyers complete their profiles! Names include Audi, Bosh, Brose Group, Collins aerospace, GE, ABB, Hyundai, Koenigsegg, LG Electronics, Mercedes Benz, Renault, Rolls Royce, Scania, Siemens, Tesla, and so many more," said Bradley Smeeton, Event Director. "With Connect @ CWIEME, we respond to the need of the CWIEME Berlin community to manage their calendar effectively and meet the right people. In addition, our fantastic agenda featuring speakers from industry leading companies worldwide complements the premium event programme. We look forward to setting the floor for another successful CWIEME show and seeing the global electrical engineering industry enjoy an outstanding event enabling them to do and grow business."
Introducing another new element to the show, CWIEME Berlin launches an educational programme in collaboration with universities and other institutions. Enabling students to connect and network with professionals and industry experts at CWIEME Berlin, the organisers aim at encouraging future professionals to explore career opportunities.
As preparations for the event enter the home stretch, more than 97% of the exhibition space is booked, just a handful of free stands are available.
Registration for CWIEME Berlin is free until April 21st. To learn more about CWIEME Berlin and to register your free place for the event, visit https://cwiemeb23-registration.personatech.com/