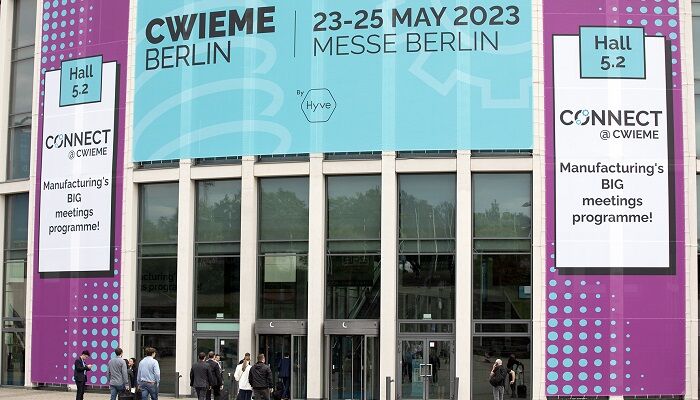 Visitor numbers exceeding expectations and Connect @ CWIEME is off to a successful start
London, UK, May 23rd, 2022 – CWIEME Berlin, part of the global CWIEME events, the world's largest event series dedicated to coil winding, transformers, electric motors, generators and e-mobility, has opened its doors for three days of business exchange for the electrical engineering community. From 23-25 May 2023, Messe Berlin is the prime location for technical engineers and procurement professionals to connect with manufacturers and shape the future of coil winding, electric motors, and transformer manufacturing.
Already Day 1 revealed that new trade show elements, such as the Connect @ CWIEME meetings programme, proved to be a great success, driving business and enabling visitors to make the most of their visit to the show.
"It is amazing to share that CWIEME Berlin 2023 is off to an incredible start, yet again!" said Bradley Smeeton, Event Director, CWIEME Berlin. "The overall success of the new show elements and the high number of visitors has exceeded all expectations, and clearly show us that we are on the right track with our new focus and concept. We already look forward to meeting again at the next CWIEME Berlin, taking place on 14-16 May 2024."
Great start for Connect @ CWIEME
Connect @ CWIEME was off to a great start on Day 1, with its numbers speaking for themselves:
5,000+ meetings were scheduled
750+ buyers used the opportunity to find the right product
350+ suppliers seized the chance to effectively do business
The excellent organisation ensured the smooth running of the meetings and that all needs of participants were met. While buyers were excited about the format because it ensures they connect directly with the right people, suppliers were impressed with how easy Connect @ CWIEME makes it to meet potential customers and generate qualified leads
Full house on Day 1: Central stage and E-mobility stage
With inspiring keynotes and insightful presentations from industry leaders, the conference agenda attracted many visitors to both the Central Stage and the E-mobility Stage. Highlights include the well-attended welcome speech on the Central Stage delivered by Bradley Smeeton, Event Director of CWIEME Berlin, and Irem Unlu Demir, Head of Power Global Key Accounts of Shell, as well as the E-Mobility Stage panel discussion that explored the next generation of e-motors.
CWIEME Berlin App well received
The impressive user figures of the new CWIEME Berlin App, with several thousand downloads, show that this new CWIEME feature is very much welcomed by the visitors. The app has everything you need to make the most of your time at CWIEME Berlin, including Connect @ CWIEME functionality, show agenda, speaker list, venue map, exhibitor list, and more.
The next CWIEME Berlin will take place from May 14 – 16, 2024. For more information please visit: https://berlin.cwiemeevents.com/Home