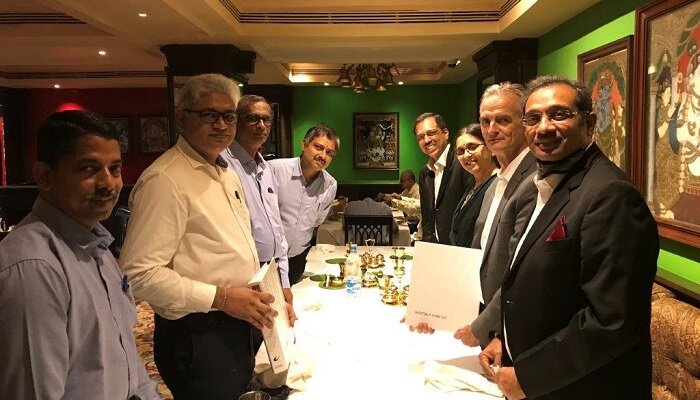 The technology group Wärtsilä will supply a gas-fuelled 15.5 MW captive power plant under an engineering, procurement, and construction (EPC) contract along with a 5-year Operation & Maintenance (O&M) agreement in Chennai, Tamilnadu, India. The order was placed by M/s Tamilnadu Petroproducts Limited (TPL), the world-class heavy chemicals and Linear Alkyl Benzene (LAB) manufacturer, part of AM International, Singapore.
The order for these two Wärtsilä 34SG gas engines follows TPL's decision to shift power generation from heavy fuel oil (HFO) operation to cleaner and more efficient natural gas-based alternatives. This transition towards greener alternatives is vital for TPL to reduce its carbon footprint and to render its support towards the Tamilnadu Pollution Control Board's (TNPCB's) efforts towards reducing pollution in the Manali area. This project has been made possible by the commissioning of a liquefied natural gas (LNG) terminal at Ennore, India that enables gas to be piped to the site.
India's Prime Minister Mr Narenda Modi has announced a national hydrogen mission with the aim of producing five million tonnes of green hydrogen by 2030, along with the development of renewable energy capacity. The Indian Government has already proposed a Green Hydrogen Policy, thereby aiming to blend it into the natural gas pipeline once adequate quantity becomes available.
The Wärtsilä gas engines are future-proofed to operate on a fuel mix of natural gas and hydrogen with minimal modifications to the power plant. Furthermore, the engines are supported by an online gas analyser and advanced operating system to ensure optimal performance of engine despite some variations in the quality of the incoming LNG fuel.
"Sustainable manufacturing & eco-friendly modernisation are key pillars of our growth strategy at AM International. Our partnership with Wärtsilä is yet another meaningful move in this direction. It reaffirms TPL's commitment to sustainability and aligning with India's ambitious green hydrogen mission," said Mr Ashwin Muthiah, Vice Chairman, TPL, and Founder- Chairman, AM International.
"We have successfully operated our Linear Alkyl Benzene plant for past 30 years with Wärtsilä 32 engines and are very familiar with their reliability and efficiency. By selecting the Wärtsilä 34SG gas engines, we are endorsing our commitment to sustainability, and also preparing for the future when green hydrogen will be available," said Mr Muthukrishnan Ravi, CEO, Petrochemicals Division of the Group, AM International.
"The advanced features and technical superiority of the Wärtsilä engine technology will enable the plant to operate at optimal performance in line with customer's power requirements. The order further strengthens our relationship with TPL that has been well established over the past 30 years. Both companies are actively working towards decarbonising energy production, and this is one more step along that journey," commented Henri van Boxtel, Energy Business Director, South Asia, Wärtsilä.
The plant is expected to become operational in spring 2023.
Wärtsilä has been present in India since the 1980s providing complete lifecycle power solutions to the Indian marine and energy markets. The company has approximately 550 employees and has more than 3,500 MW of installed generating capacity in the country's energy sector.