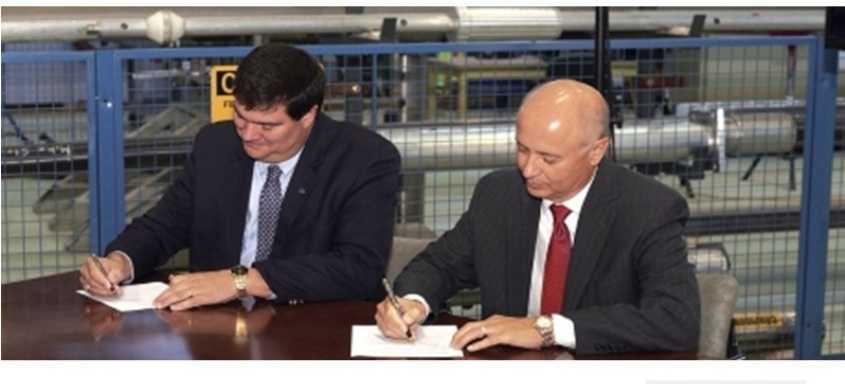 A framework agreement of up to $400 million has been signed between two Ontario-based nuclear organizations that will create jobs and bring major long-term economic benefits to the province as Bruce Powe avances its multi-year investment program.
 The agreement names SNC-Lavalin's nuclear team as an important resource for Bruce Power's long-term investment program, which includes the life extension of six Bruce Power units announced last December. The agreement also establishes a framework for the provision of ongoing engineering and CANDU reactor field services activities.
"The agreement sets the stage for a project that will create jobs and enhance Ontario's energy infrastructure," said Mike Rencheck, Bruce Power's President and CEO. "While we are planning for the long term, we are achieving our goals by delivering our program incrementally, and we believe this agreement will be the foundation for a long-standing arrangement with SNC-Lavalin as we work to successfully invest in our units."
SNC-Lavalin will be responsible for the tooling required to perform the removal of pressure and calandria tubes, the installation of new components, the design of feeder pipes and integral fittings, supports and related nuclear components, and the deployment and maintenance of a number of key reactor inspection tools on the Bruce Power refurbishment project, which will begin in 2020.
"We are pleased to continue our relationship with Bruce Power and we are committed to successfully delivering our scope, as what we are doing is critical to Ontario's Long-Term Energy Plan," said Preston Swafford, SNC-Lavalin's Chief Nuclear Officer and Executive Vice-President, Nuclear. "We believe our role, if fully implemented in the first Major Component Replacement project, will create up to 150 Ontario-based jobs at SNC-Lavalin and up to another 900 direct and indirect jobs across the province."
Ontario's Energy Minister said nuclear power is the backbone of Ontario's clean, reliable and affordable electricity system.
"As Bruce Power moves forward with the refurbishment of its nuclear reactors, working with local companies like SNC-Lavalin creates jobs in Mississauga and drives our provincial economy forward," the Hon. Minister Glenn Thibeault said. "Across Ontario, the refurbishment project at Bruce Power makes up to 23,000 jobs possible and generates about $6.3 billion in annual economic benefits."
Kim Rudd, Parliamentary Secretary to Canada's Minister of Natural Resources and MP for Northumberland-Peterborough South, offered praise for the agreement and the positive benefits for Canada.
"Bruce Power continues to generate 6,300 megawatts of power to the supply mix in Ontario, and plays an important part in producing clean, greenhouse gas emissions-free electricity in Canada," Parliamentary Secretary Rudd said. "Bruce Power also creates significant economic benefits including good, well-paying jobs across Ontario, which makes announcements like today's especially important."
Oakville Mayor Rob Burton was pleased with the news and offered congratulations to Bruce Power and SNC-Lavalin."This is a truly encouraging development for innovation and job creation within the nuclear industry," Mayor Burton said. "Nuclear component manufacturing remains a key part of our local economy here in Oakville. I am pleased to see this collaboration create highly skilled jobs and drive innovation for communities across Ontario."
About Bruce Power
Bruce Pwer operates the world's largest operating nuclear generating facility and is the source of roughly 30 per cent of Ontario's electricity. The company's site in Tiverton, Ontario is home to eight CANDU reactors, each one capable of generating enough low-cost, reliable, safe and clean electricity to meet the annual needs of a city the size of Hamilton. Formed in 2001, Bruce Power is an all-Canadian partnership among Borealis Infrastructure Management (a division of the Ontario Municipal Employees Retirement System), TransCanada, the Power Workers' Union and the Society of Energy Professionals. A majority of Bruce Power's employees are also owners in the business.For updated Bruce Power photos and b-roll video, please visit our Media Kit page
For further information, please contact:
John Peevers
Manager of Investor & Media Relations
Bruce Power
519-361-6583
john.peevers@brucepower.com
About SNC-Lavalin
Founded in 1911, SNC-Lavalin is one of the leading engineering and construction groups in the world and a major player in the ownership of infrastructure. From offices in over 50 countries, SNC-Lavalin's employees are proud to build what matters. Our teams provide engineering, procurement construction, completions and commissioning services together with a range of sustaining capital services to clients in our four industry sectors, oil and gas, mining and metallurgy, infrastructure and power. SNC-Lavalin can also combine these services with its financing and operations and maintenance capabilities to provide complete end-to-end project solutions. www.snclavalin.com
For further information, please contact:
Louis-Antoine Paquin
Manager,  Media Relations
SNC-Lavalin
514-393-8000 x54771
Louis-Antoine.Paquin@snclavalin.com