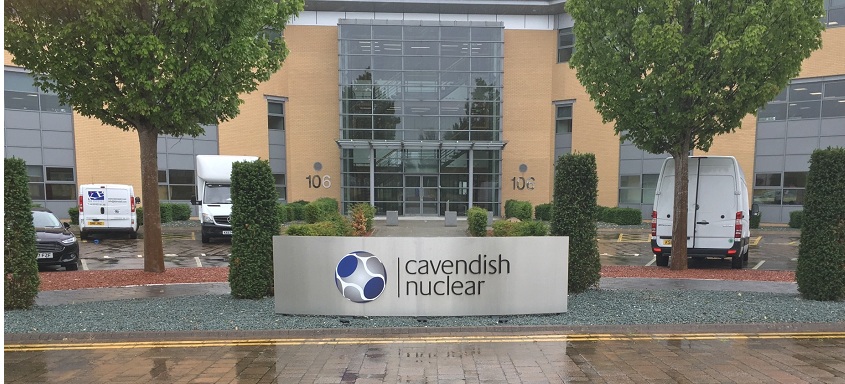 Cavendish Nuclear has started to install a new waste treatment plant that will deliver the next phase of remediation at the site of the world's first commercial nuclear power station.
The first of the modular facilities to process and package containerised waste from the Berkeley vaults has arrived on site. Over the next 12 months, they will be assembled and connected to an existing waste retrieval facility also designed and built by Cavendish Nuclear.
This latest package of work will enable Magnox Ltd, on behalf of the site's owner the Nuclear Decommissioning Authority, to process and package more than 6000 containers of radioactive waste that were deposited in the vaults during the 1950s and 1960s.
"Our overarching commitment to delivering fit for purpose solutions and design innovation, coupled with modularisation, is enabling Cavendish Nuclear to deliver systems that are safer, quicker and more cost-effective to customers dealing with historic waste liabilities," said Paul Smith, managing director of nuclear services at Cavendish Nuclear.
"I've been delighted to welcome other operators to Berkeley to see for themselves how our experience here can be replicated at other sites where legacy wastes also need to be retrieved and processed from historic underground facilities."
The waste came from the Berkeley power station and the adjacent technical laboratories that carried out research of national importance.
With the reactors already in a safe state and the laboratory site regenerated as an engineering campus, environmental remediation of the vaults is one of the last major clean-up challenges at the site.
Cavendish Nuclear has worked closely with Magnox Ltd, on their remediation since 2010, developing designs and procuring the retrieval equipment needed to clear the vaults of their radioactive inventory.
Following the successful installation in 2016 of equipment to retrieve the waste and process and package the fuel element debris, the company's attention turned to the plant needed to process and package the remaining waste types.
A modular design and build strategy has been adopted to maximise the construction and testing that can be carried out off-site. The completed modules are scheduled for delivery and installation over the next three months.
Pre-processing facilities allow for size reduction of the retrieved containers via a COTS industrial shredder and also for segregation of items deemed unsuitable for subsequent packaging. The waste then passes through processing and packaging facilities, which provide the capability to sort, assay and tip into the long-term storage package.
To achieve the programme, assembly and testing of the modules are taking place in two locations at Cavendish Nuclear's workshops in Whetstone, Leicestershire and at a key supplier's facilities in Barnsley
The construction phase is due for completion by the end of 2018. This will be followed by a period of inactive commissioning, leading to handover of the plant to Magnox Ltd in autumn 2019.