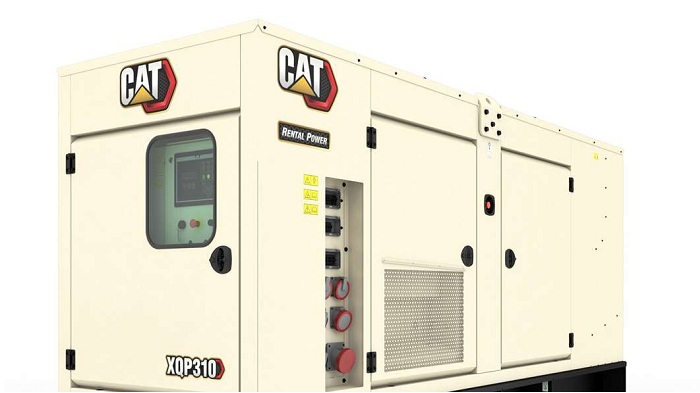 Caterpillar Inc. announced the launch of the 115 kVA Cat® XQP115 generator set, a new mobile power solution that extends the company's lineup of mobile power solutions that meet European Union (EU) Stage V emission standards.
Fully designed and tested by Caterpillar, the Cat XQP115 generator set is the third in a series of compact mobile power solutions from 115 to 310 kVA that illustrate Caterpillar's ability to meet the 90% reduction in nitrogen oxides when compared with the Stage IIIA standard, as well as other changes specified by Stage V standards. Additionally, they offer an average of 20% higher peak power in prime operation than the previous Stage IIIA Cat XQP models serving this power range.
The Cat XQP115 offers versatility and flexibility by easily switching between 50 and 60 Hz and across a range of voltages, enabling it to accommodate a wide range of load requirements for applications in manufacturing, oil and gas, construction, mining, and other industries.
The Cat XQP115 is equipped with Cat Connect technology to give operators insights that manage costs and reduce risks. Through a subscription, the telematics send real-time information on fuel level, diesel exhaust fluid (DEF) level, battery voltage, and run status. Connected assets support peak operation with timely insights that help customers better control costs, improve performance and reduce risks.
"The addition of the Cat XQP115 to our portfolio of mobile power solutions that meet EU Stage V emission standards enables users to precisely select the package that meets their power needs," said Tom Caldwell, global general manager for electric power rental solutions at Caterpillar.
Rental-Ready Benefits
Caterpillar's range of small mobile power solutions meeting EU Stage V emission standards offers numerous features ideal for rental applications. They are equipped with the XQCP digital control panel, which provides all generator set controls and system indicators in a single, easy-to-access interface. Programmable logic controller (PLC) functionality improves reliability and flexibility for accommodating changes in processes or application requirements.
They are designed with a dual-wall fuel tank with an open bund that helps to protect the environment by containing spills, while coastal insulation protection (CIP) enables operation in harsh conditions.
Their wide, impact-absorbing base frames, customer connections isolated from circuit breakers, and optional CEE sockets are designed to facilitate transportation, set-up and use. Forklift pockets, dragging points, and a lifting arch help to simplify loading, unloading, and placement around the worksite.
Cat mobile generator sets meeting EU Stage V emission standards can use up to 100% hydrotreated vegetable oil (HVO), a renewable diesel fuel meeting EN15940.
All Cat mobile generator sets are available through the worldwide Cat dealer network. Cat dealers work 24 hours a day, seven days a week to assist with emergency rental needs and provide a comprehensive range of maintenance and services.