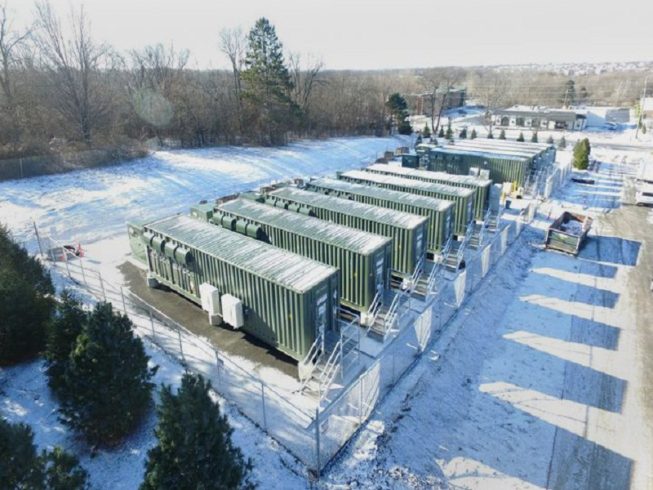 EDF Energy Renewables has won a contract from National Grid to provide 49 MW of battery storage at its West Burton Combined Cycle Gas power station in Nottinghamshire. It will form part of a new [200 MW] enhanced frequency response system which will be deployed across the UK to balance the UK grid.
With the strong growth of renewable generation and the closure of large power plants, battery storage technology supports the stability of the national grid network. The technology can be used to respond quickly to fluctuations in the electricity grid. Storage is expected to play an important role as part of a balanced energy system which will include renewables, nuclear and gas.
EDF Energy Renewables CEO Matthieu Hue said, "We are delighted to have been awarded a contract as part of the competitive tender issued by National Grid. The battery storage technology has an important role to play in a diverse energy mix which is moving towards decarbonisation. 
"This success shows the depth and strength of EDF Group expertise as well as our ability to deploy innovative solutions competitively." EDF Group leads investment in a wide range of low carbon technologies in Britain and around the world, including renewable and nuclear electricity generation. 
The Group has applied for planning permission for the battery storage units at EDF Energy's West Burton site in Nottinghamshire – home to 2000 MW of coal generation at West Burton A and 1300MW at West Burton B Combined Cycle Gas Turbine, creating an important centre of energy excellence in the UK.  It demonstrates the global partnership in EDF, bringing together the development of new technologies with more traditional electricity generation.
For more information contact:
Lindsey Ingram
External Communications Manager – Scotland 
01355 846283
07813 230379
Lindsey.Ingram@edf-energy.com
EDF Energy Renewables is a 50:50 Joint Venture between EDF Energy and EDF Energies Nouvelles. It is one of the UK's leading renewable energy companies. It is focussed on the development, construction and operation of onshore and offshore wind farms and already operates just under 600MW of wind farms, with more than 300 MW under construction. The company employs more than 150 people and has 400 MW consented and another 800 MW in planning and development. 
EDF Energy
EDF Energy is one of the UK's largest energy companies and the largest producer of low-carbon electricity, producing around one-fifth of the nation's electricity from its nuclear power stations, wind farms, coal and gas power stations and combined heat and power plants. The company supplies gas and electricity to over 5 million customer accounts and is the biggest supplier of electricity by volume in Great Britain.
EDF Energy's safe and secure operation of its eight existing nuclear power stations at sites across the country makes it the UK's largest generator of low carbon electricity. EDF Energy is also leading the UK's nuclear renaissance and has published plans to build four new nuclear plants, subject to the right investment framework.
These new plants could generate enough low carbon electricity for about 40% of Britain's homes. They would make an important contribution to the UK's future needs for clean, secure and affordable energy. The project is already creating business and job opportunities for British companies and workers.
Through Our Better Energy Ambitions, EDF Energy has developed one of the biggest environmental and social programmes of any British energy company.
In 2014 EDF Energy received seven 'Big Ticks' in the Business in the Community (BITC) Responsible Business Awards. In 2013 EDF Energy received the Environmental Leadership for Behavioural Change Award in the national Environment and Energy Awards and was highly commended in the first ever pan European Corporate Social Responsibility Awards scheme for its Sustainable Schools programme – the Pod.
EDF Energy is part of EDF Group, one of Europe's largest power companies. The company employs around 14,000 people at locations across the UK.