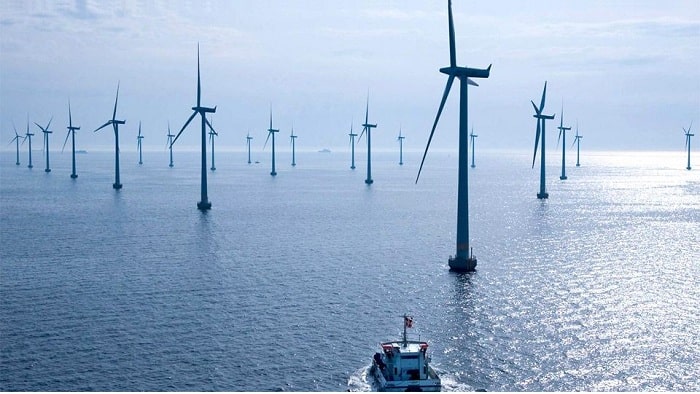 A project located on an archipelago north of mainland Scotland plans to combine tidal power and battery technology to generate "continuous green hydrogen."
In an announcement Monday, the European Marine Energy Centre said it would deploy a 1.8 megawatt hour "flow battery" at a tidal energy test site located on the island of Eday, Orkney.
The idea is that the system will store electricity produced by tidal turbines during "high power periods," and discharge it during lower power periods.
According to EMEC, the flow batteries, from Invinity Energy Systems, are able to offer "hours of continuous power, one or more times per day, through decades of service."
Green hydrogen is produced using renewable sources such as wind, solar and in the case of the EMEC initiative, tidal power.
A flow battery, meanwhile, is an "easily rechargeable system that stores its electrolyte — the material that provides energy — as liquid in external tanks," according to the U.S. Department of Energy's ARPA-E (Advanced Research Projects Agency – Energy).
For the EMEC project, the flow batteries will "smooth" tidal production to create "on-demand electricity" which will be converted into hydrogen using a 670 kilowatt electrolyser.
Invinity's system will be put together at a mainland facility in Scotland, with the project expected to come online in 2021. Funding has come from the Scottish government through Highlands and Islands Enterprise.
Neil Kermode, managing director of EMEC, said that after a technical review, it decided flow batteries would be the best fit for this energy system.
"As flow batteries store electrical charge in a liquid rather than a solid, they can provide industrial quantities of power for a sustained period … as well as stand fully charged for extended periods without losing charge," he said in a statement Monday.
"These are all necessary qualities to integrate battery technology with the renewable power generation and hydrogen production process."
Described by the International Energy Agency as a "versatile energy carrier," hydrogen has a diverse range of applications and can be deployed in sectors such as industry and transport. Examples of its use in the latter include trains, airplanes, cars and buses powered using hydrogen fuel-cells.
At the moment, the vast majority of hydrogen generation is based on fossil fuels, which has a negative effect on the environment. The IEA has said that hydrogen production is responsible for roughly 830 million metric tons of carbon dioxide each year.
Given this context, green hydrogen is growing in popularity, and over the last few years major firms including Repsol, Siemens Energy, Orsted and BP have got involved in projects connected to green hydrogen production.
Its role in the overall energy mix is small, however, accounting for just 0.1% of worldwide hydrogen production in 2020, according to Wood Mackenzie.
Green hydrogen is also expensive to produce, although a report from Wood Mackenzie released in August said costs could fall by as much as 64% by the year 2040.