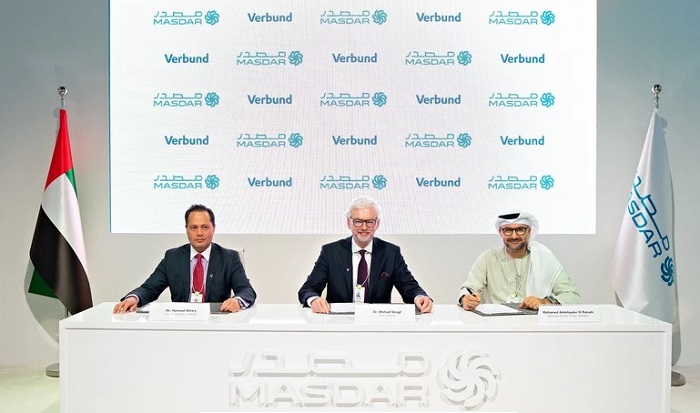 Masdar, one of the world's fastest-growing clean energy companies, has signed a memorandum of understanding (MoU) with VERBUND, Austria's leading energy utility and one of the largest producers of hydropower in Europe, to explore the production of green hydrogen for the Central European market.
The MoU was signed at Abu Dhabi Sustainability Week (ADSW) 2023 by Michael Strugl, VERBUND CEO, and Mohammad Abdelqader El Ramahi, Executive Director, Green Hydrogen, Masdar. As per the agreement, the two companies will cooperate on developing pathways to produce and export green hydrogen to Central Europe, specifically Austria and Southern Germany.
Mohamed Jameel Ramahi, CEO, Masdar, said: "Masdar has long pioneered green hydrogen as an energy source for the future and today we believe that future is upon us. We are committed to developing our green hydrogen business as we see it playing a significant role in the global energy transition. We look forward to partnering with like-minded companies like VERBUND to accelerate investment in this sector and to meet growing demand in Europe."
Last year, Masdar announced the establishment of its new green hydrogen business, with a goal of producing 1 million tpy of green hydrogen by 2030.
"Green hydrogen is the game-changer for a sustainable energy system, taking us a step closer to carbon neutrality. As a leading renewable energy company, VERBUND is working on the development and expansion of local hydrogen production as well as long-term import solutions," added Strugl. "We are very pleased about the co-operation we signed with Masdar. Only with global partnerships like this one will we be able to achieve the goal of a successful sustainable energy transition."
VERBUND generates close to 100% of its electricity from climate-friendly, renewable energy, primarily hydropower, complemented by wind and solar, and is also active in energy transmission and international trading. It believes green hydrogen will become a crucial building block to decarbonise industry and transport in Europe and has already launched several flagship projects to expand its value chain into green hydrogen.
Green hydrogen is typically hydrogen produced from water electrolysis powered by renewable electricity. The resulting energy carrier can be used in many energy applications. It can be used in the form of hydrogen or converted to other derivatives for industry, power, or transportation, supporting the decarbonisation of hard-to-abate sectors like heavy industry, long-haul freight, shipping, and aviation.
With such a wide range of prospective uses and needs, green hydrogen demand is expected to grow greatly in the coming years. According to the International Energy Agency's Global Hydrogen Review 2022, meeting governments' climate pledges alone will require 34 million tpy by 2030.