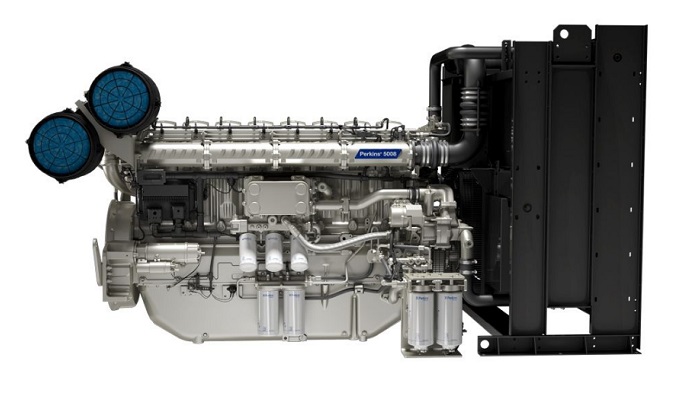 Perkins is displaying the next generation of electric power—the 5000 Series—on stand S2.A30 at the Middle East Energy 2023, electric power exhibition, March 7-9 in Dubai.
A full authority electronic range of inline six and eight cylinder and V12 and V16 cylinder engines, the all-new 5000 Series is engineered specifically for the power generation market to supply critical applications such as data centres and hospitals with dependable prime or standby power, where downtime isn't an option.
The most powerful and largest fully electronic, electric power range from Perkins, the 5000 Series has been designed to optimise customers' needs for quick, reliable and cost-effective power, while delivering reliability, high performance and peace of mind.
Ranging from 750 to 2500 kVA of power potential, the full authority electronic fuel injection 5000 Series engines are built to world-class standards for high efficiency, low fuel consumption and global emission standards.
Packed with features and the performance to provide dependable power output up to 2500 kVA for standby and 2250 kVA for prime applications, the 5000 Series is designed to supply electrical power when and where needed. Whether for critical power applications, or prime or standby power, the engine range has been optimised and tested to deliver cost-effective, reliable performance.
"With over 90 years of design experience, Perkins understands that better electric power performance means maximising the design and effectiveness of every part, design, and service that goes into each solution, including the all-new 5000 Series," said Jaz Gill, Vice President of Perkins global sales marketing, service and parts. "The new range has been designed to optimise our customers' needs for quick, reliable and cost-effective power, and for applications where real estate is at a premium, such as in a hospital, the high-power density of the 5000 Series provides a compact design that packs power into a small, compact footprint."
Powering prime and standby installations
Optimised turbochargers enable the 5000 Series engines to deliver outstanding load acceptance—meeting ISO 8528-5 G2 and G3 standards—and the ability to accept 100 percent block load to NFPA standards.
Designed, engineered, and built to provide dependable power for prime and standby installations including data centres and hospitals, the 5000 Series has been rigorously tested for performance and durability with more than 10,000 running hours already under its belt. With critical infrastructure at stake, the engine has been tested and proven in harsh environments.
Lose carbon, not power
Engineered to be capable to EPA Tier 2 emission standards, the 5000 Series engines ensure your generator set is futureproofed with sustainability in mind. The core engine design features newly designed electronic fuel injectors to reduce exhaust emissions.
For generator manufacturers and end users looking to reduce their carbon emissions, the 5000 Series can, subject to meeting Perkins' specifications*, run with biodiesel up to B20 based on a 20 percent dilution of biodiesel with standard diesel or on 100 percent hydrotreated vegetable oil (HVO).
Excellent service and genuine parts drive sustainability
The 5000 Series engines decrease fluid consumption and extend service intervals with redesigned parts including new piston rings and liner assembly, electronic fuel system and fuel filters to deliver a long-life span and improved efficiency to minimise the total cost of operation.
Additionally, Perkins offers a powerful and growing portfolio of connectivity solutions that can help promote the optimal, sustainable performance of diesel engines. Available as a standalone service from Perkins or easily integrated with generator equipment manufacturers' offerings, connected engine capabilities deliver timely insights through a customisable dashboard of performance, fuel and oil consumption, and other vital engine data points that can maximise the uptime of Perkins-powered equipment.
These connectivity offerings are seamlessly integrated with expert maintenance and service capabilities from the Perkins global distributor network to prompt the proactive diagnosis and resolution of engine issues, helping technicians get the job right first time to minimise downtime and repair expenses.
Together, we power ahead
Perkins world-class engines and global support network of 88 distributors covering 185 countries ensure stable and sustainable electric power exactly when customers need it, where they need it and how they need it. Because together, we power ahead.