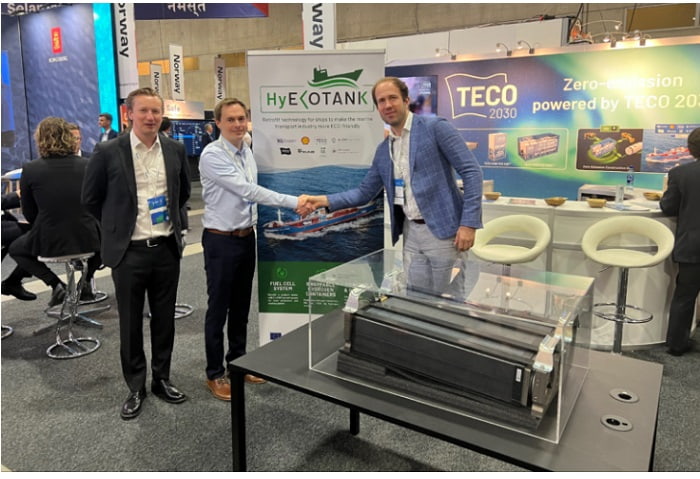 Norwegian shipping fuel cell developer Teco 2030 is partnering SuperBattery producer Skeleton Technologies to integrate peak power storage capacity in in the HyEkoTank project with Shell.
The partnership will be part of deal to accelerate the use of renewable hydrogen in zero-emission voyage and port operations.
Dresden-based Skeleton is a developer of high power, fast-charging energy storage for transport, grid, automotive and industrial applications.
The first step in the partnership will see Skeleton's SuperBattery integrated with Teco's fuel cell modules in the HyEkoTank project, the world's largest marine fuel cell retrofit project, also involving Hy-Ekotank, Ektank and DNV as well as Shell.
The curved graphene-based batteries, that have an energy density of 65 Wh/kg and can go through 50,000 life cycles, will be used to reduce the requirement for peak power from the fuel cells.
The three-year HyEkoTank project will involve retrofitting six 400 kW proton-exchange membrane (PEM) fuel cell modules in a container to an 18,600-dwt chemical tanker to create a 2.4-MW system.
Teco 2030 director of business development Fredrik Aarskog said it is optimal for fuel cells to send energy direct to where it is being consumed and so large battery storage capacity is typically not needed.
"However, a fuel cell system needs a few seconds to react to load changes so a high-power battery for peak-shaving is the perfect match," he said.
The SuperBattery will reduce the installation space needed and be cheaper, safer and more sustainable than a lithium-ion battery system, Aarskog added.
Skeleton already works with Shell on electrification of the mining sector. "We are hopeful many opportunities will arise from this new partnership," said Taavi Madiberk, chief executive and co-founder of Skeleton.
"We are confident our SuperBattery product can contribute to its transition towards net zero by being a key enabling and complementary technology for fuel cell powered ships," he added.
The HyEkoTank project is funded by the European Union under the Horizon Europe programme. Teco 2030 is building Europe's first PEM fuel cells gigafactory in Norway, planned to start production as soon as possible in 2024. It is aiming for an annual output of 400MW in 2025 and 1.6GW of fuel cells by 2030.