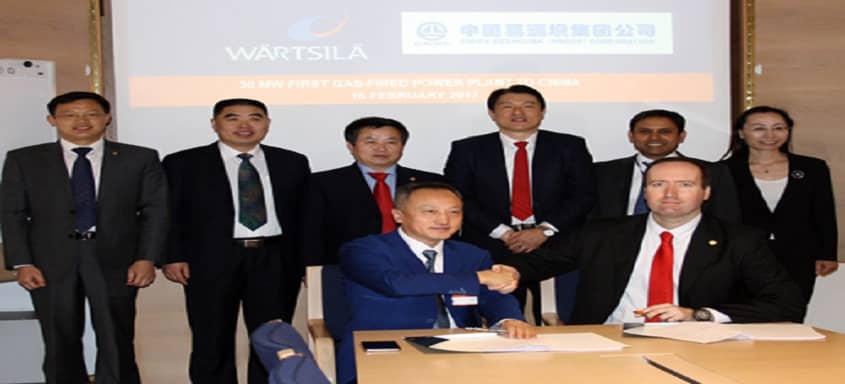 Wärtsilä will supply a 30 MW combined heat and power (CHP) plant to CGGC UN Power in China. This will be the first gas-fired medium-speed engine power plant in China, marking the entry of a new technology in the market.
This is a landmark project and proof that innovative, flexible and efficient power generation plays a key role in the Chinese power system. The Smart Power Generation plant, consisting of three Wärtsilä 34SG engines running on natural gas, is scheduled to be fully operational during 2018. Wärtsilä's scope covers the equipment supply.  The order is booked in the first quarter of 2017.
China Gezhouba Group Cooperation (CGGC), established in 1970, is a state-owned enterprise  engaged in construction, environmental protection, real estate, cement ,civil explosive, finance and, equipment manufacturing . CGGC UN Power, as its key member, is focused on the integrated service for various distributed energy solutions such as gas engine power plants and is investing in power generation in China. CHP plants are gaining foothold in the Chinese market, supported by the need for a reliable heat and power supply as the population increases. The new Guangdong Huadian Panyu Wanbo CBD Distributed Energy Project power plant will be located in Guangzhou. It will generate electricity that will be fed into the national grid. The CHP plant will also provide heating and cooling energy to commercial office buildings and shopping malls in the area.
"We are happy to build the first gas-fired power plant in China together with Wärtsilä. We trust Wärtsilä's technology and its people, and we are sure that this project will be a success. With CHP technology we can not only provide power, but also heating and cooling for our ever growing commercial and residential construction industry," says Mr Lu, President of CGGC UN Power.
"This is a breakthrough project in two ways. Firstly, we are supplying the first power plant of its kind to China. Secondly, Wärtsilä's efforts to develop the Chinese market towards flexible gas powered engine power plants and CHP are showing results. We are proud to deliver our technology to a great partner CGGC," says Javier Cavada, President at Wärtsilä Energy Solutions.
Wärtsilä's installed capacity of CHP plants totals approximately 11 GW. The company's total installed power generation capacity is over 63 GW in 176 countries.
James Han
Managing Director
Wärtsilä China
Tel: +86 21 58585500888 
james.han@wartsila.com
Xiao Ping Chen
Head of Energy Solutions
Wärtsilä China
Tel: +86 10 64096211
XiaoPing.Chen@wartsila.com
Jukka-Pekka Niemi
General Manager, Marketing and Communications
Wärtsilä Energy Solutions
Tel: +358 50 465 2805
jukka-pekka.niemi@wartsila.com
Wärtsilä Energy Solutions in brief
Wärtsilä Energy Solutions is a leading global system integrator offering a broad range of environmentally sound solutions. We supply ultra-flexible internal combustion engine based power plants and utility-scale solar PV power plants, as well as LNG terminals and distribution systems. Our flexible and efficient solutions provide superior value to customers and enable a transition to a more sustainable and modern energy system. As of 2017, Wärtsilä has 63 GW of installed power plant capacity in 176 countries around the world. www.smartpowergeneration.com
Wärtsilä in brief
Wärtsilä is a global leader in advanced technologies and complete lifecycle solutions for the marine and energy markets. By emphasising sustainable innovation and total efficiency, Wärtsilä maximises the environmental and economic performance of the vessels and power plants of its customers. In 2016, Wärtsilä's net sales totalled EUR 4.8 billion with approximately 18,000 employees. The company has operations in over 200 locations in more than 70 countries around the world. Wärtsilä is listed on Nasdaq Helsinki.www.wartsila.com