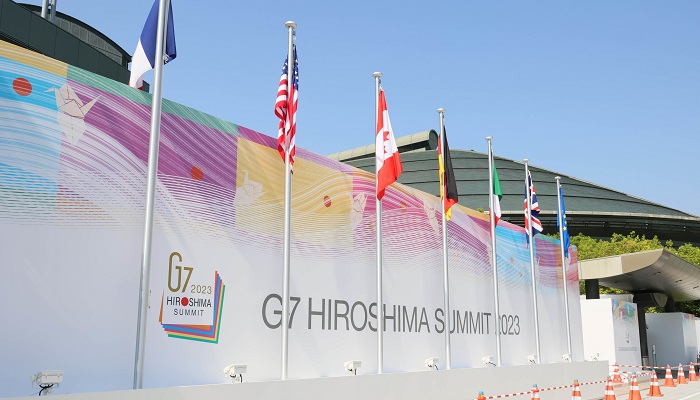 The G7 summit happened to be the first in a series of crucial multilateral milestones when it comes to the diplomatic calendar of 2023. It is well to be noted that the G7 precedes and largely sets the tone for the G20 meeting as well as other key climate-centric diplomatic engagements later in the year, like the COP28. This meeting, hence, goes on to represent a major feature for efforts to tackle the climate crisis and also define priorities and actionable for the year that lies ahead.
It is well worth noting that the G7 meeting this year has some important outcomes related to the climate crisis. Apparently, these have potentially more implications that could go on to aid in accelerating action so as to decarbonize the international economies as well as limit heating to 1.5 degrees Celsius, according to the Paris Agreement. The G7 leaders also went on to agree that targeted action to safeguard nature and protect biodiversity was the need of the hour and, in turn, enhance circularity so as to minimise the human impact on the planet.
The fact is that a whopping 70% of greenhouse gases come from the handling of materials and their use. Eradicating waste as well as pollution will be a key element to deal with for both the government and businesses to meet the objectives of the Paris Agreement.
Fossil Fuel Phasing-Out: More Certainty Is Required
As per the G7 leaders, they underline their promise in the global effort context so as to accelerate the eradication of fossil fuels in order to hit net zero in the energy systems at least by 2050 so as to be in line with the trajectories that are essential to keeping worldwide average temperatures to 1.5 degrees Celsius and also ask others to join when it comes to taking the same action.
This happens to be the strongest language yet seen when it comes to phasing out fossil fuels. COP27 was very much criticised for its lack of ambition when it came to phasing out fossil fuels. The negotiators, apparently, were only able to agree to speed up the efforts when it came to phasing down unabated coal power and coming out of fossil fuel subsidies that were inefficient. The G7 communiqué goes on to represent a major increase as far as ambition is concerned when it comes to the phasing-out of unabated fuels. The intergovernmental panel on climate change goes on to define unabated fuels as those that are produced and also utilised without any interventions that significantly lessen the GHG emitted across the life cycle. There is, however, some criticism that the G7 did not go to its maximum on the phasing out of fossil fuels. The communiqué takes into account the international impact of Russia's war on energy supplies and the consistent role of LNG as the G7 looks to lessen its dependency on Russian gas supplies.
As per the G7 leaders, investments in LNG can be ideal in response to the current crisis and to address the probable gas market shortfalls that have taken place because of the crisis. Leaders have also been unable to commit to a completely decarbonized sector by 2035, as against the expectations. As per the IEA, the G7 comprises 40% of the worldwide economy, 30% of the overall demand for energy, 36% of the entire power generation capabilities, and also 25% of global energy-related CO2 emissions. These commitments, while falling short of expectations, still happen to be a major step up in terms of worldwide ambition to phase out fossil fuels, especially when they happen to act as an accelerant for the rest of the nations.
Renewable Energy- Further Commitment
According to the G7 leaders, they also require that they prominently speed up the deployment of renewable energies and also develop and put in place next-gen technologies. The G7, as per the leaders, goes on to contribute to enlarging renewable energy globally and bringing down the cost by way of strengthening capacity through an overall increase in offshore wind capacity by 2030, touching 150 GW, which is based on every country's existing targets, as well as a collective increase of solar photovoltaic to 1 TW and above by the decade's end.
This commitment happens to represent a big leap and shall bring down the G7 in sync with the analysis that's conducted by IRENA, whose outlook on the world energy transition found out that the present renewable power deployment rates across the world are not sufficient so as to keep 1.5 degrees Celsius within reach. The G7 leaders made references to this evaluation and highlighted their commitment to give throttle to renewable energy manufacturing in line with IRENA's path to limit warming to 1.5 degrees Celsius. This expanded commitment to renewable energy also goes beyond wind power and solar. The G7 climate, energy, and environment ministers, who had already met a month prior to the G7 leaders, were on the same page to accelerate hydropower, geothermal, biomethane, sustainable biomass, and tidal energy by making use of modern tech.
The G7 nations also made a commitment to speeding up the development as well as execution of varied innovative technologies for the production of energy, like wave as well as floating offshore wind power and entire grid flexibility with cutting-edge storage techniques.
An array of energy storage techniques is being trialled across the world and can store energy at the production point in case weather conditions like wind and sun lead to production rates that happen to be higher. They then release the energy to the grid as and when required, like in the mornings and evenings when electricity consumption peaks.
Apart from these renewable energy production commitments, the G7 leaders also made it very clear of their promise to enhance supply chains in the case of critical minerals as well as materials. It is well to be noted that the demand for rare earth elements is anticipated to grow by 400 to 600% in the next few decades so as to supply tech that is going to be critical for a net-zero economy, like EV batteries and energy storage. As part of the move towards net zero, G7 leaders went on to highlight that resource efficiency and circularity, in addition to the supply chain, can play a part in ensuring supply.
Putting An End To Plastic Pollution
Beyond the probable hazards that are posed by marine as well as terrestrial environments and also to humans, plastics happen to be a significant contributor to worldwide GHG emissions. Notably, in 2019, plastics went on to emit 1.8 billion tonnes of GHG, which happened to be 3.4% of the overall emissions, with 90% of these coming from the conversion and production of fossil fuels.
There are also estimates that suggest that GHG emissions from plastics can go on to reach around 13% of the total leftover carbon budget by 2050. Although countries such as Canada, Germany, France, Britain, and the EU already happen to be part of a multi-nation coalition, Japan, the US, and Italy too have gone on to make the 2050 commitment.
G7 ministers have highlighted that they want an end to plastic pollution with the aim of reducing additional pollution from plastic to zero by 2040. However, this was met with some concern since only reducing additional plastic pollution was highlighted.
The phase-out of plastic is expected to be achieved by promoting sustainable production and consumption of plastic, increasing its circularity in the economy, and sound management of waste environmentally. It is important to note that plastic waste has gone on to double across the world in 20 years, and apparently only 9% of it happens to be recycled successfully. As per the UN, the amount of plastic entering the oceans is almost going to triple by 2040.
An year ago, in Nairobi, Kenya, 175 nations came together to put an end to plastic pollution across the world by putting forth a legally binding UN treaty by 2024. The next session to negotiate on this treaty is scheduled for May this year in Paris.