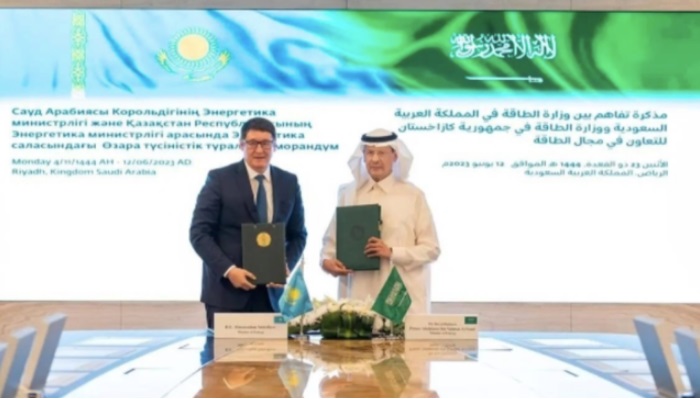 Saudi Arabia and Kazakhstan have reached an agreement to create a framework for collaboration in the energy industry, thereby strengthening the Kingdom's energy alliances. The two countries will cooperate in various sectors such as petroleum, refining, petrochemicals, gas, and electricity. Additionally, they will join forces to progress renewable energy, clean hydrogen, energy efficiency, storage, and development. The agreement also aims to enhance cooperation in promoting the idea of a circular carbon economy, which would aid in emission reduction efforts.
The decision is in line with Saudi Arabia's Saudi Green Initiative, strengthening its commitment to clean energy, reducing emissions, and safeguarding the environment. The agreement, signed by Saudi Energy Minister Prince Abdulaziz bin Salman and his Kazakhstani counterpart Almasadam Satkaliyev in Riyadh, also promotes localizing energy-related materials, products, and services. Additionally, the collaboration includes exploring hydrocarbon uses across industries and addressing digital transformation, innovation, cybersecurity, and artificial intelligence in the energy sector.
As per insights, Saudi Arabia's focus on collaborating with Arab nations in the energy sector is a fundamental aspect of its strategy to bolster relationships across various domains. Saudi Arabia has entered into numerous agreements, such as with Egypt, Jordan, Oman, and Iraq, with the objective of promoting cooperation in areas like electricity, petrochemicals, renewable energy, clean hydrogen, petroleum and gas, and other related fields.
In order to explore new markets and expand its presence in Central Asia, Saudi Arabia recently entered into an agreement with Azerbaijan. The main objective of this agreement was to promote cooperation between the two countries in various areas, including petroleum, petrochemicals, gas, electricity, and renewable energy.
In February, Saudi Arabia partnered with France to enhance collaboration in the energy sector, particularly in technologies addressing climate change like carbon capture and hydrogen production. The agreement focuses on closer working in electricity, renewables, and energy efficiency and also covers storage, smart grids, oil and gas, refining, petrochemicals, and distribution.