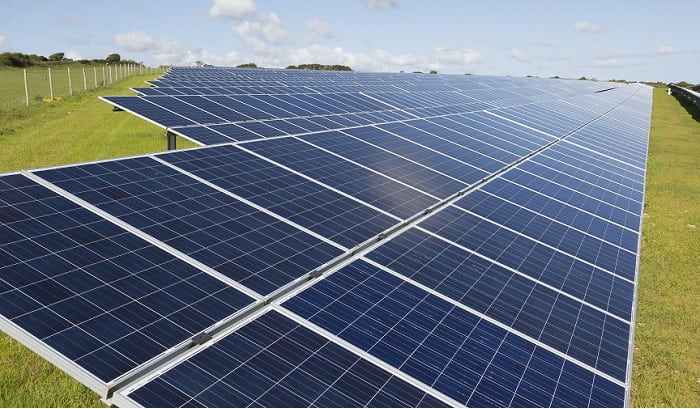 Bayreuth, April, 08 2020 In line with earlier indications, the Management Board of 7C Solarparken AG will propose to keep its dividend unchanged at EUR 0.11/share at the upcoming Annual Meeting, (approx. one third will be exempt from German withholding tax) reflecting the stable cash flows generated by the underlying business model.
However, the Annual Meeting, which was previously scheduled for end of May 2020, will be postponed until further notice due to the ongoing CoVid-19 situation.
In the financial year 2019 7C Solarparken has exceeded once again its EBITDA and CFPS guidance. Firstly, the group achieved a record EBITDA of EUR 38.1 Mio. versus EUR 35.1 Mio. the year before. In view of the unprecedented sunshine in 2018, the group's performance has developed very positively mainly reflecting (i) the build-up of its IPP portfolio from 154 MWp to 190 MWp, (ii) another year of above-average weather conditions and (iii) a number of one-time items including a settlement with a module supplier. Furthermore, the first-time adoption of the IFRS 16 standard has raised EBITDA by EUR 0.8 Mio. The group's Cash Flow per Share (CFPS) amounted to EUR 0.55, versus the initial prognosis of EUR 0.50 and the revised guidance in December 2019 of "at least EUR 0.52". Apart from the outperformance in EBITDA, the average cost of debt has fallen from 2.8% to 2.6% and contributed to the improved results. Strengthened by two capital increases, the group's equity ratio rose to 32.3% and illustrates the solidity of the balance sheet which is of the utmost importance during the current uncertain times.
Outlook 2020
The guidance for the financial year 2020 is based on a fully operating portfolio of 201 MWp (as from the end of June 2020) without further growth and assuming a return to a moderate irradiation year. Although the current CoVid-19 crisis has no direct repercussions on our long-term goals, there are however short-term effects. Since the start of the lock-down situation, the number of days during which we observe negative electricity prices is rising fast due to a 15% fall in electricity consumption since the start of the lock-down. According to par. 51 of the EEG 2017 law, renewable energy assets commissioned after 01.01.2016 do not receive a feed-in tariff for their production during a period of at least six consecutive hours of negative prices. Under the cautious assumption that the current lock-down will last until the end of June 2020, management estimates a negative impact on revenues of EUR 0.4 Mio. (ca. 1% of annual revenues). Furthermore, the current CoVid-19 situation is also leading to an increase of risk for plant outages as some industrial and retail rooftop installations are no longer accessible. The required maintenance schedules is, due to difficulties in staff accommodation and logistics, hard to fulfil with own staff. As a result, management has decided to seek a partnership with an external firm. Total EBITDA effect arising from the CoVid-19 situation is currently estimated at EUR 0.8 Mio. The company expects that also chances will arise given that many developers and asset owners underestimate the negative effects of lower electricity prices while many new projects will not meet their time budgets. The PPA market has dried up in view of the negative prices.
Amid these market conditions, 7C Solarparken group sets its guidance for 2020 at EUR 36 Mio. EBITDA and EUR 0.48/share CFPS. Upon having achieved all strategic goals during 2020, including ramp-up of the portfolio up to 220 MWp, EBITDA and CFPS should still rise to EUR 41.3 Mio and EUR 0.57/share resp. under normal weather conditions.
Steven De Proost, CEO of 7C Solarparken AG: "For 7C Solarparken, the priority is to keep producing electricity at all our PV plants with a minimum of business interruptions. We are in an excellent position due to the fact that 84% of our revenues is originated from PV plants commissioned prior to 2016, so that even negative prices have no effect on their production. In these challenging times, we are still very optimistic to meet our 220 MWp target before year-end 2020."