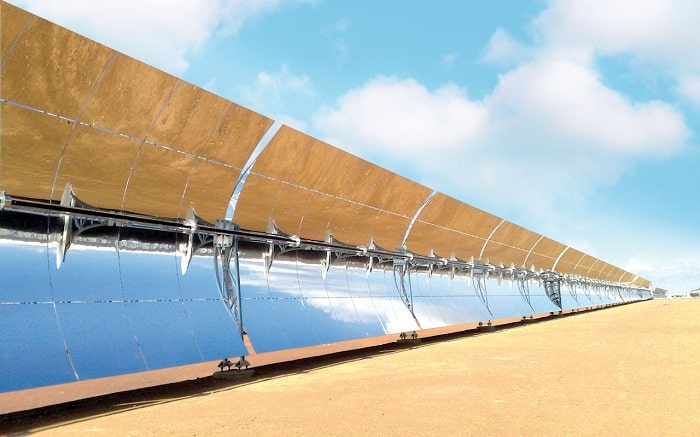 ABB is supporting the Chinese government in its efforts to produce emissions-free electricity, delivering automation control solutions at the country's first two concentrated solar power (CSP) plants.
Building on the successful delivery of power at the first 50 megawatt CSP in Delingha with China General Nuclear Power Group in late 2018, ABB has been awarded a second contract to deliver an integrated automation solution for a 100MW Urat solar energy project in Inner Mongolia province, China.
"We are delighted to have been awarded a second project to deliver our digital solutions as part of the 20 pilot CSP solar program, aimed at boosting China's efforts to meet the 2030 target of producing 20 per cent of its overall electricity from renewable sources," said Kevin Kosisko, Managing Director, Energy Industries, ABB.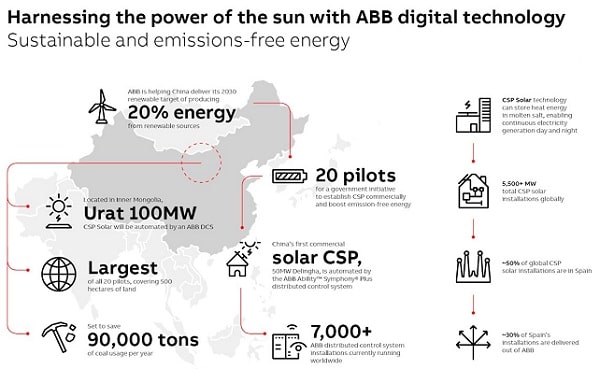 "As a digital leader in the energy transition, ABB offers innovative digital solutions that are future-focused. This is complemented by our customer focus and heritage in intelligent project delivery, ensuring confidence in ABB as an automation provider."
The plant is the first of its kind in Inner Mongolia, and one of the largest capacity solar parabolic projects in China's 20 pilot plant initiative at 500 hectares. It is set to save approximately 90,000 tons of coal per year.
ABB will deploy its flagship ABB Ability™ Symphony® Plus distributed control system (DCS), incorporating a power island, heat storage and transfer, as well as auxiliary controls, and coordination control of solar fields. The distributed control system (DCS) will unify all the plant's production processes into a single user-friendly system, including the heat transfer system, which transports the heat to molten salt tanks where it is stored, and the power block where the electricity is generated and fed into the transmission grid. ABB AbilityTM Symphony® Plus is the world's market-leading distributed control and SCADA system for the power generation and water industries.
"We chose ABB to deliver this project because of their expertise as a world-leading supplier of integrated electrical and automation systems for CSP plants, with demonstrable experience that extends across Asia, North and South America, Europe and North Africa," said a spokesperson of China Shipbuilding New Power Co. Ltd.
With over 174GW solar power generation capacity in 2018, China is the leading producer of solar power globally.1 With more than $430 million in subsidies provided by the Chinese government for new solar power projects in a recent year, China is considering various efficient technologies to harness energy from the sun. CSP technology, unlike Photovoltaics (PV), concentrates radiation from the sun, and converts light into heat, which drives an engine that connects to an electric generator. Whereas PV does not store heat, thermal energy from CSP can be stored to help overcome intermittency issues, due to the availability of sun or environmental fluctuation.
With over USD 368 million total investment, this greenfield project led by China Shipbuilding New Power Co. Ltd is anticipated to be delivered soon.
ABB Energy Industries ABB is writing the future of safe and smart operations for industry, with ABB Ability™ delivering integrated and secure digital solutions that deliver value for customers with increasing autonomy, sustainability and optimized performance. ABB Energy Industries brings deep domain knowledge and technical expertise in energy and water, oil and gas, specialty chemicals and primary pharmaceutical industries. Building on our heritage, a spirit of collaboration and innovation inspires our digital leadership as we engineer and provide products, services and solutions that support our partners for success, both today and tomorrow as we look ahead to a new energy future.
ABB is a pioneering technology leader with a comprehensive offering for digital industries. With a history of innovation spanning more than 130 years, ABB is today a leader in digital industries with four customer-​focused, globally leading businesses: Electrification, Industrial Automation, Motion, and Robotics & Discrete Automation, supported by its common ABB Ability™ digital platform. ABB's market leading Power Grids business will be divested to Hitachi in 2020. ABB operates in more than 100 countries with about 147,000 employees. www.abb.com