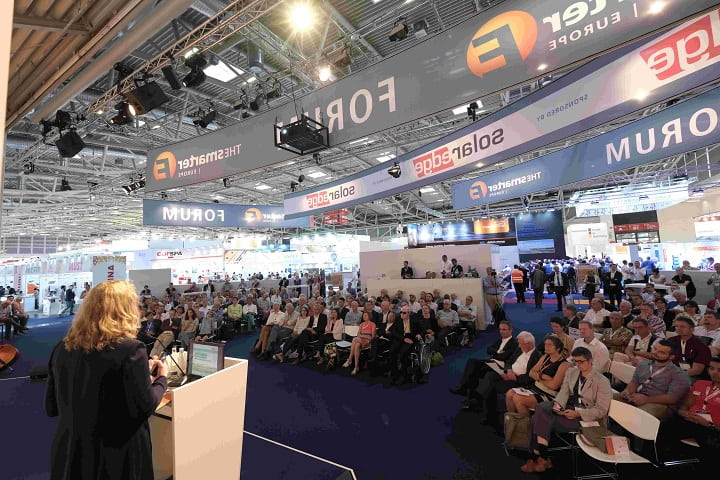 More than 450 suppliers of energy storage technology and energy storage systems will be represented at Europe's largest and most international exhibition for batteries and energy storage systems and the parallel exhibitions held under the umbrella of The smarter E Europe.
With over 50,000 visitors, ees Europe also offers a comprehensive accompanying program " from the ees Europe Conference and a range of forums to free, expert-led exhibition tours on a variety of different topics to the presentation of the renowned ees AWARD. Alongside ees Europe, three other exhibitions will open their doors as part of the innovative platform The smarter E Europe: Intersolar Europe, Power2Drive Europe and EM-Power. Entry to these exhibitions is included with every exhibition ticket.
On May 14 and 15, the ees Europe Conference will offer an in-depth program on international storage markets and introduce lucrative business models, and numerous sessions will explore the technologies of the future. For example, the session "Quality Assurance for Products and Projects "Safety, Reliability and Performance" addresses key questions in the field of quality assurance for stationary battery storage units. Specialists will explain how to guarantee the safety and reliability as well as the efficiency and effectiveness of battery systems. Existing and future norms and standards for certification are also up for discussion.
The session will be led by Dr. Matthias Vetter, Head of Department for Electrical Energy Storage at the Fraunhofer Institute for Solar Energy Systems ISE in Germany and Chairman of the ees Europe Conference. "When it comes to achieving a wide-reaching and sustainable market penetration of stationary battery storage systems in the widest possible range of applications " PV battery-based storage units in private, commercial and industrial environments, battery systems for providing primary balancing power, battery storage systems integrated in solar parks and wind farms " the topics of safety and reliability are paramount and create the basis required.
But efficiency and effectiveness also have to be addressed for worthwhile application. This session shines a light on all these topics from a technical and economic perspective, describes the current status of norms and standards and presents exemplary results from professional practice," says Vetter, outlining the session. With just one conference ticket, participants are welcome to visit the other three conferences taking place at the same time: the Power2Drive Europe Conference, the Intersolar Europe Conference and the Smart Renewable Systems Conference.
A practical focus at the ees Europe forums
The ees Forum will be held in hall C2 under the motto "Innovating energy storage!" There, the ees AWARD finalists" contributions will be introduced and current topics and developments will be discussed in sessions such as "Long-term Profitable Energy Storage Technologies,"Monetizing Solar & Storage,"Business Models for Commercial Storage Facilities, "Alternatives to Li-Ion Battery Systems,"Specialized Distributors for Storage Systems, "Energy Storage Market Overview" and "Pitches from Start-ups." Visitors will have the opportunity to come into contact with innovators, investors and start-ups.
The PV and Battery Production Forum can be found in hall C1 and is held in close cooperation with PEM (Chair of Production Engineering of E-Mobility Components) at RWTH Aachen University. Here, the spotlight is on battery production as a trend in technology, automation and process innovation. Christoph Schon from PEM explains, "The discussion will explore current innovations which are extremely important for sustainable production in Europe. These range from energy-efficient processing technologies – such as the use of lasers – to a strong machine and plant construction sector with solutions for automated module and pack production to the next generation of battery technologies."
The ees AWARD is the ticket to international recognition
The AWARD ceremonies are a particular highlight at The smarter E Europe. The ees AWARD has been presented since 2014 and pays tribute to innovative companies" pioneering products and solutions which advance the stationary and mobile storage of electrical energy. Attended by high-caliber visitors, including exhibitors, representatives and decision-makers from the international energy storage industry as well as representatives of the national and international trade press, the event is also a good opportunity to exchange ideas and knowledge with leading specialists in the energy industry. The ees AWARD will be presented on May 15 at 4:30pm at The smarter E Forum, hall B3, booth B3.570.
Experience everything ees Europe has to offer with an exhibition tour
Exhibition tours are a great way to get a quick and compact overview of the exhibition. The pv Guided Tours start in hall B1 and present electrical storage systems for private applications (domestic storage systems) as well as storage systems and off-grid solutions for industry and commerce. The exhibition tours will run on all three days of the exhibition (May 15–17, 2019) in German and additional tours will be offered in English on that Wednesday and Thursday.
The tour on battery production, given in English by PEM from RWTH Aachen University, will run twice a day starting from the PV and Battery Production Forum in hall C1 and lasts around two hours. Christoph Schön from PEM reveals what lies in store for participants: "On the tours, we will take a closer look at the technologies presented in the PV and Battery Production Forum and supplement them with a look at other innovations in a visit to a range of companies along the supply chain of a battery. One particular focus is on sustainability in production."
ees Europe and the parallel events will take place from May 15–17, 2019 as part of the innovation hub The smarter E at Messe Munchen. The ees Europe Conference will open its doors from May 14–15, 2019 at ICM – Internationales Congress Center Munchen.
Visitors can access ees Europe from several entrances. This year, in addition to the West Entrance, the Northwest Entrance (providing direct access from multi-story parking garage Parkhaus West to the production technologies hall C1) and the North Entrance (direct access to halls C3 and C4) will also be open.
ees Europe
ees Europe is the continent's largest and most international exhibition for batteries and energy storage systems. It has been held annually at the Messe Munchen exhibition center in Munich, Germany, since 2014. Under the motto "Innovating energy storage", the yearly event brings together manufacturers, distributors, users and suppliers of stationary storage solutions and technologies for electrical energy as well as battery production technologies.
The accompanying ees Europe Conference highlights and consolidates current industry issues. With additional events in San Diego, Bangalore and Sao Paulo, ees is represented on four continents. Power2Drive Europe, the international exhibition for charging infrastructure and e-mobility, will take place in parallel to ees Europe for the second time in 2019. With its focus on solutions and technologies for clean transportation, Power2Drive complements ees Europe perfectly. Intersolar Europe, the world's leading exhibition for the solar industry, and EM-Power, the exhibition for the intelligent use of energy in industry and buildings, also take place at the same time. All four exhibitions are held at The smarter E Europe " the innovation hub for new energy solutions.
For more information on ees Europe, please visit: www.ees-europe.com/en
ees Europe is organized by Solar Promotion GmbH, Pforzheim and Freiburg Wirtschaft Touristik und Messe GmbH & Co. KG (FWTM).