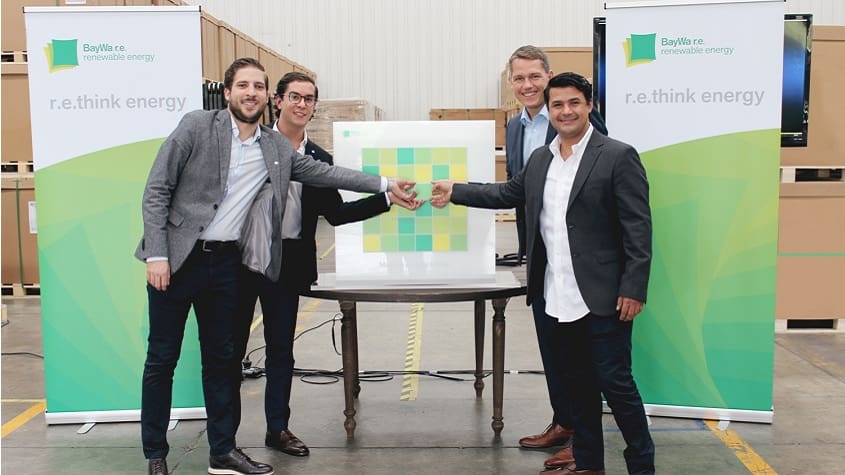 As part of its ongoing global expansion and investment in North America, global renewable energy developer, service provider and wholesaler, BayWa r.e., is partnering with Mexico's leading solar distributor, DMSolar.  
Established in 2012, DMSolar has quickly become the country's leading wholesaler of PV products – and contributed to Mexico's position as one of the largest solar energy markets in Latin America. With a reputation built on customer service, exclusive product lines and installer education, DMSolar, is a perfect fit for BayWa r.e.'s own values and customer led philosophy.
"With the potential for over 2GW of solar installations a year, Mexico is one of the fastest growing markets in the world", commented Frank Jessel, Head of Solar Trade at BayWa r.e. Being a leading market player and driving force in the uptake of solar energy in Mexico, DMSolar is an ideal partner for BayWa r.e. In five short years, DMSolar has become the 'go to' distributor in the country."
"We share the same commitment to customer service, training and supplying the very best systems. This means we are able to combine DMSolar's expert local knowledge with all the benefits of BayWa r.e.'s global resources, training and logistical expertise and online services. While Mexico's solar market is still young, it has huge potential and our role will be to support the nation's installers in bringing solar energy to homes and businesses across the country".
Located in Guadalajara, Monterrey and Mexico City, DMSolar has a well-established logistical network covering all 32 states. This gives BayWa r.e. an immediate and significant presence within the national installer market, which will now benefit from BayWa r.e.'s global logistics, technical support and online services. All delivered by the same highly experienced DMSolar team.
Andres Gonzalez, CEO of DMSolar commented. "We are very excited to start this partnership with BayWa r.e. DMSolar was created out of a desire to bring green and affordable solar energy to the masses – raising awareness of its benefits across Mexico. And together with BayWa r.e, we will continue to succeed in our objective to bring the best quality products and customer service to our installer customers."
"By combining our market knowledge with the global resources and expertise of BayWa r.e., we are now perfectly positioned to continue our growth, deliver greater product ranges and increase our range of digital services. Ultimately, helping to unlock the huge potential that exists for renewable energy within the country".
As well as PV product distribution, BayWa r.e. is also highly active in the utility scale solar project development market and operations services market in North, Central and South America.
BayWa r.e. renewable energy GmbH (BayWa r.e.):
As a full subsidiary of BayWa AG, BayWa r.e. renewable energy GmbH groups together the activities of the solar energy, wind energy and bioenergy business units. With headquarters in Munich, BayWa r.e. is active worldwide.
As a full service partner with around 1,500 employees and more than 25 years of market experience, BayWa r.e. provides consulting services and develops, implements and manages projects in the area of renewable energies. The company also covers plant operation and maintenance. Other business activities encompass photovoltaic component trade and the purchase and marketing of energy from renewable sources. Its parent company, BayWa AG, is an international trade and services company with the core segments of agriculture, energy and building materials. For more information, visit www.baywa-re.com