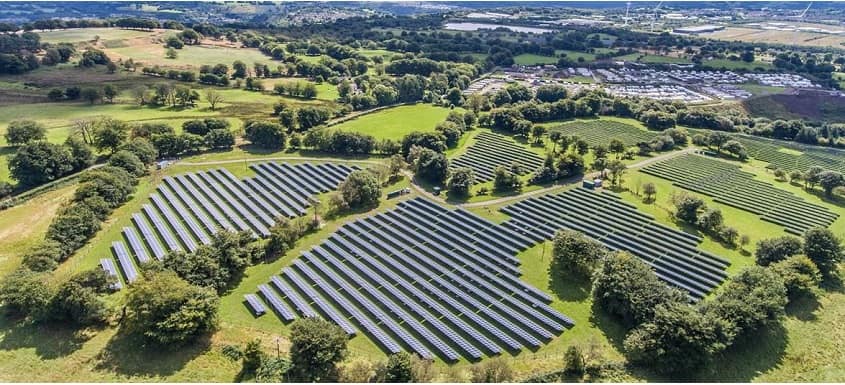 Global renewable energy developer, service provider and wholesaler, BayWa r.e., has secured the contract for the operations and maintenance of thirteen UK solar farms on behalf of Octopus Investments.
This marks a further strengthening of BayWa r.e.'s partnership with Octopus Investments, who is the largest non-utility investor in onshore renewables in the UK and the largest commercial solar player in Europe. After having successfully taken over the technical and commercial asset management of four of its UK wind farms in May 2018 with 148.5 MW BayWa r.e. will provide the complete scope of O&M services for a total output of 61.1 MW.
Ian Draisey, Managing Director, BayWa r.e. Operation Services Limited, commented "Adding these solar farms to our portfolio comes at an exciting time in our expansion across the UK. We have developed a great working relationship with Octopus over the last years while looking after the technical and commercial asset management of some of its wind farms, and to be entrusted with the O&M on so many of its solar farms is indicative of the strength of our partnership.
"We always strive to provide a complete and unrivalled service in terms of quality and professionalism. This contract provides a platform to further develop and strengthen our UK interests."
Now with three locations across the UK and growing staff numbers in Edinburgh, Sterling and Milton Keynes, BayWa r.e has grown its serviced portfolio to over 1.9 GW of utility-scale projects, and its ongoing expansion looks set to continue into 2019.
Matt Setchell, Head of Energy Investments at Octopus said: "As one of the largest providers of technical and commercial services in solar and wind farms in the UK, BayWa r.e. is aligned with our own growth strategy and perfectly placed as a strategic partner for us. Its reputation for top rate Operations & Maintenance services speaks for itself and we're confident that our solar farms are in very safe hands. BayWa r.e. is now actively involved in around 20% of our renewable energy portfolio, and we look forward to further developing our fruitful working relationship in the coming year."
With 24/7 monitoring from its state-of-the-art control centre core to its O&M offering, BayWa r.e. is following an ambitious digitalisation strategy which will provide further improvements and innovations to its clients in 2019.
The scope to be performed on the Octopus PV sites will include all electrical and non-electrical tasks required for plant management and performance optimisation of the solar farms, capitalising on BayWa r.e.'s extensive technical expertise, systems, and processes.
BayWa r.e. renewable energy GmbH (BayWa r.e.):
Across solar and wind, at BayWa r.e we r.e. think energy – how it is produced, stored and best used. We are a leading global developer, service supplier, wholesaler and energy solutions provider. We deliver renewable energy solutions worldwide, and have brought 2 GW of energy online, while managing 5 GW of assets. BayWa r.e is a leading supplier to the solar wholesale market. We also have a rapidly growing energy trading business. Part of the €16 billion BayWa Group, every day we are working hard to find new solutions, push technological boundaries and actively shape the future of energy.
About Octopus
Octopus is the largest non-utility investor in onshore renewables in the UK, and the largest commercial solar player in Europe. Since 2011, the Energy Investments team has built market-leading positions as an investor and manager of solar, wind, biogas, biomass, landfill gas, and reserve power assets. Its mission is to address the inefficiencies of the energy market by offering smart technology-led solutions based on innovation and customer focus, helping to provide flexibility and decarbonise our energy system and our environment.
Octopus is a group of companies that invests in the people, ideas and industries that will help to change the world. We are experts in smaller companies, renewable energy and healthcare infrastructure. The Group currently manages more than £8.6 billion of funds under management, £2.3 billion of which is on behalf of institutional clients. Octopus Investments, Octopus Healthcare, Octopus Ventures, Octopus Property, Octopus Energy and Octopus Labs are all part of Octopus Group.