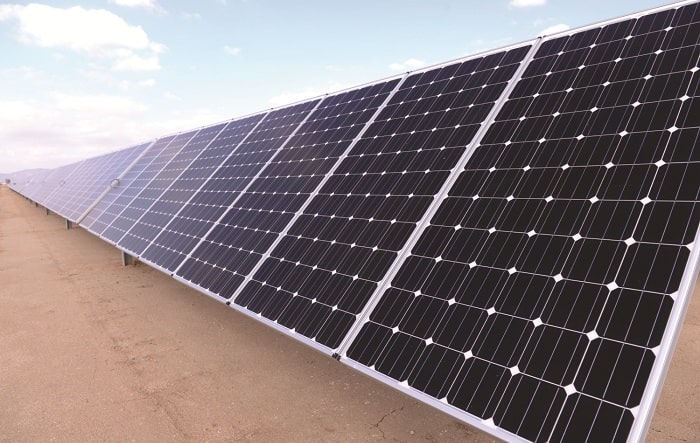 The Outlets at Tejon, a shopping center in Arvin, California, announced the completion of an 800-kW solar PV carport system that covers five rows of stalls in the center's southwest parking field, south of the Beale tower.
The solar carport will offset 83% of the center's electricity needs for shared spaces and produce 1.076 MWh of clean energy every year. CalCom Energy, a solar developer and energy services company based in Fresno, California, designed, installed and financed the project.
The Outlets at Tejon continues to make numerous improvements to the center to provide a shopping experience that's more comfortable, more pleasurable and more fun for shoppers," said Allen E. Lyda, executive VP and COO, Tejon Ranch Company. "This latest improvement to the Outlets also demonstrates our commitment to sustainability and green building through the use of solar energy and technology."
The solar panels will not only help protect shoppers' cars from heat and rain but will also add to the center's green and sustainable footprint by producing clean solar energy on-site. The system will offset electricity needs for the center's common elements, including exterior lighting, air conditioning and lighting for the food court and public restrooms.
"We are thrilled to partner with The Outlets at Tejon on this innovative project," said Dylan Dupre, CEO of CalCom Energy. "The solar PV parking carports are a great illustration of Tejon's commitment to sustainability, not just because it is the right thing to do, but because there are clear business benefits. The project will enhance the Tejon shopping experience by offering shoppers shaded parking, and is expected to save the Outlets at Tejon utility expenses over the expected life of the system."
The Outlets at Tejon, celebrating its fifth anniversary, boasts more than 60 top designer and value brands in fashion, footwear, accessories, home goods and more, including Michael Kors, Kate Spade New York, Nike Factory Store, Coach, Pottery Barn Outlet, H&M, Express and Old Navy.