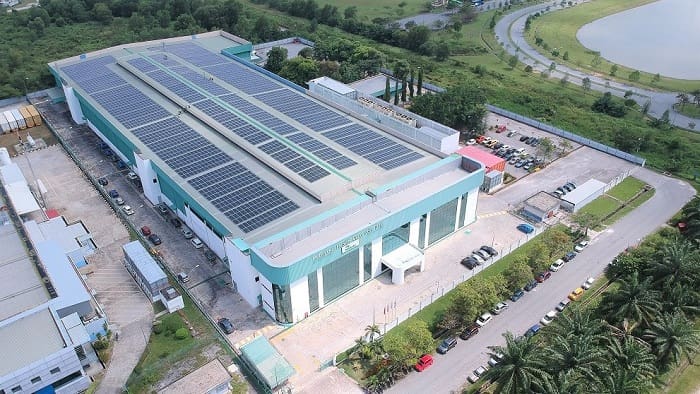 Cleantech Solar, a leading provider of renewable energy to corporations in Asia, celebrates the commissioning of a rooftop solar PV system for Molnlycke Health Care Sdn Bhd, a world-leading medical solutions company. Over 2,600 solar panels have been deployed on top of Mölnlycke's manufacturing facility located in Kuala Ketil through a long-term power purchase agreement (PPA). The fully operating 914 kWp PV system has been funded, designed and built, and will be operated and maintained by Cleantech Solar across the term of the agreement.
This long-term partnership between Cleantech Solar and Mölnlycke is expected to generate approximately 23,400 MWh of clean energy across the term of the agreement, that amounts to avoiding 16,200 tonnes of CO2 emission. Harnessing solar power on-site through a PPA will help Mölnlycke reduce both their environmental impact and electricity costs without making any capital investment.
Mr. Stuart Grieve, Manufacturing Director of Mölnlycke, Gloves Operations said:
"At Mölnlycke, we are committed to advancing performance in healthcare across the world that's sustainable in the long term. With a clean energy generating solar power plant now operating on our rooftop, we are able to contribute a sustainable future by reducing our carbon footprint and meet our goal in increasing the overall health economic value of our solutions. As a company, we identify with Cleantech Solar's commitment to excellence. They have demonstrated both the expertise and the financial capability to successfully build this solar PV system that is optimized for maximum long-term clean power generation."
Mr. Raju Shukla, Founder and Executive Chairman of Cleantech Solar, said:
"More companies are increasingly and readily embracing the idea of adopting solar power at their facilities for its economic and environmental benefits. Cleantech Solar is pleased to play an active role as a trusted partner to enable leading companies in Malaysia like Mölnlycke in their sustainability efforts, whilst at the same time, improve their bottom line. We are proud to have Mölnlycke now join our growing operating solar assets in Malaysia."
About Cleantech Solar (www.cleantechsolar.com)
Cleantech Solar is a leading provider of renewable energy to corporations in Southeast Asia and India, combining the capabilities of a global player with unrivalled responsiveness and agility.
Headquartered in Singapore, Cleantech Solar owns and operates more than 160 solar power plants across the region, representing over 300 MW of projects, with the majority being in operation and the rest under construction and development.
The company helps corporations meet their sustainability goals, offering a unique combination of:
Shared values ensuring long-term partnership
Cutting-edge technical expertise with a strong focus on delivering safe and high-quality projects
Experienced local teams in all markets to ensure compliance and smooth execution
A state-of-the-art control room that allows optimized performance to be monitored in real-time
About Mölnlycke
Mölnlycke is a world leading medical solutions company. We develop and bring to market innovative wound care and surgical solutions along the entire continuum of care – from prevention to post-acute settings. Our solutions provide value for money, supported by clinical and health economic evidence.
Mölnlycke was founded in 1849. Nowadays, our solutions are available in around 100 countries; we are the number one global provider of advanced wound care and single-use surgical products; and we are Europe's largest provider of customized trays. Our headquarters are in Gothenburg, Sweden and we have about 7,700 employees around the world.